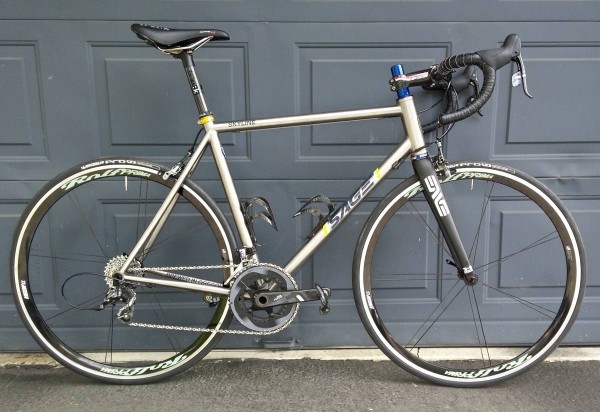 Around these parts we are no stranger to Rolf Prima wheels.  Previously we've had the P-Town SS wheels, ECX tubulars, Ralos CXC mountain bike wheels, and carbon Ares 4 road disc wheels in for testing.  Each test has ended pretty much the same way, with sadness as we pack the wheels up and ship them back.  Spoiler alert, this review is ending the same way.
The Vigor Alpha wheelset from Rolf Prima sits atop their lineup of aero alloy clincher road wheelsets, joined by the Vigor Alpha Disc, Vigor, and Vigor RS.  Rolf Prima has set the bar high, claiming the Vigor Alpha as "the fastest alloy wheel on the market."  Roll on through to get our opinion.
The Vigor Alpha is constructed using a 33mm deep, 22mm wide (delta profile) alloy clincher rim that has the standard machined braking surface.  For those that need it, a tubular version is available as well.  The rim is laced to CNC machined USA made hubs with a titanium freehub body, courtesy of White Industries.  The aluminum hub shell is loaded with Enduro ceramic bearings.  Bladed Sapim CX-Ray spokes (14 front and 16 rear) are used, and internal jacketed nipples keep them in place.  The wheels can be purchased for either 10/11 speed Shimano/SRAM or 10/11 speed Campagnolo cassettes.  They ship with Rolf branded QRs and a spacer for use with 10 speed cassettes.  Retail pricing is set at $1299.
The Vigor Alpha wheels make use of Rolf's patented paired spoke design.  The paired spokes hit the rim near the same point, neutralizing the left and right outward pulling forces, allowing for a wheel build that runs true, and cuts weight.  This seems to be a love it or hate it design, based on previous comments posted.  Aesthetically, the pair spoke design gives the wheel a unique look that has garnered several comments out on the road, and it's look we like around these parts.
The rear hub is built with an oversized non-drive side flange.  The idea being that this helps transfer drive side torque to the non-drive side spokes, increasing the number of torque absorbing spokes.
In use, the Vigor Alpha wheels are great.  At 1560 grams (including rim strips, but not the 110g QRs) the wheels come in at a very respectable weight, especially considering they use a 33mm deep aero alloy rim.  For perspective, carbon rims go deeper in the same weight range, but typically add an extra $1ooo to the price tag.  On the road the wheels roll incredibly smooth, in part to a well designed hub running ceramic bearings.  Under acceleration, the wheels spin up fast, and react to hard efforts with little to no wind up.  Off the line, these are some of the most fun wheels I have ridden.  The Vigor Alpha is a stiff wheel, but less so than the full carbon clinchers we see adorning many test bikes these days.  That isn't a bad thing however, as they are very comfortable during long hours in the saddle.  For larger riders that may want something a bit beefier, look at the Vigor RS with increased spoke count.
When pointed uphill, I never felt as if the wheels were holding me back, and I never experienced any brake rub, or overly noticeable flexing when pedaling out of the saddle.  When heading down the other side, the wheels felt firm, stayed planted, and railed through covers when pushed hard.  Stopping is done with ease.  When braking, you get exactly the performance one would expect from a machined aluminum clincher braking surface.  It was a nice change of pace after riding full carbon clinchers recently.    
While not as aerodynamic as a deep section carbon wheelset, the aero advantage of the Vigor Alpha is present.  Holding higher speed takes just that little bit less effort, keeping you riding fresher, for longer.  Color me impressed for an aluminum clincher.
Not everything with the Vigor Alpha wheelset is perfect, however.  Sometimes a compromise is made, and for good reason.  Home and shop mechanics alike will be the first to point out that the wheelset makes use of internal nipples.  The downside, the wheels are a bit harder to adjust when needed.  By the way, these wheels were true out of the box, and stayed that way the entire time I had them (3 months).  This fact holds true for every set of wheels we have had from Rolf Prima.  This is in part due to the pre-stressing done when hand-building their wheels.  For more info, read our shop tour here.
Using internal nipples is done for good reason though.  Using internal nipples reduces stress on the nipple, because the nipple is in compression.  The internal nipple also reduces drag, allowing for a more aerodynamic wheel.   Rolf Prima uses their patented, jacketed nipple technology.  The deeper the rim profile, the more severe of a bend the spoke must make to hit the hub flange.  This bend is typically made at the threads of the spoke, which is one of the weakest points of a spoke.  To increase spoke life, Rolf Prima uses an internal jacketed nipple design that moves this bend 5mm to 7mm away from the threads.  So yes, internal nipples make the wheel harder and less convenient to work on, but they lead to longer spoke life and better aerodynamics.  Personally, I am ok with those tradeoffs.
Having these wheels on my Sage Cycles Skyline Ti road bike (more to come on that soon) was a treat.  The aero advantage is nice on the flats and downhill.  At 1560 grams they get up hills without getting in the way.  The wheel build is strong, and durability should not be an issue, thanks in part to that White Industries made hub.  I would suggest anyone looking for that one wheel to do it all, give the Vigor Alpha some serious consideration.  Now if you'll excuse me, I am going to go open a beer and try not to be to sad as I pack up the wheels to ship them back.