Carbon hoops are  just for road bikes right? Well, Easton would like to prove you wrong, and at the same time introduce the brand spanking new Easton Haven Carbon UST All Mountain Wheelset! Hot on the heels of their aluminum siblings which I am in the process of reviewing, Easton's first carbon MTB offering is sure to turn heads.
Using the current Haven platform, Easton replaces the aluminum rim with a 375 gram UST carbon rim with the same 21mm internal width. It also retains the solid rim channel via double threaded eyelets for the nipples to attach to the rim. This means that the wheels can still accommodate up to a 2.4 inch tubeless tire and still retain the no questions asked two-year warranty! So confident is Easton with their new carbon technology, that they even have new hub offerings from the aluminum Haven's – a 20 mm thru axle hub for the front, and a 135 thru axle and the new 142 x 12 thru axle for the rear. This means that the wheels are able to end up on forks and frames that are intended for much more than all mountain and Easton's ok with that.
So why is Easton so confident in their Freshman attempt at a carbon mountain bike wheel, let alone a tubeless wheel? Well, Easton is relying on their new Easton Advanced Ballistic Composite System. The new Haven Carbon is designed, engineered and manufactured their own EMX composite factory in Tijuana Mexico. I know you're thinking, Mexico?? Honestly though, what better place to design and build advanced ballistic composite materials than a city that has had to rely on them for safety among the rampant drug wars? I bet you there are quite a few locals who know a thing or two about ballistic impact protection! But I digress…
What is important, is that at 1450 grams for a 26 inch wheelset, these are the lightest carbon UST all mountain wheels on the market! Granted that title doesn't come without a price; at $2300 a set not many folks are going to be rolling on carbon Havens. Like all things mountain bike, the technology is sure to trickle down, and early adopters are rarely concerned with price. Considering many mountain bike wheelsets are over a pound heavier than these, it is safe to say there would be a definite advantage to someone riding the carbon Havens.
More pictures, specs, and official press release after the break!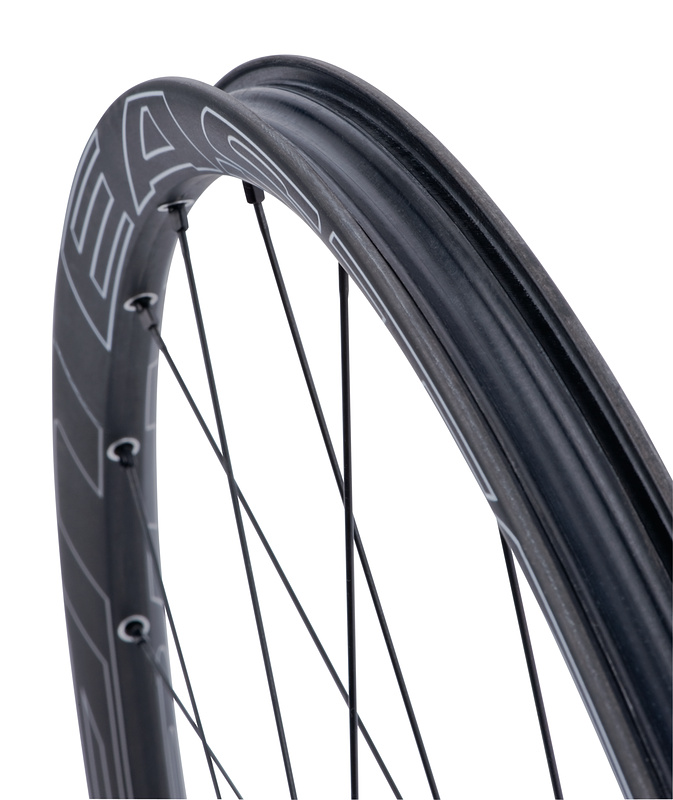 Easton Carbon UST Haven Specifications:
26" and 29" versions
1450-grams per-set (26" w/o valve stems. 29er TBD)
UST compatible
21-mm inner rim width
2-year no questions asked replacement policy
Will accommodate up to 2.4″ tire
Axle configurations: Front—9mm/15×100 convertible or 20mm; Rear—135qr or 142×12/135×12 convertible
Price: $2300 (both 26 and 29er versions)
Availability: Late Summer 2010
Full Easton Press Release:
(Scotts Valley, CA, April 2nd, 2010) In advance of the season opening Sea Otter Classic, Easton has unveiled a game-changing all-mountain wheel–the new Haven Carbon. Designed, engineered and manufactured by Easton in their wholly owned EMX composite factory, the Haven Carbon is feather-light and UST compatible, but tough-as-nails thanks to the use of an entirely new composite system–Easton Advanced Ballistic Composite.
Weighing just 1,450 grams per pair, the Haven Carbon is the lightest carbon rimmed, UST compatible all-mountain wheelset on the market and features the first carbon rim designed exclusively for the rigors of rugged trail riding. The $2,300 Haven Carbon features a generous, 21-mm internal rim width that will accommodate tires up to 2.4-inches wide and is backed with a two-year, no-questions-asked insurance policy–a first for the bike industry.
"We designed Haven Carbon for the largest group of mountain bikers: Trail and All Mountain riders, people that have been waiting for a light, but tough wheel to call their own," says Tom Larter, VP of Easton Sports. "We've designed the Haven Carbon from scratch just for the kinds of riding we all like to do and we're backing it up with a no-questions-asked warranty. This one is a game changer."
Haven Carbon rims showcase numerous industry-leading design and engineering features. They are made with Easton's proprietary ABC (Armored Ballistic Composite) materials including HMPE (High Modulus Polyethylene), the product of choice for ultra-light body armor and other ballistic military applications. Proprietary resins provide the ABC composite with highly enhanced impact strength.
"We like to say that the Haven Carbon is the first wheel made for going ballistic because it truly does contain technologies designed for blast resistance," says Kevin Franks, brand manager for Easton Cycling. The Haven Carbon rims are manufactured and tested in Easton's wholly owned composite production facility, EMX, in Tijuana, Mexico, where cutting-edge technologies are combined with precision craftsmanship. Each Haven Carbon wheelset is then built by hand at EMX using Easton's proprietary acoustic tensioning and truing system.
The Haven Carbon will be available to consumers through independent bicycle retailers summer 2010