Almost a month ago now YT introduced an all-new Jeffsy, redefining their popular all-mountain bike as a trail bike. Interestingly, in a time of bikes getting slacker, more progressive & longer travel overhauls, the new third-generation Jeffsy actually dials back its travel just a tiny bit to create a more refined mountain bike, better suited than ever for all-around trail riding. Shred local singletrack day to day, still with enough in reserve to have fun when you venture into bigger mountains or catching the occasional uplift…
Review: 2023 YT Jeffsy Core 5 CF carbon trail mountain bike
Just before the official Jeffsy launch, I got to spend a good bit of time riding in a few different types of wet terrain in the UK on YT's top-spec ultra-high modulus carbon trail bike build – the Jeffsy Core 5 CF, at a claimed 14.8kg (32.6lb). And I came away thinking this is about as close as you can get to the 'one bike for all' ideal for how a lot of modern mountain bikers ride. My only question is whether I would rather have a fancy carbon bike build or the super-affordable alloy option?
Riding impressions, aka why a trail bike should be your mountain bike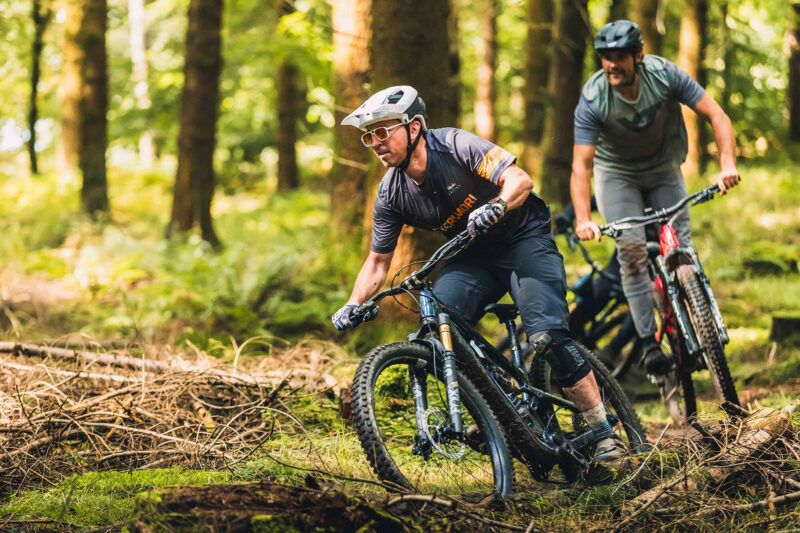 The new Jeffsy is a totally capable trail bike. It pedals uphill as easily as you can hope for, with firm support at its relatively deep 30% sag. And the rest of the 145mm of 4-bar travel feels plenty capable for descending some of the roughest trails you are likely to encounter. The only real trick then, is dialing in the 150mm fork to offer the same balance of suppleness and support.
This is the bike YT thinks is the best fit for how most mountain bikers actually ride. And I can certainly see where they are coming from. We used to simply call them mountain bikes. Then, maybe trail bikes and after that, all-mountain bikes. But it seems we're all coming back around to trail bikes again. And I'm fully on board.
I've said it before and it bears repeating. If you don't race cross-country or marathons, you probably don't need an ultralight XC bike. If you aren't constantly racing enduro, you probably don't need a gravity sled, either. In between are mountain bikes for mountain bikers. Sometimes we race fast tracks, sometimes we race tough technical tracks. But mostly we just ride mountain bikes for fun, and with friends.
And Jeffsy wants to be your friend. If you are going to ride just one mountain bike, this is a pretty solid bike to reach for.
So what's new and why does it matter?
While this third-generation Jeffsy has 5mm less travel than gen 2, it makes up for that small reduction in two ways.
First, the trail bike gets another geometry tweak, growing frame Reach by 5mm and moving to a degree slacker 65° headtube angle. The rest of Jeffsy's geo is essentially unchanged, and you still get the easy-to-use lower shock mount flip-chip to tailor the bike to your personal preferences.
The result is a ride that is confidently stable riding rough tracks, and happy to be pointed downhill.
Second, YT's V4L suspension has been significantly updated with some subtle reworking of its linkage to more dramatically change character throughout the shock's stroke. The suspension feel is very soft and supple in the first quarter of travel. Then at 30%, it stiffens up quite a bit to 105% anti-squat to provide a supportive feel that doesn't bob under your weight at sag. Next, a rapid decrease in anti-squat allows the bike to move through its travel with minimal pedal kickback. And finally, a bit more end-stroke progression rises back to give that bottomless sense where you always feel like there's a bit more travel left in reserve for bigger hits.
The result is a bike that feels planted on the trail, floating smoothly over the small bumps, pedaling easily, and ready for bigger hits. It's a snappy, poppy ride feel where you kinda just forget how much suspension there is out back.
I also feel like the slightly less travel is a better fit to the 150mm forks. With so many modern mountain bikes getting more capable thanks to continuously refined long and slack geometry, it's easy to outpace what forks of the same travel can handle. If the new Jeffsy had kept 150mm of rear wheel travel with these refinements, it probably would have needed to go up to at least a 160mm fork, and probably bigger stanchions, too. That would have pushed it even closer to YT's enduro bike. And if you really need an enduro bike, why not go all-in and get a Capra.
New details
Of course, we can't forget the fact that it adds an internal glove box. In-frame storage is en vogue these days, and YT's new Jeffsy gets in on that trend. I'm personally a fan of strapping a multi-tool and tire-repair spares on my trail bike so I can ride without anything on my back. So, on-frame and in-frame storage are great additions in my book.
And the carbon Jeffsy gets it both. Outside, a simple pair of bolts under the front of the toptube means you can mount a spares strap or a mini bolt-on tool bag – to either the carbon or alloy Jeffsy frame.
In-frame is well thought-out too, with a secure and water-resistant door that lets you slide a couple of nylon & neoprene sausages packed with goodies into the frame. I like that YT's solution is separate from the bottle cage. And using one bag that goes up and one that goes down in the frame, there's plenty of room for carrying whatever you need for trailside repairs. Plus, it never made any rattling noise while riding. And once I figured out the glovebox door's latch, it was easy to operate and stayed securely locked.
Speaking of that bottle cage, why does the Thirstmaster 6000 cage exit out to the left? And why am I so accustomed to pulling a bottle out of my bike with my right hand (leaving my left hand to hold onto the bar)?
YT did it to let them get the bottle (an the 620g of water weight) extra-low in the frame. So it needed a left exit to keep your hands away from the chainring, especially while pedaling along. I have to admit on my large test bike, it's farther down than I am used to reaching on my personal mountain bikes. And it might require getting a little more flexible to get used to it.
Want to know more about the new Jeffsy mk3? Read my full launch-day breakdown here.
All-new YT Jeffsy v3 parting thoughts
My only real concern with the 2023 YT Jeffsy Core 5 CF that I test rode is its price. At $6500 / 6000€, this premium ultra-high-mod carbon bike isn't exactly affordable. Even if it is a respectable price for a bike with a new direct-mount wireless SRAM X0 AXS transmission build, Fox Factory-level suspension, and worry-free Crankbrothers Synthesis Enduro alloy wheels with fast 90 POE Industry Nine hubs. But the beauty here is, the new Jeffsy family goes all the way down to an entry-level-spec $2800 / 2500€ model with an aluminum frame. And that alloy model features all the suspension & geo tweaks that make the new Jeffsy want to be your best friend.
If carbon is pricing you out of a new do-it-all carbon trail bike, my personal alternate pick would be the $3300 / 3000€ Jeffsy Core 2 AL. That's literally 1/2 the price of the carbon bike I tested, and still gets a great performance build kit that I wouldn't change anything on. Plus, it's literally only 700g heavier (the weight of one full water bottle & cage), you'll never have to plug it in to keep shifting, and it comes in a pretty great-looking Frost Blue. Go high-spec if you want, but you wouldn't do badly with a cheaper Jeffsy either.
More refined as a trail bike instead of an all-mountain bike, the new Jeffsy is probably, in fact, more capable than ever. It feels like a bike that's quicker when pedaling on the flats and uphill, yet it clearly retains its gravity-inspiration.
It's more of an everyday mountain bike, but it really is still the most fun to ride when going downhill. And that's kinda just how I want every mountain bike to feel.