Measuring power is one of the most accurate ways to assess your training and track your progress, but do you need a power meter on your mountain bike?
The data from a mountain bike ride is very different from a road one, but tracking that data is critical if you're looking to get faster, ride longer, and climb more easily…especially for riders who race off-road and train primarily on their mountain bike.
We compiled a list of the best mountain bike power meters currently on the market, along with the information you need to find the best model for you and your bike.
Separately, we've also created a reference article that explains everything you need to know about Power Meters, how they work, and the differences, pros, and cons of each type.
Best Power Meters for Mountain Bikes
Rotor's ultralight-yet-stiff mountain bike cranks win for the best overall option here because they're lightweight, provide advanced data, fit virtually any bike, have single- and dual-leg options, and a wide size range of direct-mount round and oval chainrings. They're also some of the most affordable!
There are actually three options: We wrote about the recently introduced Rotor InSpider spider-based power meter ($699), the spindle-based INpower ($699), and crank arm-based 2INpower ($1,250) system shown here and at top of the post.
For mountain biking, the 2INpower is our top pick. Not only is this setup one of the lightest ways to add full-featured power measurement – around 630g for a full crankset w/ 32-tooth oval chainring and power meter – it's also super stealthy. The only indication you're running a power meter is the little antenna hanging off the back of the arm.
These are also really accurate, with a claimed +/-1.5% accuracy and some of the most highly detailed pedaling dynamics data. The INpower system measures your left leg only with a spindle-based meter. The 2INpower ("twin power") version shown here adds two strain gauges inside the driveside crank arm to measure right leg power output, too.
Battery life is exceptional, with 250-300 hours of use per charge, with a user-rechargeable Li-Ion battery for 2InPower's driveside crankarm. The non-drive side uses a standard AA battery, but gets the same 250-300 hour run time.
You'll see the FSA PowerBox ($735) on the Santa Cruz FSA World Cup team's bikes this spring. Thanks to their unique BB392 30mm spindle, with the right spacer kit, it'll fit virtually any frame (excluding fat bikes).
The power measuring unit is based on the NG mountain spider from Germany's Power2Max company (seen recently on Team EF's bikes). It's robust, reliable, and has an extremely long battery life – up to 400 hours on a single $3 coin cell CR2450 battery! Accuracy is in the 1.5% range, and it calculates left/right power. It's ANT+ and Bluetooth compatible and calibrates easily with all head units we've tested.
The chainrings are FSA's 7075 alloy CNC machined chainrings with MegaTooth profiling. FSA's Megatooth chain retention system is thick and can take a serious beating. The rings come in a vast array of sizes and require no special tools for replacement.
Though the carbon unit is pricy at $1,249, a PowerBox alloy version is available for about half the price with the same spider.

 BEST FOR WEIGHT WEENIES:

Stages Gen 3 

Stages came into the mountain bike scene like a dragon and quickly gained popularity amongst the race crowd with super lightweight, easy-to-install crankarm-based power meters. First only available on alloy crankarms – this featherweight is now commonplace on SRAM XX1, FSA PowerBox, and Stages' own carbon crankarms.
The unit itself (starting at $325) runs on the non-drive side crankarm (no double-sided MTB option yet), with the strain gauges stuck to the inside of the arm. Powered by an easily installed CR 2032 battery, the Stages units are very waterproof and basically maintenance-free.
Power accuracy is within 1.5%, and the unit keeps a reliable connection with all head units. If you're looking for the absolute most cost-effective way to add power to your current setup, Stages offers a factory fit option where they will install a unit on your current crankarm setup. Some frames do have chainstay tolerance issues with the Stages meters, so use their measurement guide before clicking buy.

 BEST ACCURACY:

SRM 
A name synonymous with bicycle power meters is SRM – and that is because Ulrich Schoberer of SRM invented it. SRM makes power meters you see on the World Tour and are loved by number crunchers worldwide. That's because of SRM's 144-point calibration protocol and years of experience. The units are produced in Julich, Germany, or Colorado Springs, USA, and held to the highest craftsmanship standards.
The SRM meters come in three mountain bike options; a direct mount for SRAM XX1 and Shimano XTR, and their own SRM Origin with Look carbon crank arms. All units deliver readings with less than 1% error; these units are trustworthy and can take a beating.
Charging is simple (just don't lose the included SRM cable!), and chainring options are plenty, thanks to a 104m BCD setup. If you're looking for the absolute standard of power accuracy and a uber pro look, an SRM is the only choice.

 BEST FOR MULTIPLE BIKES:  SRM X-Power 
SRM is best known for the original power meter, the one that started it all. They were also the first to market with a mountain bike power meter pedal.
The SRM X-Power ($1299) uses a Shimano-style cleat and has a dual power sensor in each pedal. This unique design can measure total power and true right/left side readings. The pedals are rechargeable, and each holds a 30-hour charge.
The pedals are constructed from stainless steel and alloy. The spindles (where the electronics are housed) are sealed with a double washer seal – safe from mud and water. If that wasn't enough – the pedal body is modular and can be swapped out if damage occurs. If you want one power meter for multiple bikes, these are the way to go…you could even use them to add power to your cyclocross and gravel bikes!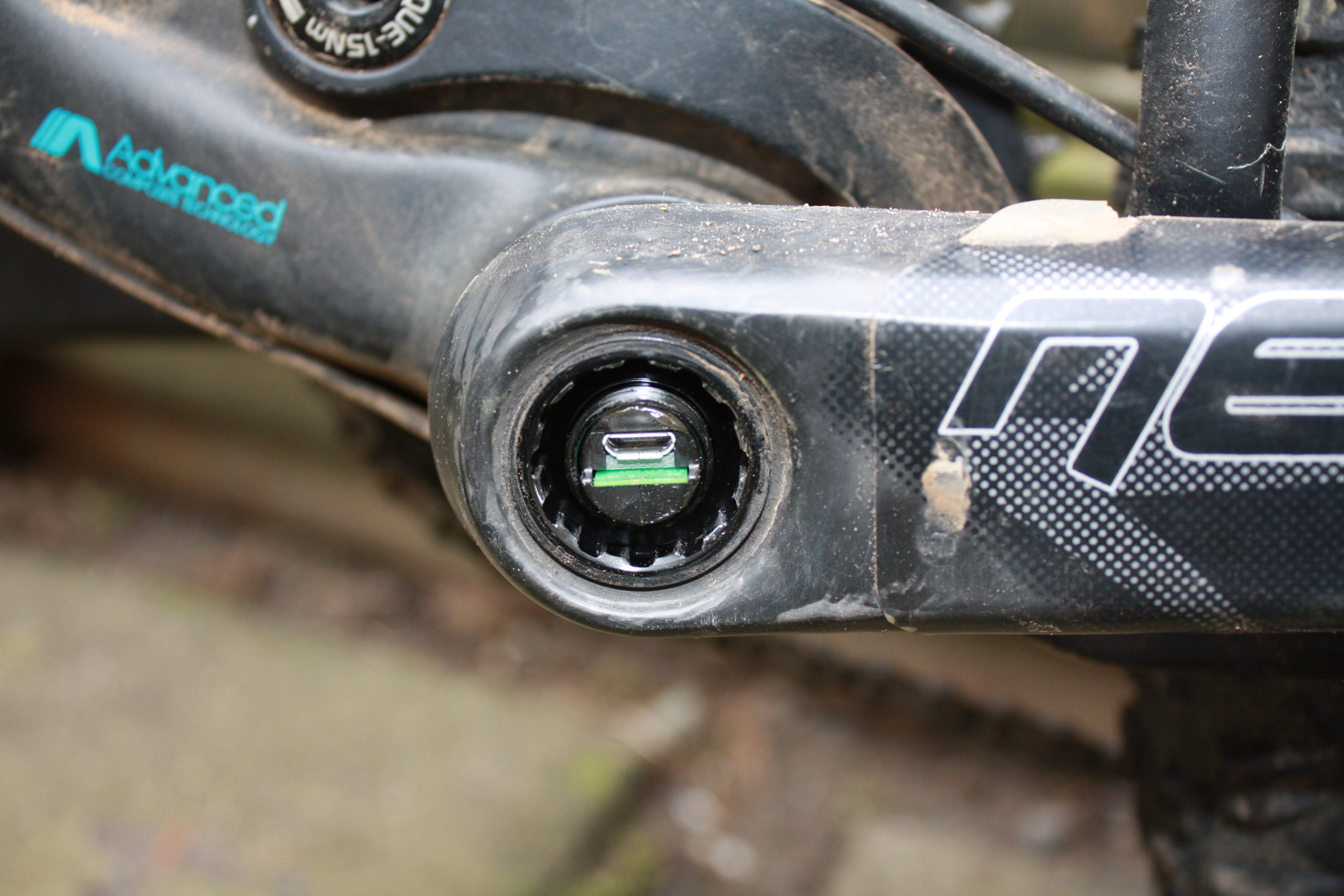 While not quite as populous as SRAM cranks, there are a lot of bikes that come with Race Face cranksets. And now you can a single-sided power meter to any one of them using their modular CINCH system.
The water/weatherproof 30mm spindle houses the strain gauges, rechargeable battery good for 400 hours, and all electronics. Since Race Face's CINCH design mounts both left and right crank arms to it, you can swap it into any standard mountain bike with Race Face cranks.
Communication to the head unit comes via Bluetooth or ANT+ and works well with virtual riding platforms. (Just note that Easton's CINCH power meter spindle looks identical, but it's a different length for road/gravel, so you can't swap this between different types of bikes…just mountain bikes)
At just ($599), it's also relatively affordable…normally. With inventory limited right now, some places are jacking prices a bit, but as Race Face gets more inventory in we'll update these links with more/better links.
Why do I need a power meter for my mountain bike?
Mountain bike success is a mix of handling and perceived exertion. It's less of a "by the numbers" sport than road cycling, and mountain bikers train on the trails a lot to keep their skills sharp. Going fast on the trails means being able to lay down a lot of power in short bursts to accelerate out of corners, but also maintain a high output on sustained climbs.
Training for that is hard, though. The undulating terrain and frequent turns make it difficult to maintain a steady output for consistent intervals. So, while training with power will be more efficient on the road or indoor trainer, (and you'll need to benchmark your FTP off the trail) knowing your output on the trails is still valuable.
Racing mountain bikes is better with power
You're probably not looking down at those numbers while wiggling through the trees, but hammering up climbs is a good time to check your status. Chasing someone down (or trying to drop them) can push you into the red, so knowing your limit will keep you from blowing up.
Interestingly, pro teams use power data to figure out optimal tire pressure and suspension air pressures. So, it can be as simple as helping you pace yourself, or as sophisticated as optimizing your bike's setup, too.
What if I'm not racing?
Personally, some of us just like having that data so we know when we're pushing as hard as we can – Are we really trying hard enough, or just slacking off? If we're trying to hang with stronger friends, it's the easiest number to see whether we're risking overdoing it and falling off the back. Knowing your limit and having the data to stay under it will help you finish strong.
How much do MTB power meters cost?
Depending on the features you want, mountain bike power meters can be very affordable, starting at $299 for "stick-on" models like 4iiii and Stages. They can also be very expensive, like the SRM Origin coming in at $1,800.
The difference is features; single or both crankarm readings, accuracy, weight, and the very granular. The best practice is to choose the power meter option that fits your budget and aspiring power knowledge.
Why you should trust us?
We ride a lot, in a lot of different conditions…from sloppy wet to desert dry, baking sun to freezing snow. We've raced and trained on these power meters, most of them extensively. The power meters listed above represent the best of what we've ridden over the years, with notes on what's new for the current generation of mountain bike power meters.
These aren't the only mountain bike power meters out there; this selection is what we feel represents the best available. Not just the lightest and most accurate but most cost-effective and cross-compatible with other styles of riding. Simply because a power meter is expensive and you see a bunch of pro athletes on it doesn't mean it's the best for you and your goals.
FAQ
What's better – crank-based, spider-based, or crankarm-based power meters?
The best power meter for you is the one that fits your frame, price point, and accuracy needs. Each style has its advantages and drawbacks.
Crankset-based are generally the most accurate. This accuracy is because the power reading is taken directly from a consistent area of torque. These usually come in at 1-2% accuracy. The potential shortcomings with these meters are the bottom bracket compatibility and the ease of switching from frame to frame. This style is usually a bit heavier than the crank arm or axel-based options. Since most of the mass is central to the rotational axis – the weight should be less noticeable.
Spider-based is very similar to the crankset-based option – it's pretty much the same thing. We include spider-based and think of it as a modular style power meter setup – like the Rotor InSpider. This unit is the same as the other crank-based in the guide, taking a reading from the same area. The difference is the modular nature and the ability to switch from crankset to crankset.
Crankarm-based meters are generally the most affordable and require little mechanical magic when it comes to setup. These meters are lightweight and need simply require a swap from a standard non-drive sidearm for the power-enhanced version. The potential drawback of these units comes in frame compatibility. Some manufacturers like Trek, for example, have very tight tolerances with the crank and chainstays. However, many crankarm base meters are slimming down in size like the Stages Gen 3. Older units could have compatibility issues with Trek BB90 style frames.
How long do power meters last?
A well-maintained and cared for power meter should last many seasons and years, for that matter. We have power meters we still race on that are 6 – 7 years old. The common killers for meters are water damage, updates, and crashes. If you plan on investing in a power meter, get acquainted with the service and troubleshooting measures.
Most power meter manufacturers are happy to walk you through troubleshooting over the phone. They will gladly take your unit in for a diagnosis and most will fix it in-house. Those that like to pressure wash their bikes may want to go easy around their new power meters. Blasting your bike with 150 psi of H2O is one of the most common ways corrosion creeps in, especially on crank-based meters. But, if you stay on top of your firmware updates and keep the bike upright – your unit will last.
How often should I calibrate my power meter?
As a good rule of thumb, we recommend calibrating your meter before every ride. It only takes a sec, and most head units will prompt this when it detects the meter. We suggest this because it's the easiest way to make sure you're getting consistent, accurate power readings.
An absolute must is to calibrate after any mechanical work you perform on the bike at the crankset area. Now – that doesn't mean you should calibrate after changing your cleats or BOA dials. But, changing a bottom bracket or adding a chainring – that's when you want to calibrate.
Which mountain bike power meter should I buy?
Choosing the proper power meter can be tricky. You have to find something that works for your price range, frame compatibility, and required metric output. We think if you answer the following questions, you should be able to narrow it down quite a bit;
What's your price range? Power meters can range from $200-$2000. The difference is mainly weight and accuracy – crankset-based being the most expensive, add-on crank arm units the least.
What is your frame compatibility? Most power meter suppliers have a frame compatibility sheet or reference on their site. This question is crucial if you have a BB90 bottom bracket or a non-boost frameset. The most compatible power meters are crank-based styles. Crank-based meters can fit many different frames with spacers or a different spec bottom bracket.
How important is weight to you? Chances are, if you're looking for a power meter for your mountain bike, you're looking to improve personal performance and race results. Most meters are reasonably lightweight and configured on top-of-the-line components.
If you just want to see a number (and they'll fit your frame), it's hard to beat the price and weight of stick-on options (Stages or 4iiii).
That said, the other options aren't much heavier by the time you've swapped the old spider or spindle out, and when you bundle them in with a completely new crankset, they can be a very cost-effective way to both add power and upgrade your crankset…which might even be a net loss in grams!