Almost 6 years since DT Swiss first introduced us to their aerodynamic SwissSide collaboration to make their carbon road wheels faster, from new top AR 1600 to my budget E 1800 alloy wheels, this is DT's first proper go at making aero more affordable in aluminum. Designed around modern tubeless road, endurance & all-road tires, DT's new affordable aero aluminum collection includes two rims and four complete wheelsets that will make you faster without breaking the bank. They are even respectably lightweight and look pretty good, too.
It turns out that you don't have to spend $2500 on deep carbon wheels to get aero gains, after all.
DT Swiss affordable aero aluminum road & all-road wheels
We almost wonder why it has taken so long since their first 'road revolution' wind-tunnel-optimized aerodynamic road wheels to add aluminum to the aero mix. But now it is here. Two 30mm deep wide, blunt-nosed hooked tubeless aero alloy rim profiles. One 20mm internal, ideal for 25mm road tires. And one 22mm inside, aero-optimized for 28mm tires and more endurance riding. Both rims are offered on their own, or built up with aero spokes and Ratchet hubs at two pricepoints to fit most budgets.
DT calls it: "AERO FOR ALL"
Real Aero Aluminum Gains
The core of DT's modern road aerodynamics lies in their ongoing development collaboration with aero-experts SwissSide for CFD simulation and real-world testing in the GST wind tunnel in Germany. Starting with the top-tier affordable AR 1600 wheelset, DT tested them against two comparable modern alloy wheelsets fitted with the same 25mm Conti GP 5000 tire – 34mm deep Hunt Aero Wide SLs & 30mm deep Mavic Kysriums – showing the new DTs coming out on top. (Or rather on the bottom, with less drag.)
DT also compared their new 20mm internal AR aero race wheels with 25mm GP5000s to the new 22mm ER endurance race wheels with 28mm GP 5000s. Unsurprisingly, the wider and more comfortable wheel/tire combo exhibited a bit more drag. And look to be similar to the Mavics even with smaller tires.
Lastly, DT Swiss also built up wheels using their older 23mm & 32mm deep alloy road rims with the same new hubs and spokes to see how the new rim shape stacks up. The new wider A510 rim which is used for the AR 1600 & A 1800 wheels came out as a clear aero winner, while weighing just 15g more than the RR521, but a full 85g more than the RR470.
Tech Details
The two new affordable aerodynamic aluminum rims are the A510 & E550. Both are 30mm deep and effectively the same VU-shape debuted on DT's latest generation of carbon aero wheels. The road-focused A510 is 20mm internal. The endurance & all-road E550 is 22mm internal.
Both are sleeved aluminum extrusions with classic hooked tubeless profiles. The A510 in the AR & A series wheels exclusively features drilling for internal nipples. I know that will anger some of the traditionalists, especially those who would build these rims up into their own custom aero wheels. DT thinks that's not an issue with their hand-built complete wheels, and their uniform tensioning. I suspect amateur wheel builders would encounter more issues with hidden nips – myself included.
The E550 rim however sticks with conventional external nipples, whether as a rim-only, or built into ER & E series aero endurance road wheels.
Both rims are available in 1600 or 1800 series wheelset builds. 1600 wheels get lower-flange 350 hubs with 36T Ratchet SL internals and 24 straight-pull Aero Comp II bladed spokes. 1800 series wheels get slightly chunkier 370 straight-pull hubs with 18T Ratchet LN internals and 24 Aero Comp Wide bladed spokes. Quality & aerodynamics are pretty close between the two levels, just around 60g extra for the cheaper spec wheelset.
DT Swiss Aero Aluminum – Pricing, Options & Availability
On their own in 24, 28, or 32-hole drilling, both the A510 & E550 rims sell for $68 / 45€. The A510 include the required DT ProLock Squorx ProHead internal nipples, and the E550 the appropriate external nipples. (Claimed weights per rim of 535g & 565g, respectively.)
On the aero road side, the DT Swiss AR 1600 Spline 30 wheelset sells for $757 / 599€ with a Shimano or SRAM freehub, at a claimed weight of 1703g (808g front / 895g rear). The even more affordable DT Swiss A 1800 Spline 30 wheels with the same rim sell for $542 / 429€, at a claimed weight of 1766g (830g front / 936g rear). 110kg rider+bike weight limits.
For the aero endurance riders, the DT Swiss ER 1600 Spline 30 wheelset also retails for $757 / 599€ with a HG11 or XD-R freehub, at a claimed weight of 1803g (858g front / 945g rear). The DT Swiss E 1800 Spline 30 wheels are again even more affordable with the same rim for $542 / 429€, at a claimed weight of 1837g (865g front / 972g rear). 130kg rider+bike weight limits for the endurance wheels.
All wheelsets come set up with tubeless tape and include valves. They are all 12mm thru-axle. But they use standard tool-free DT end caps that can be swapped to other standards and freehub bodies as needed.
DT Swiss E 1800 Review, so how do they compare?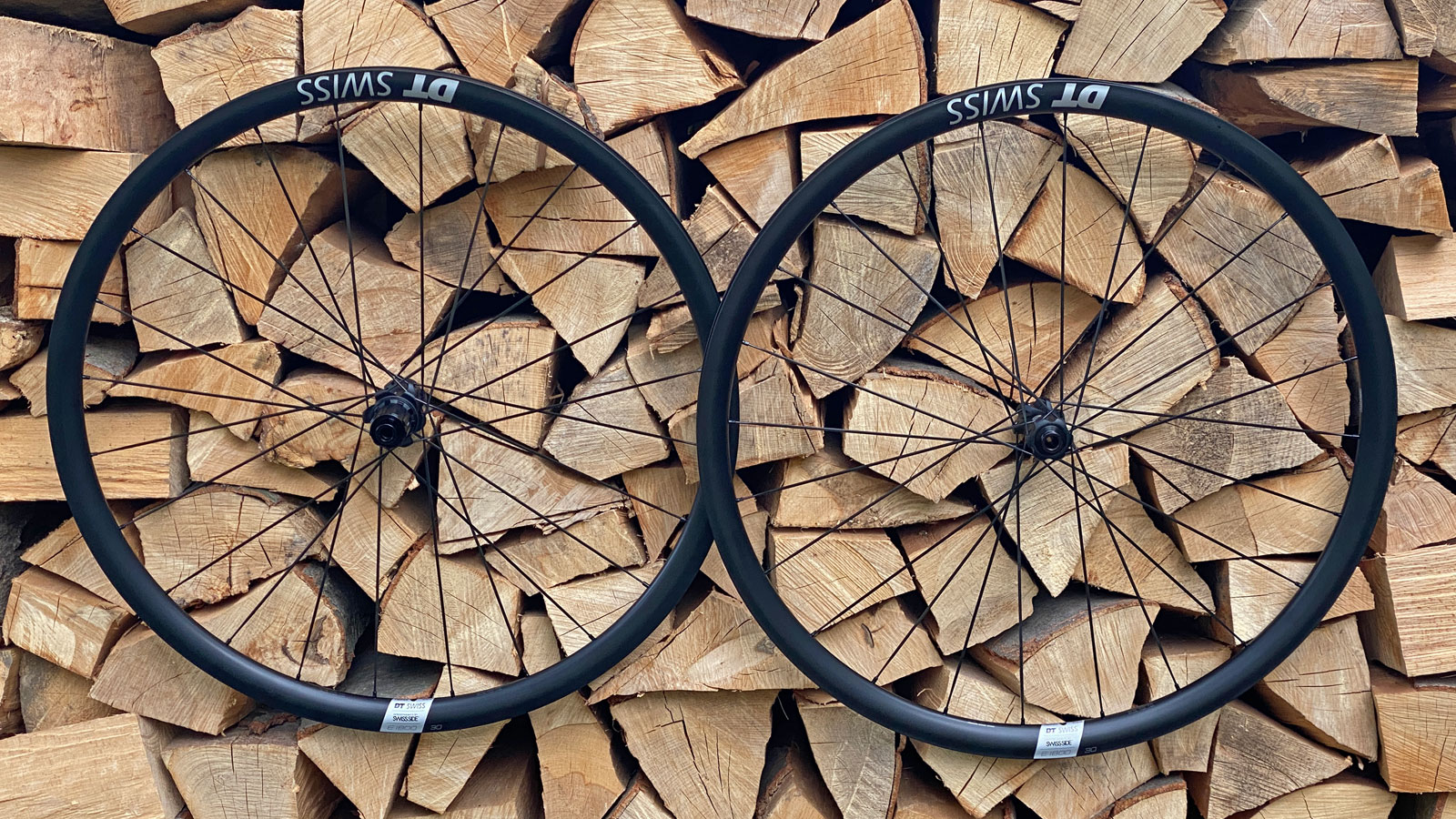 The E 1800 wheels are a proper performance upgrade from the previous generation of their entry-level complete aluminum endurance road wheelset. Their rim profile is pretty much the same VU aero shape as the A-series & carbon wheels, but retains the external nipple serviceability paired with aluminum rim affordability.
They are the same 22mm internal width as before. But now 7mm deeper, significantly more slippery in the wind, and just a claimed 73g heavier for the set.
Do they feel as light as carbon? Are they as fast?
The answer to that is pretty much no.
These aren't really competing with aero carbon on weight or speed. Our E 1800 wheelset tipped the scale at an actual weight of 1892g (877g front / 1015g rear). That's just 55g more than DT claims. But it's 450g heavier than the 45mm deep x 22mm internal DT Swiss ERC 1100 45 aero carbon endurance wheels we tested a couple years back.
But those wheels sell for 2500€ now, and these are just 430€. Are the carbon wheels 5x lighter and 5x faster. No, to that as well. That's where these new aero-optimized aluminum wheels really shine.
We swapped out a set of 2050€ 50mm deep carbon ARC 1400 wheels that came on the latest Canyon Ultimate, with these bad boys and some 32mm G-One road tires. And arguably, it has made the Ultimate more of a fun bike to ride. Sure, it means something like 600g extra in rolling stock that definitely makes going uphill a bit slower. Yet, it still weighs less than 8kg complete. And… it opens up the bike for riding all sorts of different terrain, from rough asphalt to fast gravel.
I'm not saying anyone should ditch the carbon wheels off their aero road bike. But maybe you should buy a second affordable DT aero aluminum wheelset. Then, some wider tires, and take your current bike further.
Or if you just want to upgrade a stock alloy wheelset with something a bit higher performance? You kinda can't go wrong with a new DT Swiss aero aluminum set of road or endurance all-road wheels.