Hiding on the back of that new Ridley Kanzo Fast aero gravel bike we spied yesterday is this curious internally geared Classified Hub, doubling up your gravel gearing. While gravel bikes are leading the drop bar trend to ditch the front derailleur, this unique wireless shifting 2-speed internal gear Classified Power Shift Hub brings back 2x range and smooth gear steps – all while keeping all the functional improvements of modern 1x drivetrains. Here's how it works (and it's coming soon)…
Classified Hub, wireless 2x internal hub gear, plus a 11sp cassette
The secret is a special rear hub with a single step reduction set of planetary gears inside and a mostly conventional 11-speed cassette on the outside. A wireless shifting setup controls the internal 2-speed planetary gear shifts, while you use any standard 11-speed clutched rear derailleur  to move through shifts up and down the cassette. You get 2x gearing with 1x chain retention, boosted tire clearance & external simplicity, even on bikes that are 1x-only!
How does it work? It's Classified!
At your handle bar, use a standard electronic shifter or satellite buttons (it appears to work with current Di2 buttons) to send the shift signal via a control module mounted in your left bar end (the right one has your Di2 control module, these days) wirelessly back to the Smart Thru Axle.
Yes, it requires a smart thru-axle (that's what we spotted in that teaser Kanzo Fast image above from Ridley). The 12x142mm axle is micro-USB rechargeable for three months of riding and transfers the wireless shift signal through a contact-less interface to the shift mechanism inside the closed Power Shift Hub unit.
The sealed Power Shift Hub assembly is where the magic happens. This is where the two-speed planetary gears live, protected from the elements. Shifts are electronically actuated, but the Power Shift Hub system requires no external power, instead taking actuation energy wirelessly via induction from the Smart Thru Axle for 10,000 shifts on a single charge.
Classified says it takes just 150 milliseconds to shift, even under full load.
But wait there's more. The Power Shift Hub assembly can quickly slide in & out of the alloy hubshell, allowing you to have one Power Shift Hub setup that can swap back and forth from several condition-specific wheelsets (much like the recent Kindernay hub system).
On the outside of all that, Classified's proprietary interface 11sp cassettes let you pick the gearing you need, and interface with your conventional 1×11 drivetrain. The result: 1 chainring, an 11-speed cassette, and wide 22-speed double drivetrain.
What does Classified Hub do to Gear Ratios?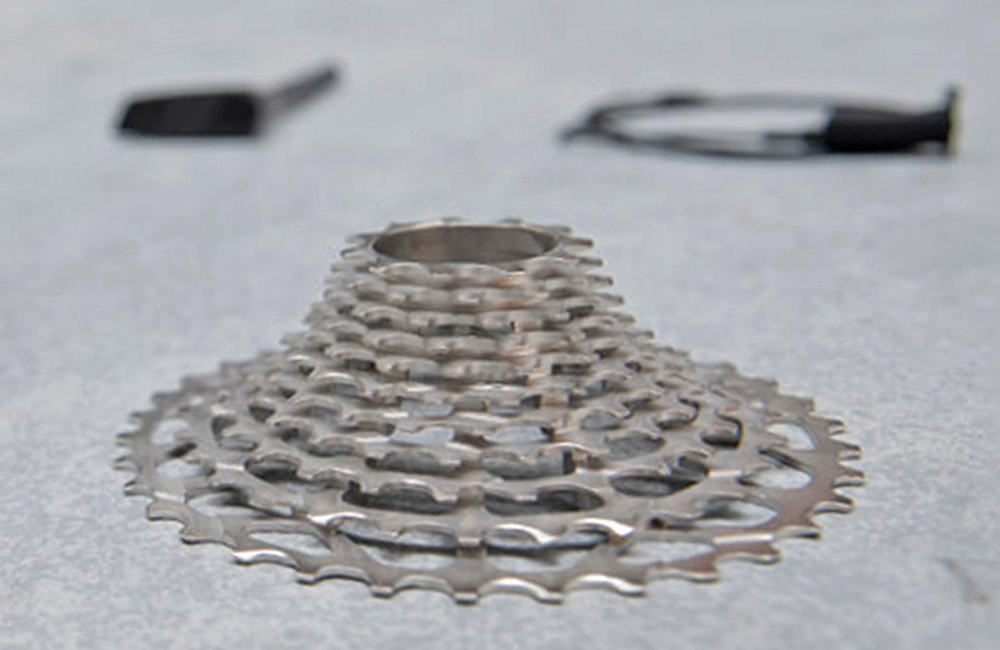 To make the entire system work you need to use one of Classified's proprietary cassettes, which now limit you to 11-speed drivetrains (sorry no SRAM AXS fully-wireless setups, just yet). That probably shouldn't be too big of a problem, Classified machines their 4 cassette options from mono-block, tool hardened steel so they should be both light & durable. Available 11sp cassettes include 11-27, 11-30, 11-32 & 11-34 gear ratios. Those seem slightly big for gravel, but the 2sp planetary gears should take care of that.
The Power Shift Hub runs in two ratios – straight 1:1 where you get the gearing you see from the outside, and a UnderDrive ratio of 1:0.686 to expand the low range wider than the cassette would suggest, just like dropping to a little chainring up front in days of yore.
So let's talk possible gear ratios… Classified says you need to run a minimum 40T up front, which with the widest 11-34 cassette would give you a lowest possible gear & widest spread equivalent to a 11-49.6 cassette – or 450%. Not quite SRAM Eagle 500%, but bigger & lower than the 381% you can get from 1x GRX (whose easiest compatible gearing is 40T x 11-42.)
Classified calls it comparable to a regular 2x setup, where a road compact 50/34 has 1:0.68 reduction and new SRAM 43/30 1:0.70 reduction. So you can opt for a 50T ring to get the same road-ready gearing or go down as far as 40T for a more gravel friendly-setup.
But why?
You (and I) might ask, why all the hassle when perfectly functional, cheap front derailleurs still exist? One simple reason is that a lot of new bikes have lost any option for a front derailleur (you/we can certainly argue the rationale for that) whether for improved tire clearance, improved aerodynamics, better 1x chain retention, or maybe even simplicity. Classified is simply clawing back 2x range in a system that shifts better under load (or even while freewheeling) while giving you all the benefits that 1x sold you on.
Weight impact is an obvious concern, but they claim says that "a bike equipped with Classified and 1x GRX Di2 setup weighs about the same as a bike with a traditional 2×11 GRX Di2 groupset and a DT Swiss 350 hub". There are obviously ways to build a lighter setup, but any total system weight penalty appears to be minimal.
And while the Power Shift Hub is more mechanically complex than a standard cassette hub, Classified says it requires no additional maintenance and "has an operational lifespan exceeding the lifespan of a bicycle's internal systems". Bearings are subject to normal wear, and Classified says they offer service parts to get you back rolling quickly if there is ever any issue.
So…
How do you get one & How much does it cost?
For now the Belgian developed & produced Classified hub is only being offered as original equipment on complete bikes. The Classified Power Shift Hub system is manufactured in Turnhout, Belgium. No official statement has been issued of which bikes will be included, when it will be available, or how much it will cost.
But… that lead image that came from Ridley would be a good hint. And how about all of these other smaller images that comes from Classified's own website, clearly showing the most complete views we've seen of that new Ridley Kanzo Fast aero gravel bike. And having been ridden from snow to sunny cobbles, it seems like they've been ready for a while…
That bike is clearly equipped with Shimano GRX Di2 1x, a one-piece carbon cockpit, carbon wheels & the new aero carbon gravel frameset. Based on Noah Fast pricing, you're probably looking a complete bike around 7500-8000€. No we wait and see when the Kanzo Fast gets its official debut…