Giro has brought back their retro styled Republic LX R shoes for commuter, gravel riders & bikepackers looking for a more classic look, now with updated performance. Plus, they are adding more hi-viz reflective options to the Empire & Republic for those looking to be seen. Shout out to SockGuy for spittin' fire in merino, T-Rex being seen!
Giro Republic LX R leather gravel shoes
Highlighted by a supple natural leather upper, these shoes are supposed to exude luxury, and are intentionally meant to show marks from use, wearing in a nice patina over time.
From first glance, the leather Republic LX R shoes aren't entirely new sharing a mostly unchanged upper from the first generation of the shoe that Giro targeted more at urban cyclists. But the Republic LX Rs get an all new co-molded sole design to improve both long-term durability and grip on a wider range of surfaces, opening them up more for the growing gravel, bikepacking, and adventure bike sectors. (The same as debuted on the knit Republic R.)
The new leather shoes feature a lighter, fiber-reinforced nylon sole to deliver pedaling efficiency, now co-molded with new grippy but long-lasting rubber lugs. The 200€ shoes are designed to look good on & off the bike, and stick with two-bolt SPD style mountain bike cleat compatibility to make them comfortable and easy to walk in, even without overly aggressive tread lugs.
Republic LX R synthetic gravel shoes
Besides these natural leather Republic LX R shoes in a color called tobacco, Giro also again has a synthetic version that shares much of the same looks and performance, with one secret up its upper. The Dark Shadow Reflective version replaces the natural upper with microfiber, and uses perforated side panels to match the breathability of the leather shoe, also adding a multi-panel design with a bit more stitching to match the fit. Otherwise they share the new MTB pedal-ready, molded nylon+rubber sole as the leather shoe. Pricing for the new reflective shoes is expected to match that of the leather version.
Empire ACC & ACC Reflective road shoes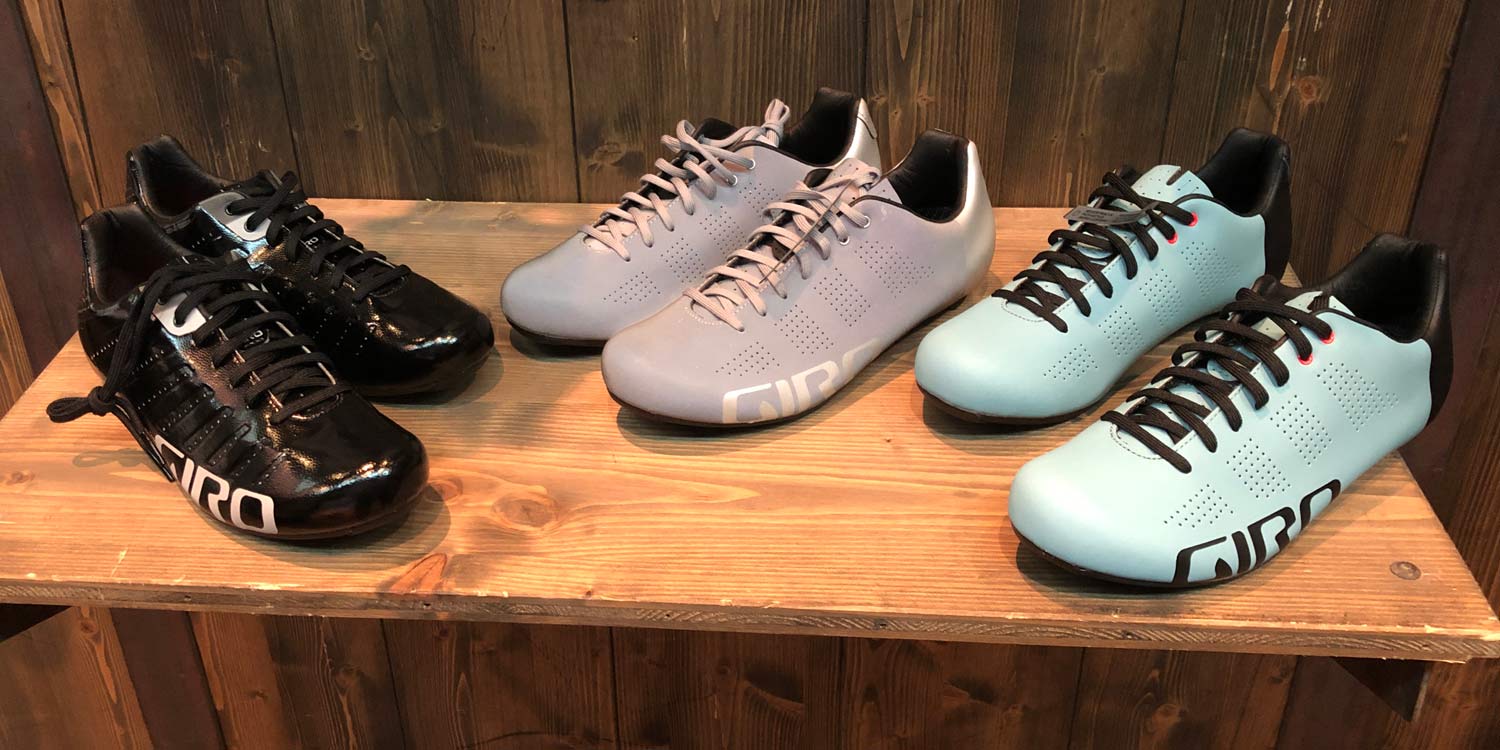 Giro has been fully embracing reflective finishes for their synthetic uppers for a while, but they continue to expand with more color and brightness depending on what you are looking for. Looking at their mainstay Empire road shoes, you can stick with something like the high-gloss black of the SLX (left), or go to the other extreme of glowing in cars' headlights with the ACC Reflective in silver (middle).
But now there are starting to be more options like the standard ACC that adds a bit of color like these in light blue toes & black heels (right) that still offer a modest amount of sparkly reflectivity when hit with a bright light. You get visibility, is a slightly more subdued everyday look. The reflective finishes are a good bit easier to scratch up, so don't expect too many full reflective versions of the off-road shoes, although the Empire VR90 does offer reflective logos or a reflective patterned option.