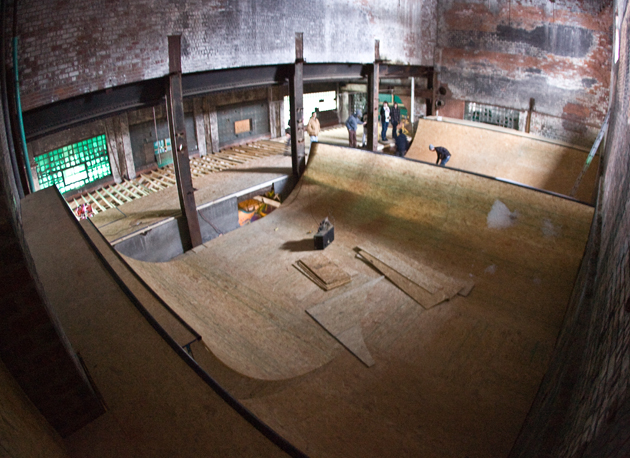 True to form, Ray Petro is at it again. Never satisfied with the current layout of his now 103,000 square foot bike park, Ray takes every opportunity to improve and expand his vision. After all his favorite saying to visitors new and old is "If you keep coming, I'll keep building." Clearly, Ray is a man of his words.
So what's new this time? Most people by now are familiar with the new rhythm room, the redesigned pump track, and other changes made to the park. Now attention is focused on revamping the year old Dirt room – the separate room that houses nothing but dirt jumps. Well the room that used to contain nothing but dirt jumps will soon receive it's very own mini ramp and small half pipe designed and built by Joe Prisel…. in the rafters. Yup, that's right Ray is adding yet another feature that makes use of all the space he has to work with. In addition to the ramps, they will also be revamping the dirt jumps themselves with the help of Pennsylvanian dirt jump king, Dave King. Known for his work in both the X-games and Dew Tour, Dave is sure to lend a little special something to the already amazing Dirt Room starting in April.
In other Ray's MTB news, rumors have been flying regarding the possibility of a second Ray's opening in another state. Specifically, there are claims that Milwaukee, Wisconsin will host the new venue, although our source claims that this is untrue – for the time being. While there is no denying the fact that Ray is interested in the area and possibly may have chosen a building, nothing is set in stone at this moment. Ray's crew hopes to have plans finalized in a month or two, and you can be sure we'll have the word!
Thanks to Cody York(ESPN BMX) for the picture!