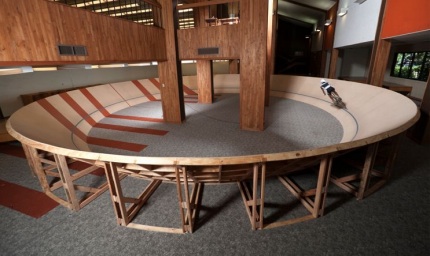 It's Friday, and what a better way of celebrating than being reminded that your job sucks, right? The guys over at Portland Design Works, manufacturers of fine cycling accessories, decided to make their jobs just a bit cooler by installing a miniature velodrome in their office. That's right folks. The company is sending a rep to LA to pick up the mini-drome and drive it back to Portland for installation.
The velodrome was part of an art installation by art student Samuel Starr at Pomona College in California. Bike Portland reports that the project will  cost about $3,500. See the video of the track in action after the break.
Circulus from machine project on Vimeo.