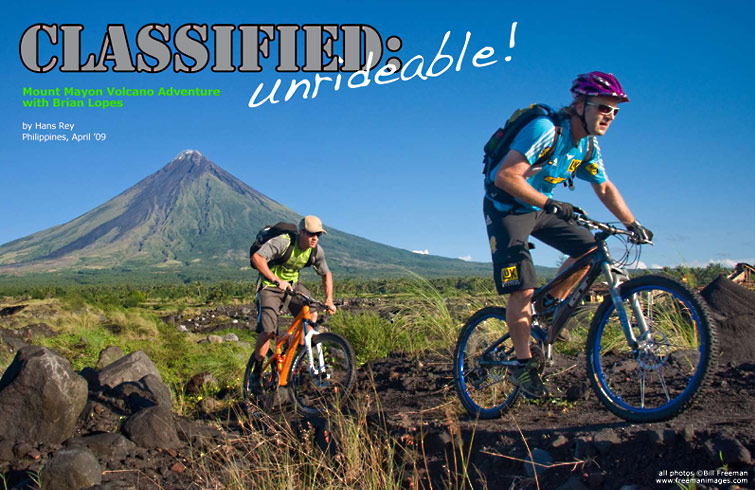 It seems like every time you hear of Hans "No way" Rey, he is hopping around on one wheel, riding with a chimp in tow, or off on some unbelievable biking journey. Hans has truly been an iconic and inspirational rider, which the Ski Channel plans to highlight with their new show, "Hans Versus the Volcano" this July.
In April 2009, Hans joined world champion Brian Lopes, in a never before attempted summit and descent by bike of the Philippine volcano Mt. Mayon. The journey would not be easy involving sections of trail that even made Hans (who can ride anything) admit that there are parts of the world that can't be ridden. Did I mention that Mt. Mayon is still a very active volcano that last erupted in August 2008?
The trip was originally scheduled for April 2008 but was delayed due to Hans' broken leg he suffered while training in Laguna Beach. The trip was then rescheduled for April 2009, and this time they made it work.
Be sure to check out the trailer, and catch the show if you happen to get Ski channel. What if you don't get the Ski Channel? Well if you're like me and have Direct TV, you can tune to Video on Demand channel 1860 and supposedly download the program free once it's available. I actually just checked it out and am currently downloading the other Ski Channel program that features Hans Rey and Thomas Frischknecht on a six day Alp freeride tour, Alta Rezia.