What does the next generation of Hunt Bike Wheels' aerodynamic Aerodynamicist carbon wheels look like? Blunt-nosed & deep, but condition-specific aero profiles that vary from front to rear in both width and depth.  We got a sneak peek today at Hunt's upcoming triathlon and time trial wheels. The new Hunt Aerodynamicist wheels are about to go into the wind tunnel for final testing & verification, but their unique aero shaping looks ready to make your bike faster against the clock…
Hunt deep Aerodynamicist aero carbon TT/tri wheels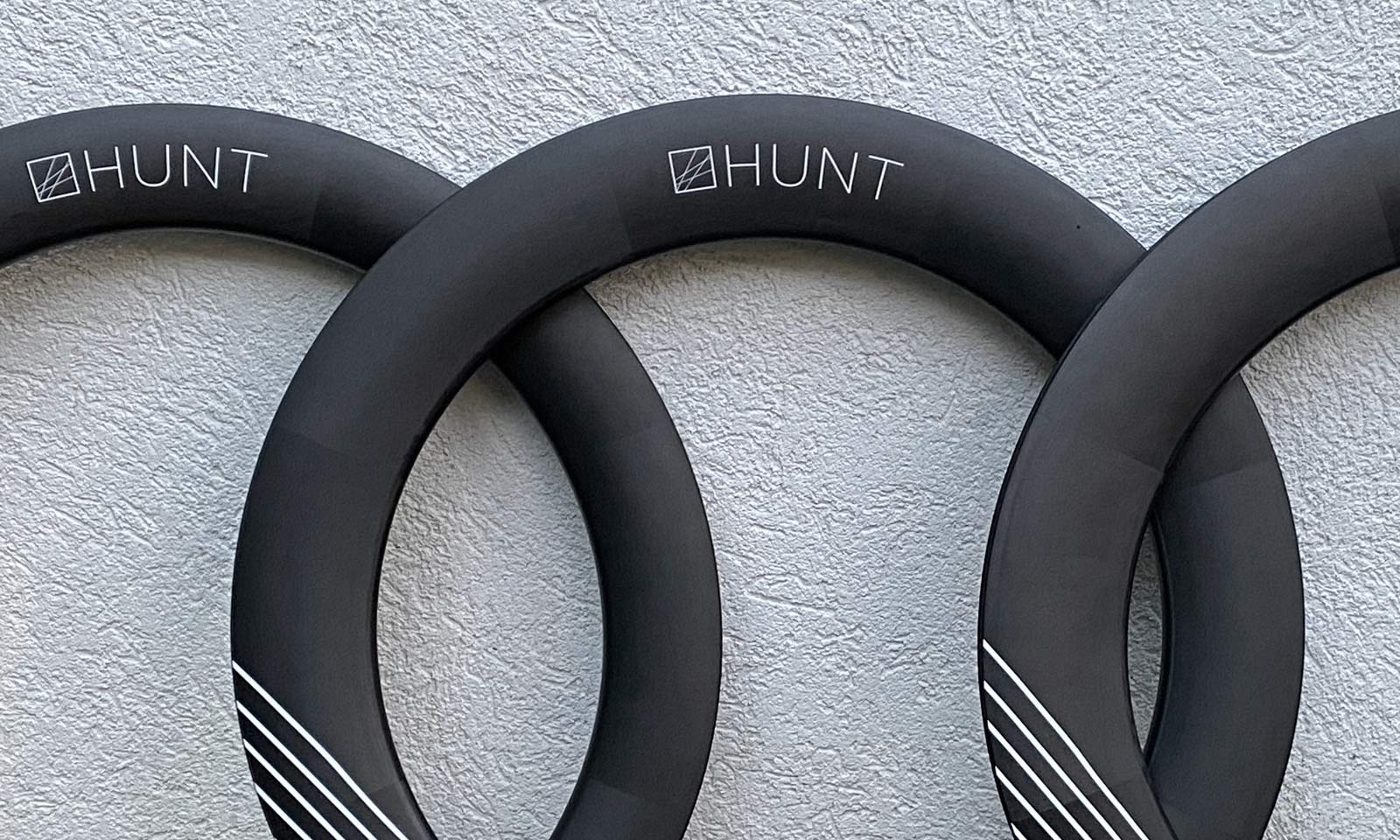 Having seen the newest aero carbon wheels from some of the biggest manufacturers, some things are certain with a new aero wheel launch… disc brakes have become the rule, wider internal widths predominate, and deeper rims effectively correlate with faster speeds for more individual racing against the clock.
Blunt-nosed profiles have also come to dominate in recent years where wind tunnel data has mostly shown them to be more aerodynamic in variable wind conditions, especially at +/- 10-15° yaw angels or so. But it's not as cut and dry as we thought a few years ago. And the long-running concept of pairing a deeper rear wheel to a shallower front wheel isn't dead.
Now Hunt is even pushing the idea of a wider/shallower/more blunt front wheel , paired to a slightly narrower/deeper/more V-shaped rear wheel for optimal aero performance….
Blunt noses certainly haven't been the only solution after seeing DT Swiss' latest ARC wheels. And for sure, variation between front & rear rims has been prevalent for decades as wheel makers attempt to balance the different aerodynamic and handling performance needs from front & rear wheels.
Now, Hunt's latest & most aerodynamic deep carbon wheels look set to employ three completely different rim profiles, depths & widths to perfectly dial in your condition-specific aerodynamic time trial & triathlon racing setup…
Tech details
What Hunt is working on are three separate deep section, tubeless carbon rim profiles that combine together are designed to offer the best aerodynamics possible, depending on race conditions.
The general idea is a deeper and more V-shaped 87mm rim makes up the rear wheel, where lateral wind forces have less impact on bike handling ad the deeper profile can give greater aero gains.
Up front, either a 73mm deep or 83mm deep rim gets more manageable handling while still offering fast aerodynamics.
The trick is the slightly shallower rims get generally wider overall for optimized aero performance across a wider range of wind conditions, while the deeper rims are narrower, with a more conventional (but still mostly- U-shaped) profile for optimal performance in fewer crosswind conditions.
All three rims are set to share the same 21mm hooked tubeless internal width, but with varying external widths.
The deepest 87mm rear-only rim will be a maximum of 30mm wide external. The middle front-specific 83mm deep rim is 31mm wide, while the shallower 73mm rim is 33mm wide outside.
Hunt Aerodynamicist Tri/TT prototypes – pricing, options & availability

The three new Hunt Aerodynamicist Tri/TT wheels are still in their final development stage, set to undergo final wind tunnel testing next week. Official debut and release for sale isn't set yet, but Hunt suggests that they are "coming soon". From what we've seen, the rims appear to be in a final pre-production form, and Hunt suggests they should be available for preorder before the end of this year, with delivery likely in early 2022.
No official word on pricing yet, as these are still prototypes. But based on construction we expect they will sit around the same ~£1200/1400€ price level of Hunt's Limitless carbon aero wheels.