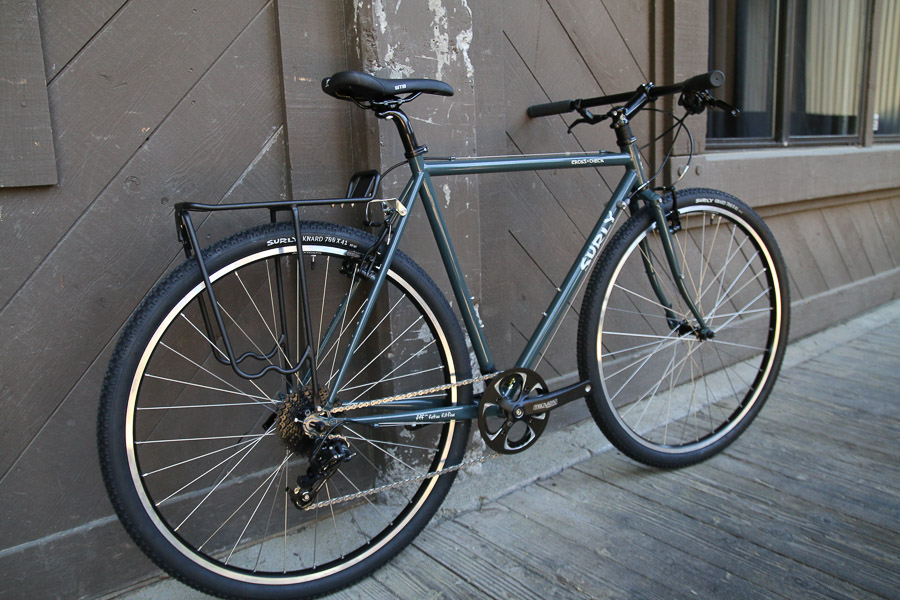 The new Karate Monkey wasn't the only thing Surly had to show from Saddle Drive. The new 27+/29″ mountain bike may have stolen the show with its 'Gnot-Boost' spacing and wheel and tire options, but Surly has been equally busy on the pavement side as well. I think it's fair to say that bike launches often cater to the high end – after all, you want people to see the most exciting (read most expensive) new products in the line. But sometimes there are gems like the new Flat Bar Cross Check thrown in to throw you for a loop.
It's not a new frame. It doesn't use any new standards. But what it does offer is an impressive build for an unbeatable price if you're looking for a new commuter or college cruiser…
At the base is the same Cross-Check frame we know and love. But instead of the typical Cross-Check build, this one sees a SRAM X5 1×9 drivetrain with a flat bar set up. Built with 700c wheels with Alex Adventurer rims and Knard 41mm tires, the bike features exactly what you need for getting around city or campus and nothing you don't. It even includes an MSW Pork Chop rear rack for carrying all your groceries, books, or whatever. The best part? The understated Urban DeGray Cross-Check will sell complete for just $875. That's still a good chunk of money, but for a well equipped, city-ready bike out of the box, it seems like a bargain.
If you're looking for something even more capable, the Troll is back and better than ever. Now with a completely redesigned frame and fork that is non-suspension corrected, the Troll is all about getting out of town on the worst roads and trails imaginable. Part of the redesign was to allow for more frame bag room in the main triangle, while the bike keeps all of the numerous braze ons for just about anything you can imagine.
Like the Karate Monkey, the Troll gets new dropouts with 145mm Gnot-Boost spacing which equates to compatibility with 135, 142, and 148mm rear hubs. Like the Shimano hubs and linear pull brake mounts, the dropout versatility is all about providing options for spares world wide. This is a bike that may find itself in a country with vastly different bike shops than we're used to, so the ability to run multiple standards is key. The dropouts still include a Rohloff Torque Arm slot, and the frame is built to accommodate up to 26 x 3.0″ tires, though it comes stock with 2.5″ Extraterrestrials on Alex Adventurer 2 36 hole rims. Other build details include a 3×10 touring drivetrain with thumb shifters, mechanical disc brakes, and a Jones Loop bar for $1,649. Expect both of these bikes by December.
Still in the line up, the Big Dummy gets an updated look with a Soil Ant Green paint job with a matching deck on the rear rack. Other changes include a new SRAM/Shimano 3×10 drivetrain with a clutched GX rear derailleur which should help reign in that huge chain. Kenda Kiniption tires and new Dummy Rail Collars cap off the changes with a retail of $2,099.
Not in the line up any longer are compete builds of the Pugsley and Moonlander Fat bikes. With the arrival of the Ice Cream Truck and Wednesday, the elimination of offset fat bikes isn't that surprising, especially as more fat bike specific components have emerged – the lack of which being the whole reason the offset designs were created in the first place. At the moment framesets are still available for both bikes, but we're guessing it probably won't be long until those go away as well.
On the subject of frame bags, Surly's Straggle-Check bags are made by Relevate to fit Surly's bikes. But the bags are also adaptable with adjustable velcro loops for other bikes, plus it allows you to replace the straps if they are damaged. The bags feature heavy duty zippers with new VX21 PU coated fabric, foam bumpers for less noise and abrasion, a hydration port, and a large internal pocket with a velcro divider. Retail is $170. Surly deserves a special mention for eliminating standard packaging for their bags – instead, they'll be shipped in a stuff sack that you can actually use on your next bike packing adventure.
Surly's Porteur House bag is a massive carry all that is designed to fit their 24 Pack front racks. In addition to the huge main compartment, you'll find two front utility pockets, all with hi-viz liners that make it easier to find things and keep everything water resistant. Once set up, the bag can be removed fairly easily from the rack and carried to your destination with the shoulder strap, all for $120.