Canyon updated the Spectral:ON eMTB in 2022, redesigning the entire bike around their in-house developed batteries. Opting to retain the mixed-wheel platform with a 150mm fork up front, Canyon has added a little extra travel in the rear, boosting it to 155mm. The most notable changes, however, are focused around the engine room of this trail-oriented eMTB.
Developing their own proprietary 720 Wh and 900 Wh batteries, Canyon has been able to address the issue of range anxiety while minimizing the weight penalty associated with that boosted capacity. Weight of the XTR-equipped Spectral:ON CFR in size small, with its 720Wh battery is 21.8 kg.
Paying great attention to the distribution of that weight, the Shimano EP8 motor seen across the five-model range is tilted up through 30° to allow the battery to tuck in front of the motor, positioning the weight as low as possible. For a deep dive on the bike's development and the frame details that make up the new Spectral:ON, see our tech post here which also covers pricing and availability information in detail.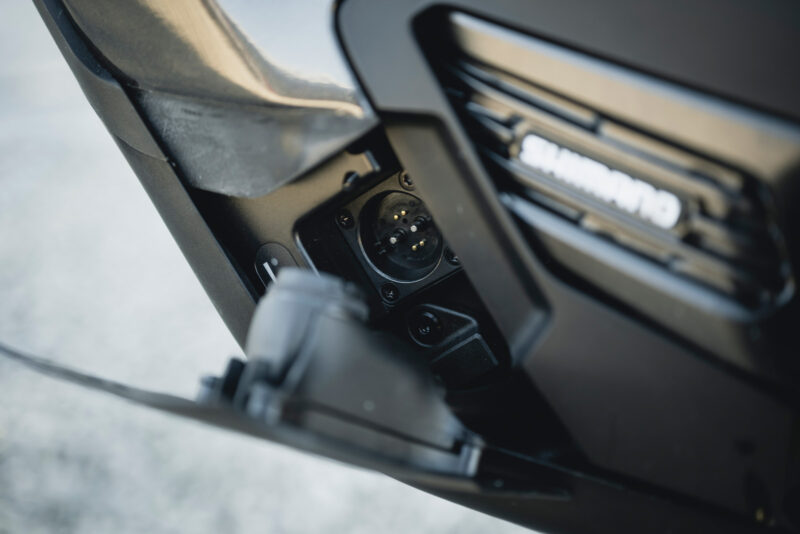 To follow up on my First Ride review of the Canyon Spectral:ON CFR (pertaining to my experience in Massa Marittima), I now have a more in-depth review with feedback gleaned from over 500 km worth of riding over the last year on my local trails of the Tweed Valley. To get a full picture, the bike has seen everything from blue, red and black-graded trail center to steep, natural enduro trails and even a few DH tracks.
Full disclosure: I am not a regular eMTB rider, but I am a regular mountain bike rider, more stoked on riding down hills than up them. So please, don't expect this to be an in-depth account of how the Spectral:ON compares to other eMTBs in its class.
Review: Canyon Spectral:ON CFR
Standing at just 5ft 4″ tall (163cm) I was supplied with a Small Spectral:ON CFR, limited to a 720 Wh battery due to its shorter downtube length. On paper, the bike is slightly too big for me; the sizing chart recommends a rider height range of 166-175cm, though I have to say its 435mm reach felt appropriate for both seated pedaling and descending. This one ships with a 760mm bar (M-XL get 780mm), so I did cut it down to my preferred 740mm.
The seat tube length, though shorter than that of its predecessor, is still quite tall at 420mm. With the 125mm travel Fox Transfer Dropper Seat Post, I felt I had sufficient clearance to move around the bike most of the time. When encountering very steep chutes, I felt the need to move back to allow the saddle to come through my legs in a manoeuvre more commonly necessitated on short-travel XC bikes. Clearance was almost never an issue on graded trail center terrain.
Venturing onto the steeper, rougher sections of hand built trail, I did find the saddle interfering with my thighs and knees too much. Note: there is a $229.50 USD fix for that. Given that the Small Spectral:ON does actually have 199mm of seat tube insertion available, it does have capacity for a 150mm OneUp V2 Dropper.
The CFR model gets a Fox 36 Factory fork with GRIP2 damper; one I am familiar with and very comfortable on. A Fox Float X Factory shock takes care of the rear wheel's 155mm travel. The carbon chassis rolls on a Reynolds TRE309/367 carbon wheelset with a 27.5″ x 2.6″ Maxxis Minion DHR II (EXO) on the rear and a 29″ x 2.5″ Assegai (EXO+) on the front. While that high volume rear tire should allow for relatively low pressures, the light casing discouraged me from going too low. This is a 21.8 kg eMTB; in my opinion, Canyon really ought to have spec'd a DoubleDown casing. For much of the test period, I did actually swap out the EXO for a DoubleDown to reduce puncture risk.
I ran the rear at the recommended 30% sag (130 PSI), with 70 PSI in the fork (recommended for my 60 kg). The Float X Shock is fitted with a 0,4 in³ volume spacer as stock. While I reported frequent bottom-out events on the trails of Massa Marittima with those settings, that wasn't the case on my local trails around the Tweed Valley. This particular shock is impressively tuneable in terms of its air volume, and thus end-stroke ramp, thanks to the existence of 6 different size volume spacers ranging from 0.1 inches to 1.01 inches.
Though I occasionally found the o-ring pushed to its limit, there was clearly sufficient ramp to prevent any harsh bottom-out. The shock offers both low speed compression and rebound damping adjustments; I settled on 10 clicks (from closed) on the rebound, and 7 clicks (from closed) on the compression side.
Indeed, the Spectral:ON is quite a lively bike, given its heft. I felt it was relatively easy to un-weight the front-end over wet root-riddled sections. A 440mm chainstay length isn't super short by any means, but the 19mm BB drop (from the rear axle) matched with the bike's low center of gravity gives it a playful feel in that regard.
The suspension is supple off the top (and remained so throughout the test period), with plenty of mid-stroke support to push against through the apex of turns. Through rough, straight-line chunder sections, it felt forgiving in some ways, but also a little too lively with perhaps too much feedback on occasion. I found a few clicks of rebound damping to be beneficial in calming it down.
The bike is, in some respects, quite nimble when it comes to hopping around the trail, switching from line to line, for example. But, it does have a certain sluggishness in corner initiation. This was most evident when setting up for left-handers, with my preferred cornering direction being opposite to that.
The Spectral:ON CFR does have a certain edgy-ness to its ride feel. Rolling along on worn-out, hardpack trails, I find myself noticing how the bike doesn't do so well at muting the low-level trail chatter. It's not super smooth, and unfortunately can feel a little nervous even on this relatively mellow terrain. It is difficult to say exactly what is responsible for that feeling, but given that the fork and shock appeared to be sliding smoothly, I'm tempted to apportion blame to the stiffness of the chassis and its carbon wheelset.
The bike rewards a patient riding style, where letting the trail come to you results in a more flowing ride. My experience was that there was little to be gained from a more aggressive approach. Perhaps my upper body strength has dwindled such that i'm not quite able to muscle the extra weight of an eBike so well, and in that regard I didn't feel like much of a pilot. The bike finds its way down trail center singletrack well enough, the suspension working well to hug the ground and maintain consistent traction through the less well-supported corners, but the bike never quite left me feeling exhilarated.
Leaving the trail center behind to ride some more challenging terrain with steeper, more committing corners and off-camber lines, I was left feeling a little vulnerable. I felt the front-end could do with being a little higher, though the steerer had been cut such that the stem was already at its highest possible position. I played around with the bar-roll, but couldn't shake the lack of confidence in its front-end handling on these steeper tracks.
Adding more compression damping to the fork (5 HSC clicks from closed, and 3 LSC clicks from closed) improved things considerably, helping to prevent the fork from diving into its travel on low-speed steep sections littered with drops in short-succession. Still, I did have the misfortune of clipping the cover on the underside of the downtube a few times, and on one occasion the cover actually dislodged. Thankfully, there was no concern about the battery dropping out of the frame; it is held securely in place by two bolts.
One could argue that some of the enduro tracks I tested the eBike on are above and beyond what it is designed for, after all it really is well-mannered on the mellower, manicured trail center singletrack. However, the bike's travel and geometry numbers did encourage me to look for these more challenging sections of trail.
All that said, the Spectral:ON is approved for use with a 160mm travel fork, which may well have been a great fix for some of the abovementioned issues. Slackening the 65.5° HA off a little with a longer travel fork would likely have improved my confidence on steeper trails, and raised the bottom bracket a few millimeters leaving more clearance between the downtube cover and some of the step-like features on certain enduro tracks.
On the ups, I had no qualms with the ability of the Spectral:ON to carry me up and over technical features. Rear wheel traction was consistent and, given appropriate levels of self-belief, would help power me through features that I may not even bother attempting on a regular bike. The Shimano EP8 motor provides an intuitive ride feel, and it didn't take me too long to familiarize myself with its power output, harnessing it for some rapid, fun and engaging climbs on technical singletrack.
The motor does rattle, though. On that, Shimano said, "DU-EP800 may generate a light rattling noise from inside when the bike is exposed to vibration". You can read their full response in the Editor's Note at the foot of this article.
With the motor switched off, drag is minimal. I actually thought the bike pedaled really efficiently on long, smooth fire road climbs, and on more than one occasion I was very happy to pedal the bike's 21.8 kg under my own steam. It wasn't the arduous experience I had imagined it might be.
A Conclusion of Ride Impressions
I rode the Spectral:ON CFR over a wide variety of terrain during the test period, and have concluded that it is most at home on mellower, flowing trail center terrain where gradient is consistent. It is a trail bike after all, and if trail center trails make up the vast majority of your mileage, then the Spectral:ON is worthy of consideration.
I'll say it again; this eBike rewards a patient riding style, and I personally didn't get much out of my efforts to push it harder. It doesn't offer the most comfortable ride, but traction is reliable and consistent, up and down the trails.
Technical Report
On top of the motor rattle is a creaking noise produced under flex that has been present throughout the duration of the test, sounding almost like the headset has been over-tightened (it hasn't). If I flex the frame laterally from the BB area by pushing down on one of the pedals, a creaking noise can be heard. It's very difficult to determine where that creak originates, but it is present nevertheless. That said, it's not so loud that I hear it while riding.
More concerning perhaps, was the lateral play that developed in the spindle. This became apparent toward the end of the test period. The entire crankset could be shifted from side-to-side; it was less than 1mm of movement, but it was enough to be perceived while riding, giving the impression that something, somewhere, had come loose. Looking back, this may well have contributed to the nervous-feeling I mentioned earlier.
The Fox suspension components of the Spectral:ON CFR have been supple throughout, and after 726 km of riding there is no play detectable in any of the frame bearings.
The headset still rotates smoothly, and so I have not needed to deal with any cables routed through the Acros headset. The Shimano XTR rear brake did suffer from a wandering bite point during the test, but a lever bleed was sufficient to remedy the situation.
Editor's Note: We got in touch with Shimano to feed back on the rattle of the EP8 motor. Here is what they had to say about it: DU-EP800 may generate a light rattling noise from inside when the bike is exposed to vibration while the gears in the drive unit are not loaded during coasting. DU-EP800 is a product that achieves high torque, light weight, compactness, quietness, efficiency, heat resistance and low drag. All components of the drive unit are optimally designed to balance these performance requirements of the drive unit at a very high level. This can result in rattling noise in certain situations, but this phenomenon does not affect the function and durability of drive unit. Based on the feedback from our customers, we are making daily improvements to make our products better. The feedback we received from customers regarding rattling noise will also be reflected as information to improve the product.
We were also in touch with Shimano regarding the lateral play on the crankset. A local Shimano Service Center kindly shipped the motor off to Shimano for us, to investigate the issue further. We were assured by Shimano that the lateral play that was felt was within tolerance, thus the motor was not eligible for replacement under warranty. They had the following comment to share:
"The drive unit's design compensates for variations to maintain a minimal amount of drag in the system, and this built-in technology, while not noticeable for the rider, can sometimes be felt during maintenance when the spindle is pushed by hand. Our engineers considered the effects of these variations in temperature, during the development of the SHIMANO STEPS drive unit, including the consequent thermal expansion and increased drag: the result is a small amount of tolerance on the spindle which is capable of handling the resulting variations in dimension. For example, when riding under a high load, like climbing a long, steep hill, the temperature in the drive unit can rise. An immediate effect of this rise in temperature is thermal expansion within the drive unit. This expansion of the parts in the drive unit can create unwanted forces on the spindle and bearings, which can cause for increased drag in the drive unit".
What about the actual weight?
Well, we were a bit surprised by this one, as were the folks at Canyon. Their claimed weight for a medium Spectral:ON CFR with a 720 Wh battery is 21.84 kg. Meanwhile, we weighed our small Spectral:ON CFR with its water bottle cage at 21.8 kg on a Park Tool scale, without pedals.
Pricing & Availability
The 2022 Canyon Spectral:ON CFR eMTB reviewed here retails at $10,500 USD (£8,099). However, more recent releases of the Spectral:ON CF7, CF8 and CF9 have made this eBike more accessible to those with a smaller budget. Pricing starts at $5,999 USD. For more details on those more affordable models, see our previous coverage here.
Specifications of the Spectral:ON CFR Tested Here
CFR Carbon Frame (lighter than CF series frames)
Fox Float X Factory EVOL Shock – 230mm x 60mm
Fox 36 Factory Fork with GRIP 2 Damper – 150mm with 44mm offset
Shimano STEPS EP8 Motor
Battery: 720 Wh (900 Wh on Medium, Large and XL)
Shimano XTR 12-Speed Derailleur
Shimano XTR 1–51T Cassette
Shimano STEPS HOLLOWTECH e-MTB Cranks – 165mm Crank Arms
Canyon 34T Chainring
Shimano M9100 XTR Chain
Shimano XTR 4-Piston Brakes with 203mm ICE TECH FREEZA Rotors
Reynolds TR 309 E and TR 367 E Wheels
Maxxis Assegai 29″ x 2.5″ Front Tire
Maxxis Minion DHRII 27.5″ x 2.6″ Rear Tire
Canyon:ON eMTB Stem – 45mm length
Canyon:ON 30mm Riser Bar
Canyon Lock-On Grips
Fizik Terra Aidon X5 Saddle
Fox Transfer Factory Dropper Seat Post