Over the past few days we've been hanging out with a crew of dealers and product managers at #KonaWorld to test ride the latest and greatest products.
We have a slew of great content coming your way, but in the meantime – here's a full gallery of weights for several new and existing models. Please Note that some of these bikes may have had tubes in them and most had water bottle cages installed.
Up first is the totally redesigned Kona Hei Hei DL Trail. Retail for this model is $3,299 and the size medium weighed 28 lbs / 12.70 kg. (We also recently showed you Spencer Paxson's 11.3kg World Cup setup of the same bike with XTR Di2 and Fox iRD suspension, including pedals.)
The new Kahuna hardtail shares the same tubeset and geometry as the new Hei Hei.
The size large Kahuna DDL hit the scale at 27 lb 08 oz /12.45 kg. Retail is $1,999.
The Honzo made it's debut this year in aluminum and shed a metric ton of weight…..Depending on size, the AL model is up to 40% lighter than it's steel predecessor. That version will still be available as a frame only, for those who still adhere to the "steel is real" philosophy.
The new Honzo AL/DL retails for $2,199 and weighs 27 lb 10 oz /12.53 kg in a size medium.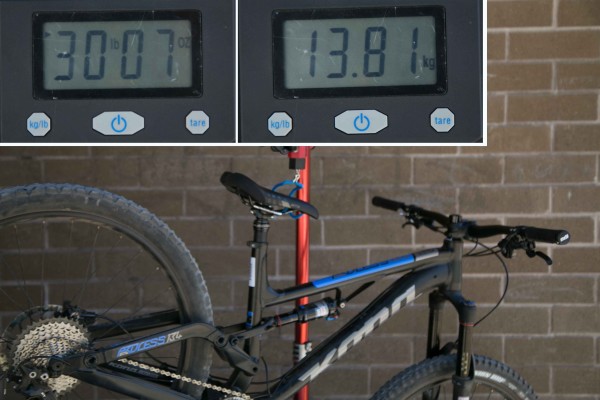 For $3,799, the Kona Process 134 DL is one hell of a bike. Stay tuned for a full review soon. Weight on this model for a size medium was 30 lb 07 oz /13.81 kg.
The $3,599 Kona Process 153 came in at 30 lb 12 0z /13.98 kg.
The Kona Precept 150 is a budget bruiser at only $2,699. Weight for the size medium was 33 lbs 13 oz / 15.35 kg.
The size Large Kona Wo weighed 15.56 kg / 34 lb 06 oz. Retail is $2,099.
The Private Jake was extremely popular at the demo event, so I could only find a small (size 48 frame) to weigh. The $1,999 complete weighed 20lb 13 oz / 9.43 kg.
For a full run down of the new line up, check out our coverage here, and stay tuned to the website for more.