Is it time to buy a new bike helmet? Maybe it's your first helmet or even a replacement. Either way, designs, and safety features change all the time, and the marketing behind it can be overwhelming or confusing.
Since you only have one brain, no matter what type of riding you do, fit, comfort and safety features should be your top considerations…but what are MIPS, WaveCel, SPIN, Koroyd, and WG-11? What other features do you need to take consider? To learn more about helmets and what makes a good helmet, what the deal with MIPS is, and any other questions you may have, check out our full Helmet Explainer article right here.
Here, we've put together complete a list of our favorite helmets for road, gravel, MTB, and commuting to guide you in making the perfect selection for your style of riding.
Topics & Categories Covered in this guide:
What's the difference between road, gravel, commuter & MTB helmets?
How and where you'll be using the helmet will guide you in determining the necessary features. You don't necessarily need a separate helmet for every style of riding, but it's important to know why they're different so you can pick the best one for whatever combination of bikes and surfaces you ride. Any helmet is better than no helmet, though!
ROAD & GRAVEL BIKE HELMETS: For a road rider, aerodynamics and weight are key considerations. A gravel rider usually rides at a slower pace on rural roads and wants to maximize ventilation. Both scenarios benefit from hi-viz colors to improve the odds of drivers seeing you from a distance.
MOUNTAIN BIKE HELMETS: If you're a mountain biker, extended protection for the back of the skull, goggle integration, and an adjustable locking visor could be determining factors. Long, slow, and/or technical climbs can build up a lot of body heat, too, so balancing ventilation with protection is a little harder here – bigger vents make it easier for rocks and sticks to poke through. That's why most full-face helmets, especially those for downhill use, have very few, small vents in them.
COMMUTER BIKE HELMETS: When commuting, protection from the elements becomes more important. These typically have fewer vents and broader padding, which can make them warmer, but also won't give you "helmet hair", which can look pretty funky on shorter hairstyles.
Still have questions? We dig into these differences more in our full Helmet Explainer article right here.
What do I do with my hair?
We'll start with this: There's really no such thing as a "women's specific" helmet. But for those of us with longer hair, there are some features that are better than others.
Ponytail wearers should look for a helmet with a wider opening in the back, between the bottom of the shell and the tension adjustment strap or dial. This feature allows you to pull your hair through, but to avoid interfering with the tension system (or have it pull hard on your hair in a bad wreck), we strongly suggest wearing a low ponytail to keep all your hair under the helmet's retention mechanism.
If you sport a large afro, it can be challenging to wear a helmet properly. Compress your hair by wearing a buff under the helmet, which allows it to fit closer to your head.
One other note having to do with hair. Color-treated hair, especially red dye, tends to bleed when you sweat. Look for a helmet that has black straps instead of grey or white to avoid unsightly discoloration.
Best Women's Road Bike Helmets
If road riding is your passion, you'll want to look for features like lightweight, aerodynamics, and ventilation. Road bikes with drop bars put the rider in a forward position, engaging neck and shoulder muscles to support the head.
A lightweight helmet will reduce fatigue from holding your head up on long rides, and the aerodynamic design reduces wind resistance. Since road rides are usually faster and you exert more energy, look for large vents to keep a cool head. Here's our list of the best road bike helmets we've used…
This helmet has a 5-star safety rating from Virginia Tech, has MIPS, and uses Lazer's Advanced Rollsys System (ARS) uses a thumbwheel on the top of the helmet (instead of the back) to adjust fit. That, and two other features, set Lazer apart from the rest. First, the retention cradle uses dropped loops on the sides rather than putting a big retention dial in the center back of your head. This creates a huge opening for ponytails and helps the helmet feel more secure without pressure points.
Second, an optional Aeroshell snaps over and covers the vents to maximize aerodynamics on spirited group rides or add warmth when temperatures dip. It also makes a great rain cover.
PROS: Four sizes, lightweight, easy to adjust
CONS: Aeroshell can be hard to remove
Weight: 275g (without Aeroshell), 325g (with Aeroshell)
Sizing: S (52-56cm) / M (55-59cm) / L (58-61cm) / XL (61-64cm)
Additional Safety Features: MIPS
Colors: White, Blue, Black, Red, Stripes; Aeroshell (black or flash yellow)
MSRP: $159.99, $22.99 optional Aeroshell (sometimes on sale)
Kali Protectives has its roots in the motorcycle helmet market, and translated that knowledge into some of the most progressive thinking in bicycle helmet design. Kali's SuperVent design dissipates the impact over a larger area while a softer LDL (Low Density Layer) closer to your head better absorbs the slower-speed forces commonly found in bicycle crashes. Translation: Less impact force is transmitted to your brain.
Despite the tech, Kali remains an incredible value – they routinely offer more and better features per dollar than any other brand. The cherry on top is their lifetime crash replacement…you crash in it, they'll replace it. For free.
PROS: Affordable, lightweight, great looks, lifetime crash replacement
CONS: Limited sizing may not fit all shape heads
Weight: 291g
Sizing: S/M 54-58cm, L/XL 58-62cm
Additional Safety Features: Contego 3 foam and QuadCore – Kali's proprietary helmet safety technology
Colors: Matte Black, Matte Black/Red, Matte Black/White, Blue/White, Camo Matte Thunder
MSRP: $110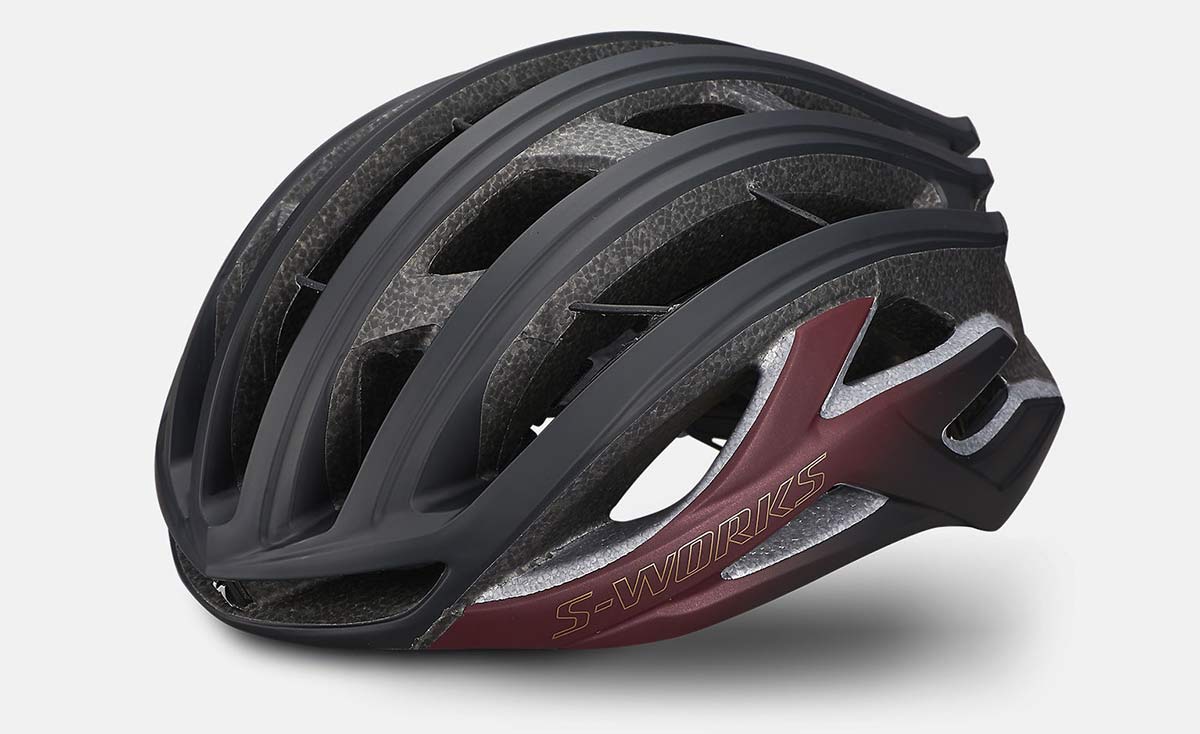 The new Specialized Prevail II Vent road bike helmet is all about keeping you cool. With huge, wide-open vents, Specialized uses their new 5th Dimension Cooling System to remove the foam "bridges" from the center and sides of the helmet and create more effective ventilation channels. This not only makes it light, but provides massive amounts of air flow.
Specialized uses a minimized (but still effective) version of MIPS to reduce weight, but the real safety highlight is their unique electronic ANGi Crash Sensor. Pair it with your phone and it will send a text message to your emergency contacts if it detects a crash!
PROS: Lightweight, most airflow of any helmet we've tested
CONS: Limited colorways, really expensive
Weight: 252g
Sizing: S (51-56cm), M (54-59cm), L (57-63cm)
Additional Safety Features: MIPS, ANGi Crash Sensor
Colors: Matte Gloss White/Chrome, Matte Sand/Gloss Dopio, Matte Maroon/Matte Black, Matte Black
MSRP: $250
Best Women's Gravel Helmets
When selecting a helmet for your gravel adventures, a road helmet will do just fine. However, there are some additional features to consider. Gravel rides usually have a different vibe. They tend to be slower, thus requiring more ventilation to keep you cool. Also, a removable visor is nice to have for added sun and rain protection.
While the Velocis is great for road riding, it's also an excellent option for gravel. It's reasonably light, has MIPS, and comes in seven colors, three of which are hi-visibility – pink, red, and yellow. It has a good mix of ventilation and wind tunnel-proven aerodynamics.
Lots to like, right? But our favorite feature is the included removable mini-visor (see photo below in FAQ section). It sticks to the inside of the helmet, under the front padding, and essentially adds a cycling cap's brim to help keep the sun out of your eyes…but without the bulk of a cap. Stylish and functional!
PROS: good fit, weight, colors, safety…and that visor!
CONS: a little pricey
Weight: 266g (medium, actual)
Sizing: S 51-57cm, M 54-60cm, L 58-63cm
Additional Safety Features: MIPS
Colors: black, white, red*, yellow*, pink*, sky blue, mint blue/green (*hi-viz)
MSRP: $225
Yep, another Giro helmet. The difference here is the use of a dual-shell design called Spherical MIPS. It's basically one layer of helmet that can slide and (slightly) rotate around another, allowing more give upon impact. See our FAQ section at bottom for more about how MIPS and other designs work. The reason this one makes the list is that extra level of protection…because mixed surfaces that can get loose, and there are more things to catch your head on if you go down.
One of the bonuses with Giro is that they'll often have cycling shoes, gloves, and other kit that matches their helmets' color schemes. And we all know we're faster when our kit matches!
PROS: Advanced non-linear impact protection, sleek matching looks
CONS: Expensive, mostly black colorways
Weight: 270g (medium, claimed)
Sizing: S 51-55 cm, M 55-59 cm, L 59-63 cm
Additional Safety Features: Spherical MIPS
Colors: Black, black/red, black/green, black/yellow, and white
MSRP: $250
Best Women's Mountain Bike Helmets
While most road and gravel helmets are similar, there are distinctly different helmets for various types of mountain biking. Whether your passion lies in enduro, cross-country (XC), downhill, singletrack, the bike park, or a combination, there's a helmet specifically for that.
If the budget is tight, pick the helmet that will meet your needs on the most aggressive terrain you ride…An XC helmet won't provide enough protection for riding at a lift-served bike park. Going with a little extra protection (literally) never hurt anyone, right?
And if tempted to use a multisport helmet (e.g., ski, skateboard, snowboard, etc.) because that's what you already have, well…we did say any helmet is better than no helmet…but those tend to have very few vents and harder foam, neither of which is ideal for the conditions and types of impacts you can encounter while mountain biking. It's best to choose one of the options below to maximize your comfort and your safety.
Mountain bike helmets introduce several new features. There are full-face helmets that include a fixed or removable chin bar, smaller but more numerous vents, mounting points for lights or action cameras, slots for your favorite shades or goggles, and rotating/locking visors.
Here are our top picks for each of the main categories of mountain biking…
Like Kali, Sena got their start in motorcycle helmets and utilized their communication technology in their cycling helmets. The M1 EVO uses Bluetooth connectivity with your smartphone, allowing you to answer/make calls and listen to music. Mesh technology lets you chat with others in your riding group without drowning out ambient noise…as long as everyone else has a Sena helmet (or add-on headset), too.
Besides just socializing, it can be a great way to alert riding partners to obstacles or tricky technical sections…or just let everyone know whether to turn right or left at that fork! And if the mansplaining starts, you can always hit mute.
The only downside to adding all that communication tech is that it adds weight, so these are a bit heavy for all-day rides. An included visor helps reduce glare, and the rear spin-lock adjuster provides a comfortable fit.
PROS: Mesh intercom lets you talk with your riding partner or listen to music
CONS: Limited sizing and colors, kinda heavy, everyone in your group needs to have one for the Mesh communication to work
Weight: 430g
Sizing: M 55-58 cm, L 58-62 cm
Additional Safety Features: You can easily call for help
Colors: Matte Black, Matte White, Matte Grey
MSRP: $170.00
KASK is a helmet-specific company. Due to their focus on creating helmets with the most protection, they have crafted some of the highest quality bike helmets on the market. All KASK helmets are held to their WG-11 rotational impact protection standard, which is different than MIPS. MIPS is a technology integrated into a helmet, where WG-11 ensures the helmet itself has the rotational impact protection built right into it.
The KASK Valegro is an excellent choice for XC mountain biking. It offers a lot of ventilation with 37 total vents to help keep the head cool during those vigorous climbs, it uses its Octo-Fit technology to create a snug fit, the padding is engineered to dry quickly, and the chin strap is made out of leather for more comfort on those longer rides. You can't go wrong with the KASK Valegro for your XC rides and races.
PROS: Advanced protection, lots of ventilation, large color selection
CONS: some say it tends to run a little small
Weight: 6.3oz (small, claimed)
Sizing: S (50-56cm) / M (52-58cm) / L (59-62cm)
Additional Safety Features: WG-11 rotational impact technology, Octo-Fit cradle for a snug fit
Colors: red, white, navy, light blue, navy matte, black matte, black, anthracite matte
MSRP: $250
The Speedframe Pro is another helmet with a Virginia Tech 5-star rating. Like many "trail" helmets designed for riders who like to descend more aggressively, hit the little jumps and drops, and generally get more aggressive, this one extends rear coverage much lower on the head than an XC helmet.
It has the expected features like a highly adjustable 360º fit system, MIPS liner, great ventilation, an adjustable visor, and good goggle compatibility. These features come on both the standard model and this Pro version of the Speedfox helmet.
What earns the Fox Speedframe Pro our top pick for trail riding is its dual-density EPS foam for better low-speed impact protection, a magnetic Fidlock SNAP buckle for one-handed release even with gloves, and the straps have a spacer under the ear. This last feature is great if you wear earrings while riding as the straps are far less likely to dig into your ear or slide out of adjustment. You can read our full review of this helmet for more details.
PROS: Great ventilation, goggle compatibility, Fidlock buckle, comfortable straps, wide color selection
CONS: Standard MIPS version has better, brighter color options than the Pro
Weight: 380g (medium, claimed)
Sizing: S (51-55cm) / M (55-59cm) / L (59-63cm)
Additional Safety Features: MIPS
Colors: Blocked Black, Dvide Black, Fade Black, Boulder, Dusty Blue, Eucalyptus, Dvide Eucalyptus, Flourescent Orange, Olive Green, Lunar/Light Grey, Black, Green Camo, Pewter, White
MSRP: $170
The MET Parachute gives you options thanks to its magnetic chin bar release (MCR), making it ideal for enduro, trail, and eMTB. This helmet has a BOA fit system, 21 vents, and removable cheek pads (2 sizes included) for comfort and fit, but it's the detachable chin bar that sets it apart.
Most enduro races require a "full face" helmet, but allow approved convertible helmets like this. So, when you're climbing up to the next start gate (or just covering ground with friends), stash the chin bar in your pack. Then just click it into place, lock it on, and go get rowdy when things point downward. The extra coverage will be much appreciated when you inevitably push things a bit too far going for the QOM.
Additional features include a flexible and adjustable visor, Fidlock magnetic buckle for one-handed release, and a soft helmet storage bag. Check out our full review here.
PROS: 2-in-1 convertible helmet, Fidlock magnetic buckle, light for a full face
CONS: Side straps aren't adjustable, expensive
Weight: 700g
Sizing: S (52-56cm) / M (56-58cm) / L (58-61cm)
Additional Safety Features: MIPS
Colors: Camo Lime Green, Kiwi Iridescent, Red/Black Metallic, Petrol Blue, Black, Black/Red, White Iridescent
MSRP: $350
Best Women's Commuter Bicycle Helmets
Riding to work or running errands, you want to look good on the bike. But also look for features that protect you from the elements and increase visibility to drivers. Integrated lights and reflective decals are also featured to consider.
Smith's Express MIPS could have won for Best Value, too. This affordable commuter helmet boasts MIPS, 13 vents, adjustable dial fit, an integrated rear light, and a removable fabric visor. Priced right and feature rich, there's little reason not to make this your choice for riding to work, school, or the coffee shops and bars.
PROS: Excellent value, removable visor
CONS: Rear light is not rechargeable (takes replaceable batteries)
Weight: 310g, 337g (with rear light)
Sizing: S 51-55cm, M 55-59cm, L 59-62cm
Additional Safety Features: MIPS, integrated rear light
Colors: Pool, Neon Yellow Viz, Black, and Cloudgrey (all matte finishes)
MSRP: $110
The company is named 'Thousand' as a commitment and goal of helping to save 1000 lives by making helmets people want to wear. While this model doesn't have quite as many vents as the others, it has way more colors! Choose from 12 hues and designs, all come with eco-friendly microfiber straps that look like leather, just softer! Oh, and they rotate colors throughout the year, so there's always something fresh in the lineup.
The secret feature is their Poplock magnetic trap door by the right ear…pop out the logo and you have an integrated lock loop! When you're at a destination, run a chain or U-lock through the 1-inch opening to secure the helmet. Thousand backs this feature with an Anti-Theft Guarantee, meaning they'll replace the helmet for free if it's stolen while locked up. Bonus points for offering a free crash replacement, too!
Like the Kask, the back sits too low to accommodate a ponytail, and our tester mentioned it's not as comfortable with braided hair. But with your locks flowing, it's comfortable and had a great fit.
PROS: Poplock anti-theft loop, classic looks, huge color selection, magnetic buckle, built-in mini visor
CONS: Not a lot of vents, best worn only with loose hair
Weight: 460g (medium, claimed)
Sizing: S 54-57cm, M 57-59cm, L 59-62cm
Additional Safety Features:  N/A
Colors: Ummm, all of them?
MSRP: $99
Check Price at REI
Why you should trust us
We ride a lot of different terrains and bikes. We've had several women from around the world riding in these helmets over the past few years, and the list represents the best women's bike helmets we've tested and seen. In most cases, there are similar models in each brands' lineup, offering similar features for more or less money.
Typically, more expensive models will be lighter, have additional safety features (e.g., MIPS, WaveCel, etc.), and have more ventilation. Less expensive models are usually heavier and warmer. But we like these brands because the actual performance of the entry-level up to the top models is relatively similar; you pay more to save weight and add features.
Frequently Asked Questions
How often should I replace my helmet?
Your helmet starts to deteriorate the minute it's exposed to air and sunlight. The rule of thumb is to replace a helmet every 3-5 years, and replace it immediately if you crash. Never wear a helmet with a crack, or if the foam has compressed due to a fall. Also, don't leave it laying in direct sunlight or in your car during summer…both will speed up its deterioration.
How do I know what size helmet to buy?
Wrap a cloth tape measure around your head, just above your ears, and parallel to the floor. Helmet sizes usually are listed in centimeters and a range (e.g., size small = 52-55cm). If you plan to ride in the winter with a beanie, or wear a cycling cap in the summer, make sure the helmet fits with the extra layer and not too loosely without it.
If you're upgrading or replacing a current favorite helmet and the new version adds MIPS, keep in mind that the extra protective layer adds material. If your current helmet fits snug, you may need the next size up when adding MIPS.
How do I properly fit my new helmet?
Once you have the correct size helmet, place it on your head. The brim should be about one finger width above your eyebrows. Don't wear it back on your head like a hat…this leaves your entire forehead exposed to impact!
Next, tighten the retention (usually a dial or tabs) on the back of the helmet. Buckle the chin strap and tighten it to where only two fingers fit between the strap and your chin. First, adjust the left side straps making sure the slider/buckle is just below your ear with little to no slack, then do the same on the right. Double-check the chin strap again to confirm just two fingers fit between the chin and strap. Always check the fit before each ride as straps can loosen.
Once you've done all that, and the strap is buckled, try to push the helmet off the back of your head. If you can move it substantially, to a point where all of your forehead or more is exposed, then you need to readjust the straps…or find a different helmet. Every brand fits a little differently, and what works great for your riding buddies may not work for you. (Try asking them if you can try their helmets on before a ride to see how different models fit)
Why would I want a visor on my helmet?
Out on the road, visors can keep the sun off your face and out of your eyes. They even help block the rain should you get caught in a shower. On the trails, they add protection against branches or debris.
Road- and gravel-specific helmets rarely come with visors, that's why we love Bontrager's NeoVisor so much. It looks like you're wearing a classic cycling cap, but doesn't block the vents or add bulk.
Many commuter helmets have at least a small lip of a visor built into the shape, or a small detachable one included.
For mountain bike helmets, look for models that have removable or adjustable visors that can break away during a wreck.
What should I look for when it comes to padding?
Padding inside a helmet serves two purposes. First, it provides comfort and prevents rubbing between the helmet and your head. Second, it absorbs sweat and helps to keep it from dripping into your eyes. Look for padding with antimicrobial properties which reduce odor. Also, padding that can be removed and washed either by hand or in the gentle cycle is a valuable feature. Removable padding also lets you replace it when worn out.
For any other questions you may have, check out our full Helmet Explainer article right here.