Bianchi took a walk on the wild side to describe its new e-Vertic frames — or maybe a few walks.
The company calls the carbon fiber build a "burst of energy to enhance the pleasure of riding an ebike," and says the line exemplifies "a disruptive design dedicated to enhance the ride," concluding that the whole thing is an "ADRENALINE EXPLOSION."
What?
Clearly, the e-Vertic line loves attention. The shapes through the frame make that pretty obvious, with a brace that joins the top tube and downtube, and a lot of bulk down low. It looks like there's a method to the madness, though: Bianchi says added front-end stiffness and a lower center of gravity for better balance on trail result. To further ground the bike, it also rotated the motor backward.
Feel enhanced yet? Here's a quick rundown on the line, from the FX-Type Pro range-topper to the C-Type, designed for urban rides.
FX-Type Pro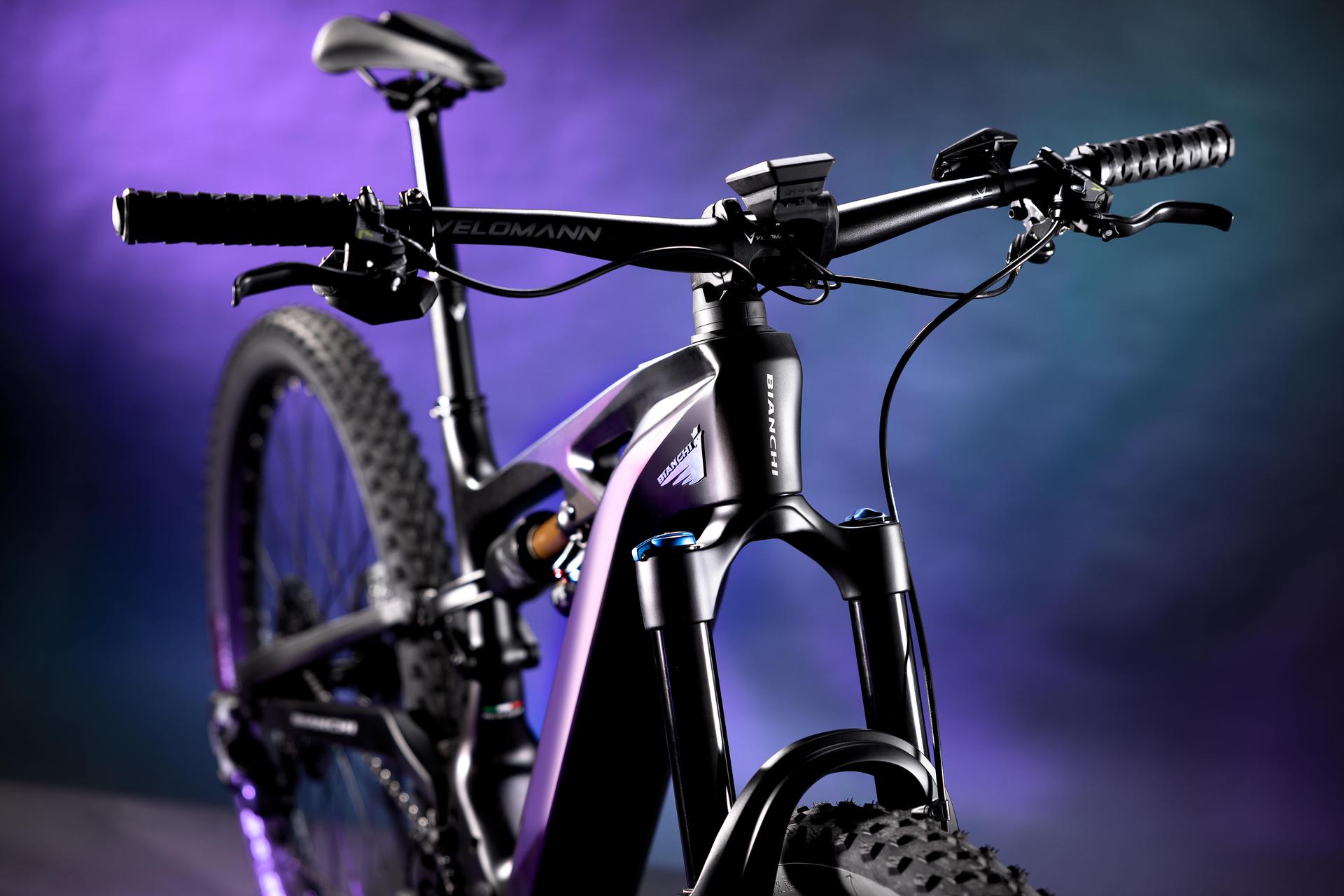 The FX-Type Pro gets a Bosch Performance Line CX motor unit, with 85Nm torque and an integrated 750Wh Powertube battery. That all amounts to a maximum range of 96 miles.
The build kit includes components like a 50mm stem and 780mm handlebar. Combined, they seek to give the FX-Type Pro a precise ride feel. The full-suspension carbon frame travels a robust 160mm in both the front and rear.
FX-Type and X-Type
The e-Vertic FX-Type gets almost exactly the same treatment as its carbon cousin, only on an aluminum frame. 140mm of front and rear travel help it negotiate singletrack.
Meanwhile, the X-Type onboards the same aluminum frame but foregoes the rear suspension. The hardtail draws power from a 625Wh Bosch Performance Line CX battery. The fork has 100mm of travel.
T-Type and C-Type
The T-Type (tourer) and C-Type (urban) e-Vertic bikes focus on cargo and everyday riding priorities. They both get a 25kg rear rack and mudguards, and the C-Type's step-through construction makes it easier to mount and ride while wearing whatever you want.
A 65 Lux light system up front and behind helps riders see the road, and other road users see riders. A Bosch Performance Line CX motor and a dual 400Wh and 500Wh battery option complete the rigs.
You can find geometry, sizing, and more details on Bianchi's website. Pricing details were not available as of this writing. Availability for each e-Vertic bike starts in January 2023.