CeramicSpeed says you can go faster for longer off-road now with an expanded OSPW X ceramic bearing derailleur upgrade offering for Eagle AXS & Eagle mechanical mountain bike drivetrains. Adding to existing OSPW X systems for mechanical SRAM Force & Rival 1 and Shimano RX-800/805, there are oversized pulley wheel upgrades for several gravel, cyclocross & mountain bike drivetrains.
CeramicSpeed OSPW X Eagle mountain bike derailleur upgrades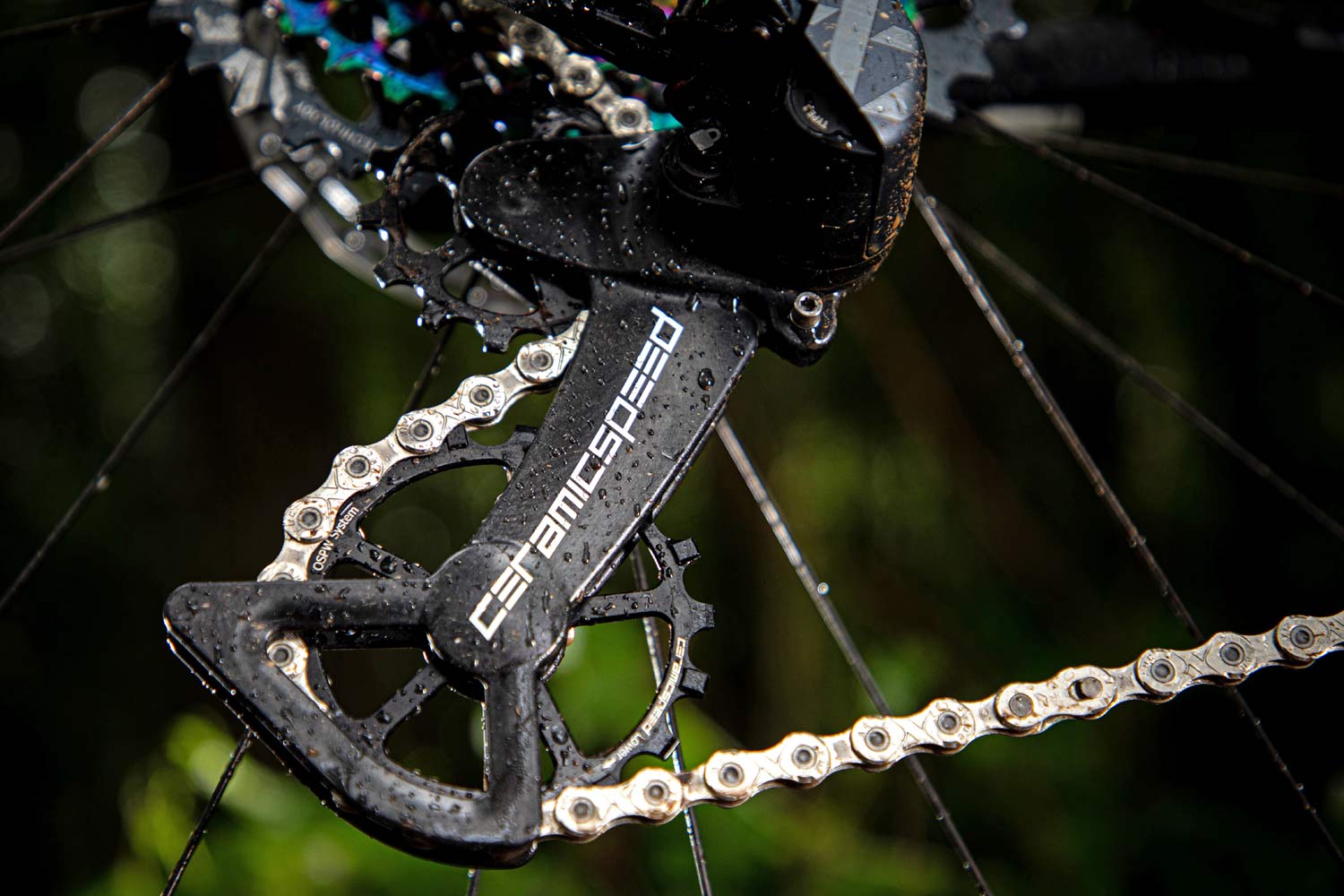 Danish bearing specialists CeramicSpeed have released details on their new Oversized Pulley Wheel X System compatible with SRAM Eagle mechanical and AXS electronic groupsets – teased earlier this spring. Now more enduro, trail, cross-country, cyclocross & gravel riders will have access to the benefits from increased drivetrain efficiencies that come with the same ceramic bearings & oversized pulleys that road racers have been using for years.
OSPW X Eagle tech details
To work with Eagle mechanical 12-speed & Eagle eTap AXS 12-speed, CeramicSpeed needed to create two different (but almost identical) OSPW X Eagle upgrade kits. One fits on the new AXS electronic derailleur, but the other is compatible with most Eagle mechanical derailleurs, including: SRAM Eagle XX1, X01, GX & NX.
Both kits share the same oversized alloy, black anodized narrow-wide 14T upper pulley & 18T lower pulley wheels to reduce chain drag and allow for smooth, reliable shifting across the 10-50T Eagle 12-speed cassettes. Each pulley gets a single row of CeramicSpeed ceramic bearings, and are hand built in Denmark.
The mountain bike specific version of the OSPW X system uses a more resilient carbon fiber-reinforced polyamide (PA engineered plastic) pulley cage that is still lightweight. The cage is actually 2mm shorter than the stock Eagle cage letting you use the original chain length with the larger pulleys, and lifting them slightly higher out of the way of potential rock strikes.
The OSPW X Eagle cage can be custom set up with three lighter spring tension settings to provide the minimum chain tension needed to ensure retention for each rider's style (lower chain tension maximizes the reduction of chain drag.
Pricing & availability
Both OSPW X Eagle kits are available now for 480€ with standard CeramicSpeed bearings or for 560€ with CeramicSpeed's coated, lower-friction bearings. The option for gold anodized pulley wheels to match XX1 drivetrain is expected to be available later in July 2019.
CeramicSpeed says that the use of premium quality bearings and the bigger pulleys has empirically been shown to reduce drag & improve durability across cycling disciplines, with 3-5x longer bearing life than conventional bearings. Their in-house testing shows efficiency savings up to 40% over the stock SRAM Eagle derailleur setup. The new OSPW X for SRAM Eagle is backed by either a 4-year or a 6-year guarantee (standard or coated bearings, respectively).
"The new OSPW X for SRAM Eagle is a significant move for CeramicSpeed further into the heart of the off-road cycling market and community," says CeramicSpeed Exec VP Martin Banke.