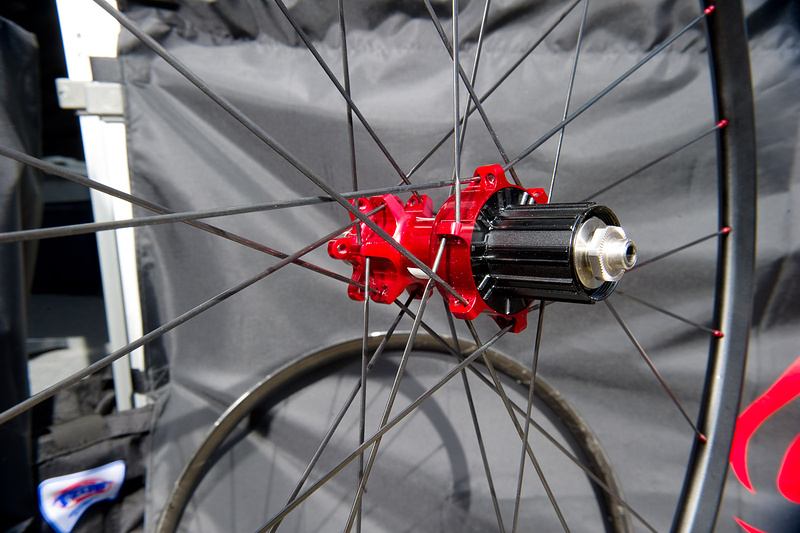 Given the ever expanding importance of Sea Otter as a launching pad for new products, the maze-like layout of the expo and my finite ability to cover it all, I used a standing-at-the-urinal-trough-but-careful-not-to-make-eye-contact conversation with one of the guys from Formula to see if they had anything new to show off at their booth.  With the answer being no, I decided to skip over their booth in my vain effort to cover anything and everything shiny and new.  No offense guys, just trying to maximize my time there.
Lo and behold, though, their Italian owners decided they would indeed ship a few new surprises over, and PinkBike managed to get a few photos (including the one above, and a couple more on their site).
Following up by phone, none of these new products have names yet, but here are some details:
26″ & 29er WHEELSETS: Formula's new wheelsets will use a superlight Scandium rim laced via 24 straight pull Sapim spokes to a rear hub that their U.S. marketing guy Chris says uses a top secret, totally unique drive mechanism that's never been seen before.  But that's all he can say about it.  Claimed weight is 585g front, 750g rear
CROSS COUNTRY SUSPENSION FORK: With other, longer travel options in development, Formula's first suspension fork will be an XC-oriented, air-sprung bouncer with external lock-out, compression and rebound damping controls.  The cartridge will sit near the top of the fork leg, and claimed weight is a very light 1350g.  An 80/100mm travel version (internally adjustable) and 115mm version will be available with 9mm QR at launch, with a 15mm thru-axle config coming soon thereafter.  It'll have magnesium lowers with a forged alloy crown and aluminum sliders and steerer tube.
Availability on both will be late summer at the earliest.  Why expand beyond brakes?  Hmmm…
Chris Costello, one of Formula's U.S. folk, says "There are OE benefits to having a wider product range, especially when going up against Shimano and SRAM that can package their goods together and offer better discounts, but to be honest, it was a decision by the parent company in Italy and we were told about it about a year ago.  With the suspension, I think there are some holes in the market that can be filled, and the product quality should speak for itself."