A month ago we got a teasing preview of the latest MIPS Integra system, more deeply integrating that well-known bright yellow anti-rotation low-friction layer into cycling helmets. Now today, POC have launched the Kortal Race MIPS, their latest and most advanced mountain bike helmet featuring MIPS Integra. But a close look inside POC's new helmet and the only thing yellow under the familiar-feeling gel-filled padding is a MIPS Integra sticker. So what gives? Is this SPIN rebranded, or is Integra something more advanced, and more… integrated?
MIPS Integra combines the best of MIPS with the best of POC SPIN
Let's first look back at that teaser image from MIPS showing off their latest Integra system. See how the yellow low-friction layer (LFL) is simply another piece of plastic co-molded to the inside of the helmet over the EPS foam just like on the outside?
Well, that's what the new Kortal Race MIPS has inside too, only POC chose to use a transparent LFL with a matte finish on the inside of their helmet. It is easy to miss, and still almost impossible to see even when you are looking for it. Hint: It's just on the ribs under the pads in the front half of the helmet.
But while the raw EPS foam has a variable texture (and can even be dented by your fingernail), the clear LFL is noticeably smoother & more slippery to the touch.
And that's obviously by design.
That way the larger one-piece padding insert can slide around a bit in a glancing, rotation-inducing impact.
So, what about the SPIN tech?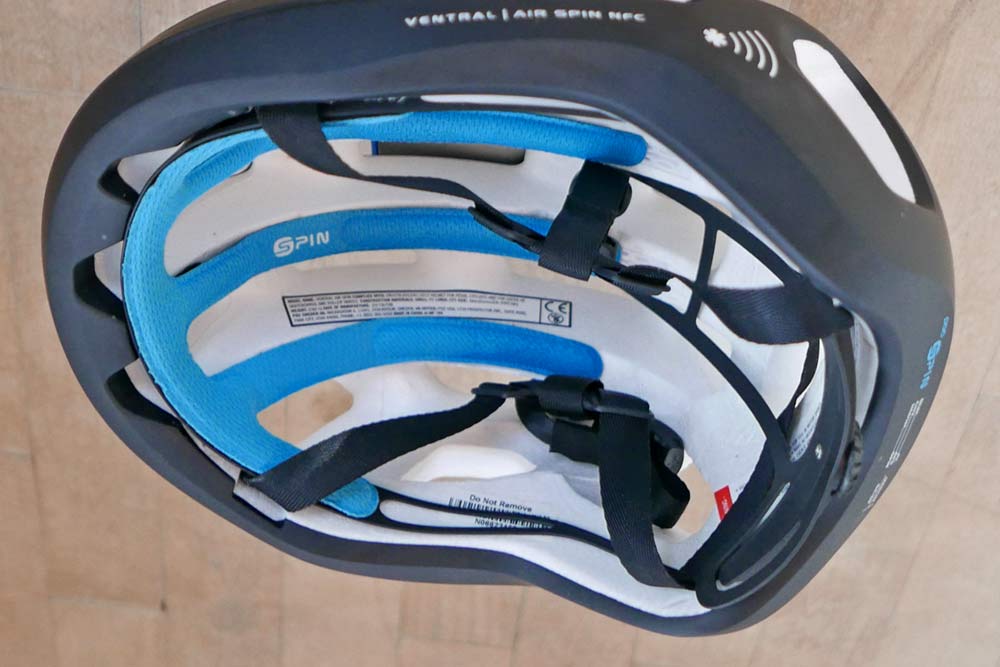 Introduced 3 1/2 years ago, it looked like POC was moving away from MIPS, with their own Shearing Pads INside (SPIN) technology (after having been producing MIPS-equipped helmets since 2009). The concept essentially boiled down to silicone gel-filled pads that provide much of the same anti-rotational protection, minus the ventilation obstructions and design limitations of bulky MIPS liners at the time. The blue gel pads were about double the weight of a normal set of pads, but that extra 10g or so brought added protection. Just weeks after POC launched SPIN, we saw MIPS was already working on adaptable pad-based protection too.
Then in 2019, MIPS bought Fluid Inside, a technology remarkably similar to SPIN, before announcing later that year they were partnering with POC again to develop new rotational-impact protection solutions. POC gave a rare concrete timeline of new 2021 MIPS-protected helmets, and here we are.
Now POC calls MIPS Integra the best of both worlds. It gets an updated SPIN-like one-piece padding insert with gel inside to allow your head to rotate independently of the helmet. It seems a bit stiffer than the old SPIN, and extends a bit further than the SPIN pads in my Ventral Air. The new pads also weigh 32g, up from 21g for the Ventral Air SPIN's pads of the 9g of a standard Tectal's pads.
The same general plastic fit & retention harness is there as with SPIN-equipped helmets (and even those current POC helmets with standard pads.) The MIPS Integra harness is a bit thicker offering more structure (in the orange Kortal Race MIPS above vs. the black Ventral Air SPIN below), but is still attached to the helmet at only two points above your temples and a third point in the rear.
This allows the helmet to be cinched down securely against your head, but still move up to 10-15mm in an impact. The pads do attach to the shell with conventional velcro tabs. But as we've figured out just playing with the helmet, tug on it like in a crash and the velcro pulls loose, letting the one-piece pad slide easily along the LDL.
MIPS Integra availability
All that sounds like it makes MIPS Integra the best version of MIPS yet, without fit, ventilation, or safety compromises. But how can you get it? Although it does not appear to be an exclusive deal, for now only the new POC Kortal Race MIPS has Integra inside.
What we do know is that more POC helmets with MIPS Integra are in the works, and POC plans to favor it as it gradually replaces SPIN across each new helmet introduction. Now we just have to wait and see what other brands will come on board with MIPS Integra (and I'll keep crashing in this bright new orange lid in the meantime.)