The biggest thing Lezyne had to show us was actually quite small, this simple little Tubeless Pro Plug. While they had plenty more new tools, a new travel floor pump that looked super functional, and even the neatest Airtag integration I've seen yet, it was the ability to easily and cheaply fix a tubeless tire for good that won me over.
Lezyne Tubeless Pro Plugs fix damaged tires for good
Lezyne's Eurobike showing revealed a couple of actual tool & repair innovations, tucked in together with a couple of small overhauls and upgrades. As seems to be a trend at Eurobike these days (these recent years?) though, it's the small innovations that really stand out for me.
A few weeks ago I got a nice brand new Maxxis enduro tire, and as tough as they usually are, I still managed to stab a hole in it literally on the first ride. Now, Lezyne has a way for me to pull out that 'temporary' trailside repair, and replace it with a more permanent solution that I won't worry about creeping out over the life of the tire.
The solution is simple.
The Tubeless Pro Plug has a wide mushroom cap that sits against the inside of your damaged tubeless tire and a long stem with a bit of a metal head to help push/pull it through the hole in the tire.
At home or in your workshop, you glue to the inside of your tire (after cleaning it super well to get rid of sealant residue) using a special type of rubber cement that is included in the kit. And then trim off the excess when you are done.
It isn't regular butyl inner tube glue as that won't stick securely to the tire casing, but Lezyne hasn't officially revealed what type of glue it is yet. It should be available separately in the future though.
The glue is said to be effectively permanent, where even if it loses perfect seal over time your sealant will likely keep the tire from leaking.
The Tubeless Pro Plugs come in three sizes, with 2.5, 3.5 & 4.5mm diameter stems and corresponding small/medium/large caps. While they are sizes to fit various sized punctures, the big cap is said to be effective at repairing cuts too.
Essentially, outward tire pressure from inside the tire helps hold it in place, so as long as you don't have a cut big enough to have damaged the casing construction of the tire, you should be good.
The Lezyne Tubeless Pro Plugs come in a $17.50 set of 5 (2xS, 2xM & 1xL) including a scuffer and 2 tubes of rubber cement since if you are lucky the first tube will dry out before you have to repair another tubeless tire down the road (or trail). They will be available sometime in September 2022. I'm already waiting for my first set.
Really, I'm a sucker for small innovations that don't cost a lot of money. Anyone should be able to develop a great $9999 bike. But a <$20 product that truly solves a real-world biking problem is awesome.
Pro Tubeless Kit
Lezyne has a number of trailside tubeless repair solutions too.
The new $40 Pro Tubeless Kit combines everything you need into a single setup. It's the same size (even the same extruded alloy tube) as their small road pump, so it will fit in mounts you might already have on your bike.
From one end you get a reamer/plug insertion needle tool and a small plastic spacer that holds the tiny stainless steel shiv micro knife to trim the excess plus after you are done – extra helpful for smooth rides on repaired road tubeless.
The plug tool threads onto the tube for leverage, and the plastic spacer also helps not push the needle inserter too far in on a road tire so you don't damage the inner tubeless rim tape.
On the other end you get a CO2 inflator, and inside are both small & large tire plugs. The entire setup nests together quite nicely, and won't rattle around as you ride, also thanks to a small magnet that holds the shiv.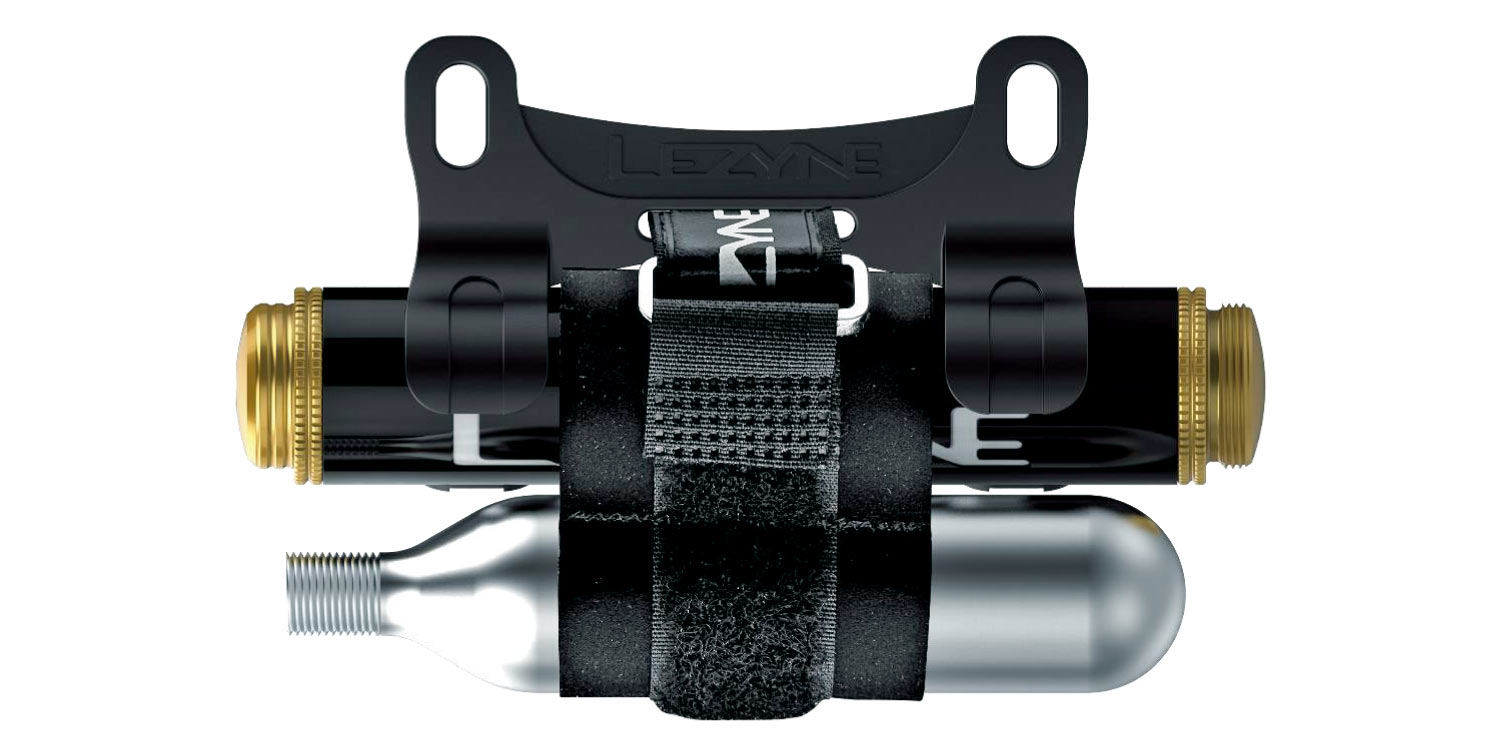 And for ten bucks more a fully-loaded $50 Pro Tubeless Kit Loaded version includes a strap-secured Matrix mount that fits behind a bottle cage and also includes a 20g CO2 cartridge for your first trailside repair, all available  in September.
Digital Travel Floor Drive
Lezyne's portable but still big Travel Floor Drive floor pump gets some major upgrades. It now has two fold-down stainless steel feet vs. the old fixed base. It is a little tricky to use – you have to unthread the base's alloy end cap to fold the legs down, then rethread it back to hold them in place – but it should actually mean it is more stable in real-world use.
It also adds the Lezyne inline digital pressure gauge and gets a 2x as long hose compared to the old model. That's a simple change by looping the hose over the handle and back to the base, but really makes this portable track pump about 2x as useful now.
The $120 Digital Travel Floor Drive floor pump is made of a CNC'd alloy barrel & base, a steel pump piston, stainless steel foot pegs, and now gets a low-profile engineered plastic ergonomic handle. It'll pump up to 160psi/11bar (even though no modern tire needs to go more than about half that) and has the Presta-only ABS-1 Pro threaded valve head. Get it from this September.
Pocket Drive Pro HV
Lezyne's shortest High Volume mini trail pump now gets a Pro-version with the requisite fancier machined aluminum end caps vs. the few plastic bits on the standard Pocket Drive HV. That adds about 4mm extra length overall, but includes a valve removal tool on the end.
And of course, the Pro pump gets half anodized in iridescent oil slick because why not? (There might also be silver/oil slick & all-black versions like the high-pressure road Pocket Drive Pro, too.)
The $50 Pocket Drive Pro HV is already available now (or within days) and will get you up to 90psi, filling bigger gravel & mountain bike tires a lot faster than the even tinier Pocket Drive I usually carry… sometimes even in a conventionally small saddle bag. It comes with a strap-secured Matric frame mount to tuck it under a bottle cage.
Outside of Lezyne's new repair gadgets & portable pumps, there were plenty of other great new tools at Eurobike. Check out some of our other favorites in the Best New Bike Tools we spotted roaming the widely-spread-out halls.
Matrix Apple Airtag-equipped cage & sneaky trackers
Over into the accessories lineup, Lezyne has 3 new ways to track your bike by embedding Apple Airtags. All three Matrix solutions are IPX7 sealed, because even though Airtags are waterproof for short exposure and low pressure, if water gets inside of an Airtag-holder on your bike, it's likely to remain there for a long time.
For $20 Matrix Bike Tagger is already available now, and bolts to any standard cage mount (there are so many on bikes these days) or under a bottle cage. For $17.50, the Matrix Saddle Tagger available from August will clamp your Airtag inconspicuously under your saddle rails, designed to still let you use a saddle bag, too.
But it's probably the $30 Matrix Air Cage available next month that is maybe the stealthiest place to hide an Airtag on your bike. If you pair it next to a regular $25 Matrix Team Cage like I did, it's pretty easy to overlook that extra security feature.
I haven't yet succumbed to Airtagging any of my bikes (which ones would I start with?) But I might start with trying out these Lezyne Air Cage bottle cages as my first attempt at Apple tracking.
All of the Matrix tracker carriers include tamper-resistant TR25 security Torx bolts and an install/removal tool. That's not really fully theftproof, because it is a common standard, but it hopefully will thwart some opportunistic amateur bike thieves.
Lezyne Hooks to hang your bikes
Lezyne also just added a couple of new ways to store your bike at home, both available now. The $45 CNC Wheel Hook (left) hangs your bike off the front wheel with a couple of matching black ano alloy plates to protect the wall from tire scuffs. The $40 Stainless Pedal Hook (right) takes a similar approach in shiny steel, hanging the bike from one pedal and including matching anti-scuff plates for your tires.
Lezyne Headlights strapped to your helmet
How do you get around German StVZO rules that limit how bright your bike headlights can be and how their lenses must cutoff light output to not blind oncoming traffic? Apparently, just slap some helmet mounts on top of them and they are 'multi-sport' lights and not 'cycling' lights that would be used in traffic on the road.
That's good news for gravellers, bikepackers, and mountain bikers though, as now the 500-lumen $50 Hecto Drive 500XL, 800-lumen $75 Micro Drive Pro 800XL, and 1000-lumen $85 Lite Drive 1000XL all add new all-in-one versions with helmet strap mounts that can be also removed and attached to any GoPro-style mount, as well.
StVZO ebike lights, too
If you do want StVZO-certified lights, Lezyne has you there, too. A couple of new wired-in ebike lights offer bright daytime running modes, nighttime cut-off, and even one with a high-beam mode.  Plus, there are a few hi-viz taillight options to wire in also.
Other new Lezyne tools that are available now
Lezyne also added the compact new $65 Pocket Torque Drive multi-tool torque wrench kit earlier this spring which is already available now.
And there are now 9 different RAP II basic to fully kitted-out tubeless-ready multitools in the revamped lineup that also debuted this past spring.
Check out some of our favorite portable tools in our Multitool Buyer's Guide, including the RAP II!