Pump or CO2? On the frame, or in your pocket? If you're wanting to be prepared for that unlikely flat, these are pretty common questions to ask. CO2 is usually more compact but is finite in inflation. Pumps will likely always provide inflation, but they can be bulky or hard to use. That's where the new Lezyne Pocket Drive comes in – it's positively tiny, yet is easy to use for lasting inflation.
When collapsed, the Pocket Drive is smaller than this pack of Gu Chews. That makes it just about perfect to stash in your jersey pocket or smaller saddle or top tube bags. In spite of its tiny size, the pump is surprisingly easy to use, mostly due to the telescoping design which adds extra length to each stroke.
Its small size also means it's pretty light – without the mount this thing weighs in at 75g.
Like most Lezyne hand pumps, the Pocket Drive has a removable ABS Flex hose that stores in the opposite end of the pump. This hose has fittings for both Presta and Schrader valves, plus a bleed valve built in.
If you haven't used a Lezyne pump in a while, the valve core removing issue seems to be a thing of the past. I've used this pump on a number of different valves and haven't had a single issue. Lezyne still recommends using a bit of Loctite on the threads of removable presta valve cores in their instructions, but I haven't done that to any of my valves.
If I had to single one thing out about the design, it's that the open end of the handle can be a bit uncomfortable to use depending on how you hold the pump. However, it's a pretty easy thing to remedy – just pull off the rubber plug, flip it over, and it fits perfectly into the opening in the handle. This isn't necessary to use the pump, but if you're inflating a tire past 60psi, it certainly makes it more comfortable if you find your self placing the end of the handle in your palm.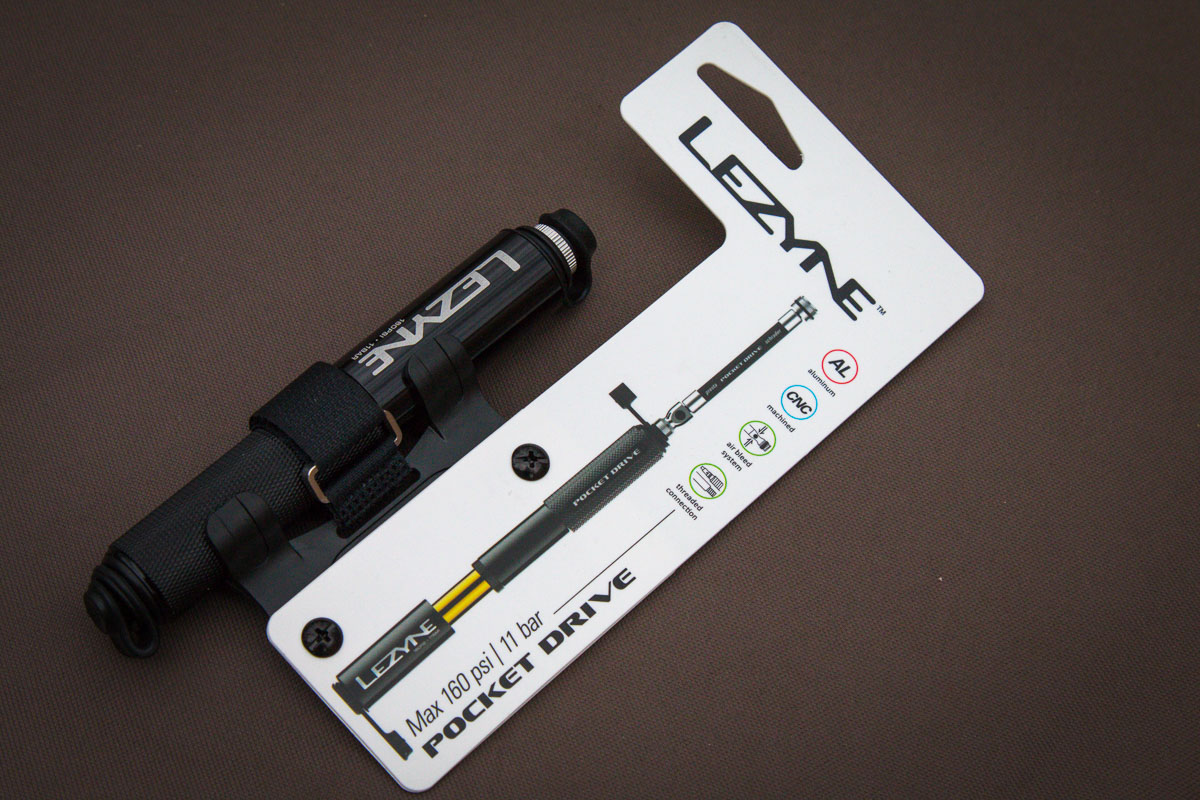 To test out just how effective the pump is, I started with a 700c x 23mm road tire with a tube that was completely flat. After about 100 strokes, the tire was at 40psi and the tire had mostly seated. By 200 strokes the tire was past 60psi, and it was getting harder to pump but still relatively easy for how small this thing is. It certainly takes longer to inflate than a larger pump, but the Pocket Drive is surprisingly effective.
Thanks to the advent of the tubeless road tire and better constructed tires themselves, I couldn't tell you the last time I had a flat on the road (hint: it was at least back when I was running tubes). Yet, I still find it necessary to bring a pump. In the unlikely chance I'm stuck on the side of the road with a flat, I don't want the lack of a pump to be what keeps me from getting home. But since I hardly ever need to use that pump, I don't want to be lugging around some massive frame pump. Which is why I find the Pocket Drive to be almost perfect. It will get me out of jam if needed, but it's so small I won't hesitate to stuff it in a jersey pocket before heading out for a ride.
Available as the pump only (with mounting bracket) for $29.99 or as a Loaded Kit with a Lever Kit, Twin Speed Drive CO2 and velcro strap for $49.99, the Pocket Drive is available now.