Vista, California's Masi Bicycles probably isn't the first brand that comes to mind when you think of titanium. But last year, they somewhat quietly released a new titanium all-road/gravel bike called the Incanto. Masi has a few other gravel bikes available in their lineup, but the Incanto is their first run at doing an all-road/gravel bike with a titanium frame. The Incanto has slowly been released throughout 2022 and sits alongside their other titanium offering and pure road machine, the Masi Titanio frameset.
The Incanto was actually set to launch back in 2020, but because of pandemic complications, the launch had numerous delays. Like other bicycle brands, Masi has done away with releasing bikes under designated "model years", but the official launch year for the Incanto is 2022.
The Frameset
For full disclosure, I'm a brand ambassador for Masi Bicycles. So when I needed a starting point for my upcoming dream build project, I requested the Incanto frameset in 58cm. The frameset retails for $3299 and comes with Masi's Brunello full carbon fork, a Masi branded Token cartridge bearing headset, a seat collar, and a house-branded Brev M titanium seat post. The complete Incanto Ti sells for $6499 with full Campy EKAR and Fulcrum Rapid Red DB 300 wheels.
The frame weighs in at 1842.7g (4lbs), without the fork, seat collar, water bottle bolts, or headset. The fork weighs 445g (15.7oz).
Frame Details
The Incanto Ti allroad, gravel frame is constructed from tig-welded butted 3al 2.5v titanium. It has a 41mm semi-integrated headtube. It uses a BB86 bottom bracket shell, a flat mount rear disc brake, a replaceable rear derailleur hanger, and is internal dropper post compatible. The rear is spaced at 12×142 using the included thru-axle.
The frame comes with subtle branding that Masi says is laser etched. The fork comes with low-key branding as well.
All of the frame's laser-etched logos were a color called Blue Laser, making them look almost anodized.
The fork's branding is also subtle. Masi's Brunello Carbon gravel fork has flat black fork legs with gloss-black logos.
The Brunello carbon fork has internal brake routing, fender mounts, it uses flat disc brake mounts, and a 100 x 12mm included thru-axle.
The Brunello fork also has a full carbon 1.125-1.5″ tapered steer tube.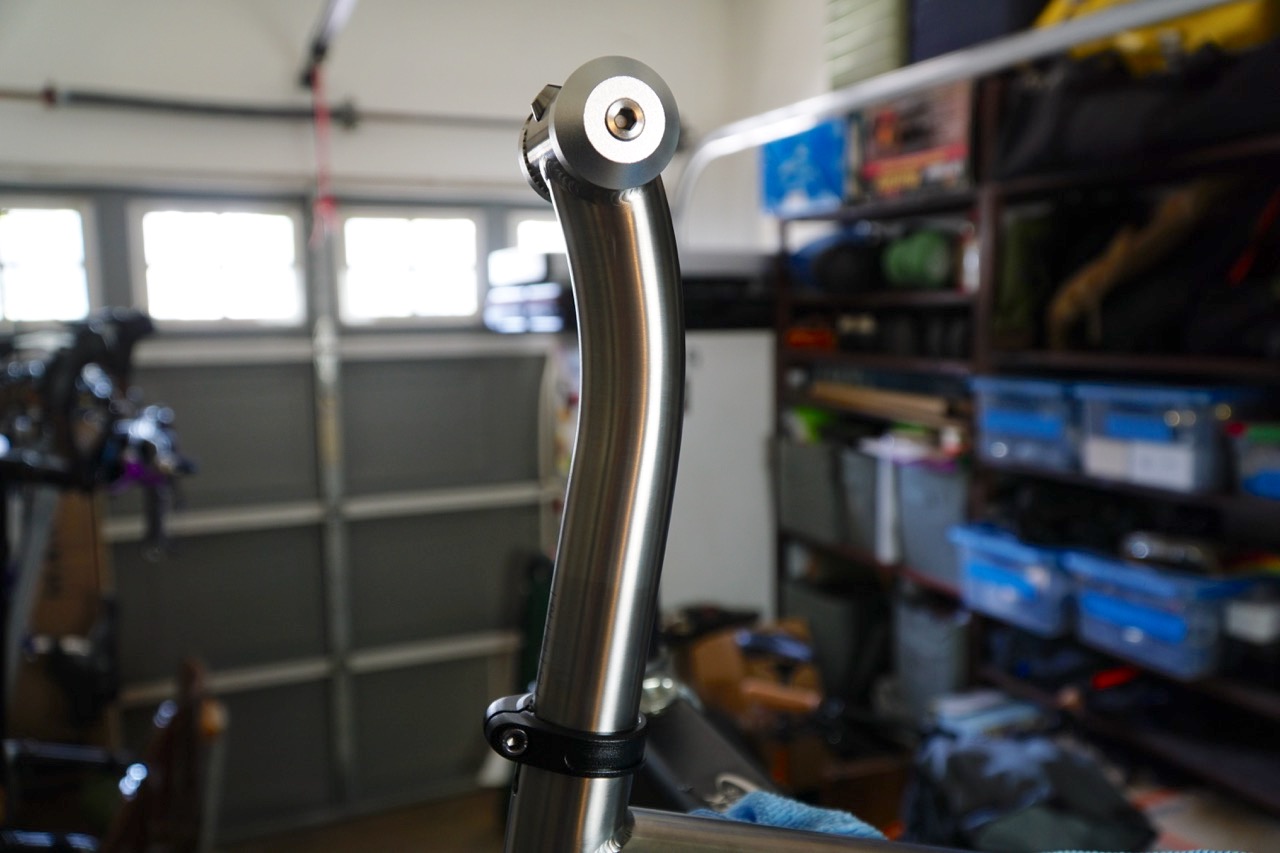 The seat post is the Masi house-branded Brev M. It's titanium and measures 31.6 x 350mm long. Masi offers this post in two different offsets. For bike sizes 47cm to 51cm it comes in a 0mm offset. For bike sizes 54cm to 60cm it comes in a 10mm offset. This frame is 58cm, so the post shown is the 10mm offset.
Frame Geo Chart
On the Masi Bicycles website, it states that the Incanto frame has "semi-internal cable routing with custom configurations for 1x, 2x, or dropper post routing. The complete Campy EKAR group that is spec'd on the complete bike runs a single 40t front chainring. But it is equipped to run a front double if needed. Masi says that the frame is intended to run a 46t/30t, with the max being 50t/30t.
The complete Incanto comes with 40mm tires, and according to the website, the Incanto frame can fit a 700c x 45mm tire max. It looked like it could fit a bigger tire, so I spoke with the Product Manager for the Incanto, and he said there is actually room for a bigger tire… he didn't say how much bigger, he just said "room for more". How much tire and mud clearance will likely vary based on tire construction and inner rim width.
The Incanto frame comes with bottle bosses on both the down tube and the seat tube with additional bosses under the down tube and on the top tube as shown in the above photo.
Disclaimer: Ron is a Brand Ambassador for Masi Bicycles, which provided the frameset for Ron's upcoming Dream Build Project.