When it was announced that automotive company, Toyota, was shutting down manufacturing and development in Australia, vehicle dynamics engineer and cyclist Ben Schultz developed a business plan for a high concept custom carbon and 3D-printed titanium race bike. Little did he know that his coworker, James Woolcock, was independently developing his technical concept for the same bike. At lunch one day, they pitched the same concept to one another.
The bicycle, shown at NAHBS, is technically impressive, but the bike itself is really just the tip of the iceberg as far as what makes the product and brand compelling. And that's what's really exciting – James and Ben, along with their partner Dean McGeary, have brought their experience in automotive process, business and design to cycling. The result is a clever, buttoned-up deep custom consumer experience package that puts total control of the design directly in the hands of the customer and seems to have exploited every ounce of opportunity within the bicycle design, ordering and fabrication process. And the final product is, well, pretty mind-blowing as a result. It is my pick for most compelling new bike I saw at NAHBS – maybe the most compelling bike I've seen all year.
Buckle up for this one. In order for the bike to really blow your mind, you have to wrap it around the whole concept first…
The big picture concept of the frame is that it allows for total frame geometry customization via 3D printing titanium lugs and frame parts, which are then bonded to carbon tubes chosen by the customer based off of their chosen riding style or needs.
The soon-to-be-launched consumer interface (we'll let you know when it's out there) is designed to put control entirely into the hands of the consumer. Rather than allowing for any interpretation of the customer's needs by a builder or sales professional, the customer enters their own fit numbers and is allowed to tweak handling and sizing characteristics. Before the dealers, builders, and bike designers in the house start wincing, it must be understood that the program developed for the ordering system takes great pains to give the rider feedback in such a way that educates the consumer so they have a greater understanding of what they are getting. The program shows users when the head tube angle they've chosen brings the front tire unacceptably close to the down tube, and won't allow them to proceed with the design until it is modified, for example. It also shows the consumer in live space how the visual geometry of the bike changes with various geometry.
But here's where it gets really interesting: as a team of former vehicle dynamics engineers, they've created a visual tool for understanding bicycle handling characteristics. In order to establish this, they've created algorithms based off of factors examining wheel flop, steering ratio, and response factor – which examines front-center, rear-center, and bike and rider weight distribution. When you create a geometry and tweak angles, the program plots your handling characteristics on a chart along with familiar stock production models so you can better understand your riding experience before you place your order. At a time when production geometry is often set by bike companies with an emphasis on satisfying rider perceptions of what angle and offset numbers look "good" without regard or discussion for what the numbers actually accomplish, the Bastion Cycles user interface passively educates and builds consumer confidence in the final product through good old math and science.
The custom experience goes even deeper. Consumers chose between three levels of stiffness in their frame. So if you're a sprinter and you're buying your bike purely for racing, you can specify the highest modulus option. If you're a smaller person and/or looking for a more compliant ride, you can specify the least stiff option. Or somewhere in between.
The laser sintering process, which is the technical name for 3D printing metal, utilizes lasers to fuse together titanium powder, in this case Ti6Al4V, in an inert medium. The technology, which has gotten a bad rap for cost or quality, has gotten to a point where it is being used on mission critical components in aerospace and cost has come down quite a bit in the last few years, so the process is ripe for adoption within cycling (there were at least three other builders using it at NAHBS, and we've covered others before). The lugs are oriented in the print so as to mitigate the appearance of the printed lines and material support infrastructure interfaces that are common within the printing process.
And it gets cooler. The engineers have taken special pains to refine the program so that the lugs and frame parts require little to no finishing after the five stage printing process. This is because the titanium parts produced only have an exterior wall thickness of 0.5mm. And what allows them to hold that thickness is the physical construction of the parts.
The parts are actually hollow with a webbed internal structure. This structural strategy is emerging as titanium laser sintering is taking off because it's a strategy that can really only be accomplished by that process; you can't cast or machine this type of part with these thicknesses or precision. If the idea of it may make some readers uncomfortable, it is because this structural strategy is brand new. And we'll only be seeing more of it as process costs come down and capability increases. Lastly, after the titanium parts are printed, they spend a day in heat treatment before they are ready for assembly.
The main triangle tubing of the bike is produced out of house, but Bastion engineers had to develop a special process in-house for creating the chain stays. The carbon members are bonded to the titanium lugs and dropouts in a special fixture that allows them to hold the angle tolerances down to +/-0.10 degrees (for reference, a production frame would be fortunate to hold a +/- 0.25 degree angle tolerance).
In all, it takes 15 days to build a single frame from beginning to end, but the Bastion Cycles production strategy allows for five frames to work through the assembly line at different stages of completion. Also, they have designed their facilities so that production can go as low as 50 frames a year and as high as 200 frames without requiring further infrastructure investment.
The complete frame itself designed to give consumers the best of both worlds as far as the materials used. As Ben articulated during our chat, the titanium isolates vibrations at high frequencies while the carbon fiber provides damping. Also, because of the printing process, they are able to keep routing portals in the frame mostly isolated to titanium pieces.
The seat mast contains a system that allows for 20mm of seat height adjustment through the use of internal rigid spacers, ensuring that your saddle height is fixed. (Cool saddle shown is not included or available, I asked).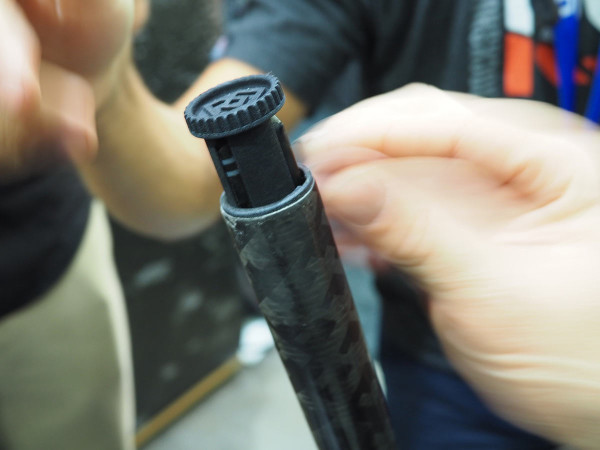 Also, James designed a clever seat mast plug printed from plastic to contain the Di2 battery, junction box and integrated wire guides to keep it tidy. It utilizes an acme thread so that with a twist the battery pops up out of the mast, easy peasy. The frame at the show featured a flat mount disc rear brake mount.
But there's even more. The last really interesting point about this bike is that it can be repaired… by Bastion. They keep every frame design on order so that if a new lug needs to be made, it can be. Also, carbon tubes can be removed and replaced rather than having to be patched. Engineers at Bastion want this to be your forever bike.
All in all, Bastion Cycles has conceptually knocked it out of the park with their product. Consumers can place an order knowing how the bike will handle and with a deeper understanding of their frame – as its designer.