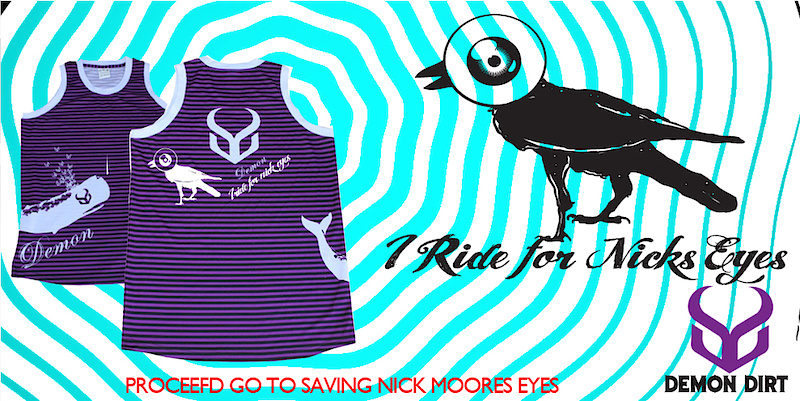 One of the things I have always loved about the bike industry is how close knit the community really is. Most of the time this represents happy times with great bonds between friends and a killer sense of camaraderie. Unfortunately there are also dark times where one of our own faces incredible hardships, but it's great to know that the community is there for us.
Now it's our turn to give back to one of the most passionate guys I've met in the industry, Nick Moore who is the the designer/team manager for Demon Dirt. Apparently, Nick was just diagnosed with a degenerative eye disease which is causing nick to slowly go blind. His left eye is already almost completely blind, and emergency surgery is about the only chance for keeping his right eye functioning. As anyone who rides can imagine, this will have a major impact on not only his riding, but his life from here on out.
So here's what we can do to help: for starters Demon Dirt is selling a special I ride for Nick's Eyes version of the Brig jersey which can be found here. Also be sure to check out the article over at Pinkbike that has the details on an auction which the proceeds will directly benefit Nick, and will indclude items from the Camp of Champions, Banshee Bikes, VP Components, Candy Components, and One Ghost Industries.
Check out the touching video from Nick after the break!
You can also check the status of the Save Nick's Eyes campaign on their facebook. Nick, his family, and friends thank you for any help in advance!