Öhlins has a new super limited edition range of race-day Öhlins Factory Racing suspension upgrades to make you go faster. From simple factory team yellow for lowers to World Cup optimized crowns for your DH fork, the new consumer-focused Öhlins Factory Racing project brings you closer to the feeling of a professional mountain bike racer…
UPDATE: Öhlins has updated us with Factory Racing pricing. Scroll down to see how much a pro-MTB makeover will cost you!
Öhlins Factory Racing pro suspension upgrades for you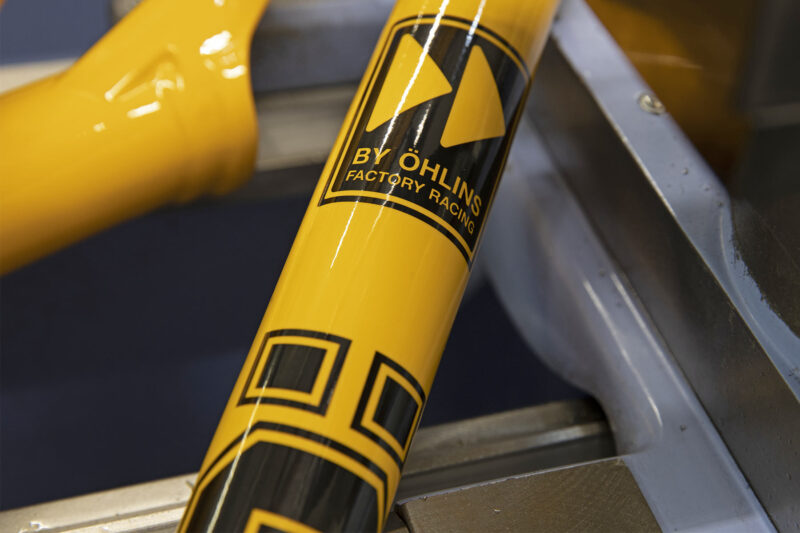 By adding a new limited edition Öhlins Factory Racing category to their consumer product range, the Swedish suspension experts at Öhlins hope to bring you one step closer to their racing heritage. The OFR line-up is equal parts a true performance boost and simply making you look fast – 'look pro, go slow' – but eye-catching in either regard. Öhlins says it's the same kit raced by their top pro mountain bikers – like Loïc Bruni, Finn Iles, Fabio Wibmer, and the BMC XC Team – but available to us mortals only while supplies last.
We're still waiting to hear back about now have official retail pricing, and will update here when we know more. In the meantime, check with your local Öhlins dealer for availability.
First up is some actual next-level gravity performance…
DH38 Factory Racing Crown
Developed in the R&D lab, and then real-world tested on the UCI World Cup DH track, this new more extensively-machined aluminum racing crown looks to save weight with relieved clamps and upgraded titanium hardware at the stanchions, upgrading the ride feel of existing DH38 forks. Öhlins describes it as improving the downhill racing fork's "flex pattern, giving riders the enhanced control and stability required at DH World Cup levels."
The titanium-anodized crown is still mated to a direct mount stem, and available with dropped or flat upper clamps. For now, it is offered exclusively in a 54mm fork offset, the same as raced on the World Cup by Bruni & Iles these past two seasons.
The new Öhlins Factory Racing DH38 Crown retails for 485€.
Factory Racing TTX22m.2 Upgrade
Less visible once you install it, the limited edition Öhlins Factory Racing TTX22m.2 upgrade is a new set of internals for your rear coil shock. Adding a new hydraulic top-out function, the TTX22m.2 Factory Racing upgrade also otherwise simplifies the internals for optimal race tuning. Without the ability to clip in those three standard 2.5mm stroke adjusters, Öhlins says this Factory-edition is better suited to handle the intense stresses of "extreme racing conditions" while delivering optimal performance.
The Factory Racing TTX22m.2 upgrade keeps Öhlins' signature twin tube crossed-design (TTX) damping tech, now with a titanium nitride (TiN) coating on its shaft for smoother actuation and added durability. The Factory Racing upgrade comes in four sizes – 225mm & 250mm overall x 75mm stroke and 205mm & 230mm overall x 65mm stroke.
The new Öhlins Factory Racing TTX22m.2 Upgrade Kit retails for 225€.
Factory Racing Shock Pump
This one's more to make you feel good setting up your Öhlins suspension. Adding to the limited edition racing product collection, the Öhlins MTB shock pump was made so you can precisely dial-in air shock and fork pressures. It gets a digital pressure gauge, ranging from 0-300psi. If it looks familiar to you, that's probably because it is. Not an Öhlins-specific product, but an Öhlins-branded version of a proven digital shock pump – I think we've seen this exact one from both Fox & RockShox, too.
The new Öhlins Factory Racing Digital Shock Pump retails for 89€.
Öhlins limited edition Factory Yellow Fork Lowers
Lastly and probably the most visible are the team-color Factory Yellow Fork Lowers. Yes, they are the exact same lowers that you already have in black, just now in a limited edition Factory Yellow paint. Now available for DH38, RXF38, and RXF34 forks, they won't make you faster, but they will make you feel faster. As silly as it may be to pay for a new set of yellow lowers when your existing ones are functioning perfectly well, if you damage the lowers and need to replace them, why not go for the Factory Team look update! Factory Yellow lowers will also be coming to more fork models soon.
The new Öhlins Factory Racing Yellow Fork Lowers each retail for 425€, per fork.
Interestingly, this is a race-use-specific kit, and that means it is not included in the standard Öhlins warranty. We're sure it lives up to the same quality standards as the rest of their premium suspension components, but don't expect a regular replacement when you thrash it in a season of World Cup downhill quallies.