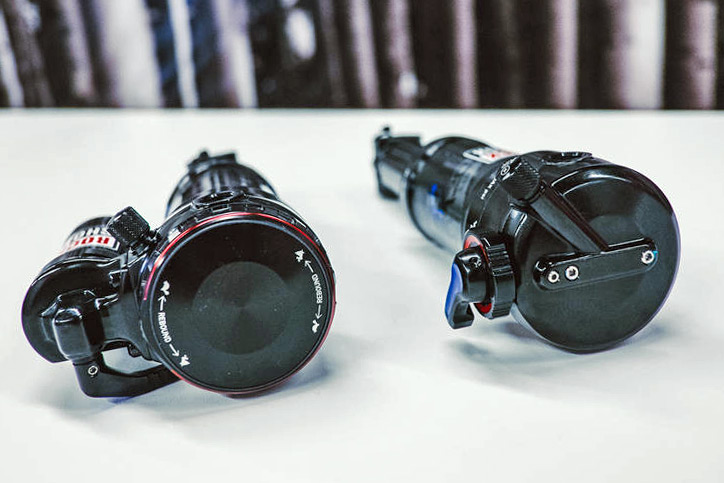 As the full suspension bike market developed over the last couple decades, there was never any real overarching structure with how rear suspension components were being designed and built. It was always a very piecemeal affair where a bike builder would make a suspension design work with an existing shock stroke or eye to eye length that had been on some other bike. Or when they couldn't get the geometry of existing shocks to fit, they would ask a big shock maker to give them a new size. Over time, that resulted in a lot of arbitrary shock strokes and eye-to-eye lengths with no rhyme or reason, and as a result not a lot of compatibility from one bike to the next. And, sometimes, less than stellar performance.
To remedy this, the suspension industry recently collaborated on a new set of metric standards that would define eye-to-eye and stroke length options. Frame builders would then need to work within those parameters when designing a new bike.
Rockshox is the first to announce products in the metric realm with their new Deluxe & Super Deluxe shocks. We covered the tech specs of the shocks in that post, but we wanted to dive deeper into the whats, whys and hows of the metric standard. For now, the shocks are not backwards compatible, as the legacy list of shock lengths and strokes is really all over the place. But going forward it looks like a lot of bike manufacturers will work with these new sizes.
Drop in and see what Rockshox has done and how this will affect your next bike…
Put all suspension forks options on the table and you essentially have just two steerer tube sizes, 3 or 4 wheel sizes, and a handful of axle interfaces. With rear shocks, Rockshox says there are almost 100 hardware variants.
A lot of overlapping size requirements from bike to bike and brand to brand meant the suspension industry spent a good bit of effort (and surely wasted time and efficiencies of scale) by developing different shocks to meet very similar size requirements. Rockshox (and most others) thought it was time to put an end to the madness, so the metric sizing standards will hopefully make rear shock options look a little more like what's been done with forks. And while they're at it, also make everything better.
RockShox's first goal was to optimize performance, which we covered here, and second to improve upon the integration of rear shocks into new full suspension frame designs. The end result is a new set of rear shock sizes developed with frame makers that'll allow them to make better bikes with better suspension in the future. It doesn't set out to make anything obsolete, but they won't really be backwards compatible, either.
Why? First, because as the charts above show, the eye-to-eye and stroke numbers won't match up. Second, because the way the shocks mount to the frame are changing, too. RockShox will offer two new interfaces that account for the longer eye-to-eye of the new shocks, or just better accommodate the loads and movement in modern suspension designs. Or both.
In typical Vertical Mount shocks like the white Trek above, the high rotation where the rocker drives the upper shock eyelet (~70-120° of movement) means that a conventional bushing is not really the best solution to start with. So RockShox will offer a trunnion mount and an end bearing mount.
A Trunnion Mount (think of the two big pins that stick out of the side of an old cannon that allows it to rotate) is a style of connection where the top of the shock's air can body has two external connection points that can be pinned directly to the rocker arm. The trunnion is designed to be installed in conjunction with a set of frame/rocker mounted bearings at the connection.
The trunnion will actually reduce overall shock length by 25mm, which can allow for lower toptube heights, or even just to fit the shock vertically in very small-sized frames. This was the mount style that RockShox realized could give them the extra length that let place the shock's internal bushings further a part and allowed for a longer, better fitting wiper seal.
The End Bearing mount is similar, but markedly outperforms the current standard. By replacing the typical top DU bushing with pair of proper bearings, it reduces friction in the suspension setup where the rocker is pivoting the most. While the end bearing style mount reduces friction, it does require a longer overall length than current non-Metric shocks, which is why it can't just be dropped in to replace what you have now.
With a Horizontal Mount shock (where the shock is parallel with the toptube) the larger angular movement happens on the other end of the shock at the lower eyelet. In those cases a similar end bearing will solve the same performance issue, while keeping the full eye-to-eye length.
So the question becomes… is it all worth it? At first glance it just sounds like another standard we're getting roped into. But in reality the Metric Sizing standard is just a new set of shock sizes that lets everyone make better products. And it's been agreed to between SRAM/RockShox and a number of other suspension and frame manufacturers, too. You get better durability and less friction, and for the trunnion setup, there is the obvious benefit for more standover height, especially on smaller frames where ideal geometry may be difficult to come by. Does it mean you have to buy something new? No. But when you do start looking at new full suspension bikes, just know that they'll be better. Don't worry, as long as there's demand, Rockshox and others will keep making things in the old sizes, too.
RockShox has been working with a number of bike companies to develop Metric Sizing, and will be supplying the new Deluxe and Super Deluxe shocks for a number of bikes from XC through to enduro for 2017. Expect to see them popping up on OEM bikes this summer as the earliest MY17 bikes debut.