While they could call it 'a mountain bike in its purest form', Santa Cruz is calling the new Tallboy 'the downhiller's XC bike'. The updated Tallboy was designed to pedal very well, but descend like a longer travel rig. It's an ideal choice for riders who enjoy all sides of mountain biking – climbing and pedalling for hours, but also bombing technical descents without hesitation.
Following the recent 5010 announcement, the Tallboy will apparently be the last updated model from Santa Cruz's MTB lineup this year. The newest version doesn't stray far from the Tallboy's successful legacy but gets revised suspension kinematics, updated geometry, and Santa Cruz's Glove Box down tube storage.
Santa Cruz Tallboy – frame details:
The fifth generation Tallboy will be offered in C and CC carbon frame options. It rides on 29" wheels and provides 120mms of rear travel. All models come equipped with 130mm forks, although Santa Cruz says you're OK to bump that up to 140mm.
The new Tallboy relies on the brand's lower-link VPP suspension and seeks to provide a balance of solid pedaling efficiency and excellent bump absorption. Despite being on the short travel side, Santa Cruz says the Tallboy should feel right at home on rougher trails that warrant bigger bikes.
In comparison to their 5010 Santa Cruz says the Tallboy is more efficient and energetic, as it's designed to be a fast-rolling bike. Versus the outgoing Tallboy, they've reduced progression to improve sensitivity deeper in the travel and keep the bike riding higher in its travel for a responsive ride. They've also reduced the bike's anti-squat, improving both small bump sensitivity and square-edge absorption. In turn, this reduces anti-rise and helps the linkage stay highly active under braking.
The Tallboy frame can handle tires up to 2.5" wide. It features a Boost 148mm rear axle, a SRAM UDH derailleur hanger, and a threaded BB shell with an ISCG05 chain guide mount.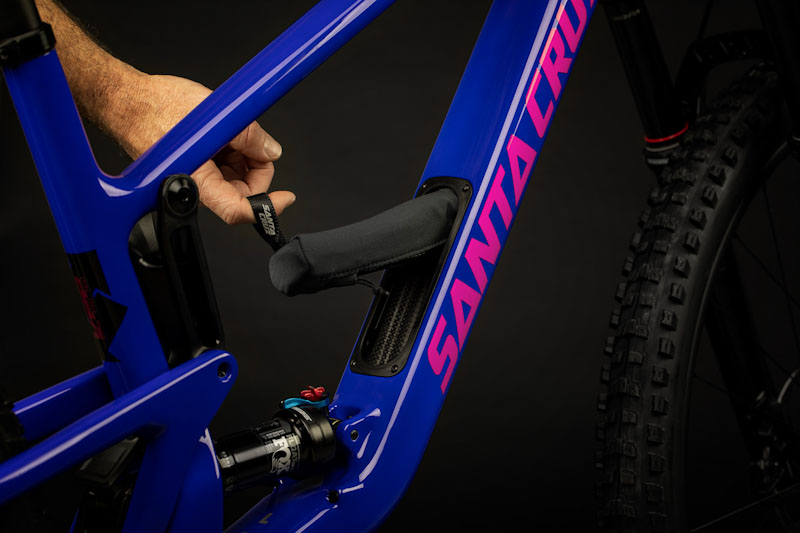 The Tallboy now features Santa Cruz's Glove Box down tube storage compartment, and a Tool Wallet and Tube Purse are both included to keep your supplies sorted. A bottle cage that bolts on top of the door is available, but not included.
Cables are internally routed in Santa Cruz' neat fashion; those little holes are very clean looking, and they prevent your cables/hoses from rubbing on your frame.
The Tallboy does not have an upper down tube protector/shuttle guard but it does get a guard on the lower down tube near the BB. It also gets a chainstay protector and Santa Cruz's neat little mudflap for the rear shock.
Geometry:
Santa Cruz didn't go crazy adjusting the geometry of the new Tallboy. Aside from increasing reach and rear center measurements, Santa Cruz maintained most other of the Tallboy's proven and well-loved figures. A look at the numbers above shows snappy steering angles, roomy but reasonable reach numbers, short rear ends, and low BBs. The latest Tallboy offers proportional geometry, with size-specific chainstay lengths and steeper seat masts as frame sizes go up.
Santa Cruz's lower shock mount flip-chip provides Hi and Lo positions. The chip slightly alters just about every aspect of the frame geometry including the steering angle, seat tube angle, BB height, reach, and chainstay length. Nothing changes drastically from Hi to Lo positions, but check out the chart above to see all the figures for both configurations.
Model Lineup:
There are six build kits available for the new Tallboy, and the chart above gives a quick rundown of the key components. The top two models get CC carbon frames, and there is an option to add Santa Cruz's Reserve 30 SL carbon wheels to the XT build kit (for an extra $1350). Fans of electronic shifting will be happy to see three SRAM AXS build options, including two with GX AXS drivetrains.
All Tallboy models are available in Matte Taupe or Gloss Ultra Blue colorways. All of Santa Cruz's frames, pivot bearings and Reserve carbon wheels are covered by a lifetime warranty. Check out their website for pricing and full details on the new Tallboy.