If you're like me, the company Nuke Proof is best remembered for those old school mountain bike hubs with the carbon fiber shell in the middle, they were so cool and I wanted them. Somewhere along the way the hubs disappeared and the company faded into the laurels of mountain biking history. Well the company was resurrected some time ago and they have been cranking out some solid mountain bike bits for a while. What's the future for Nuke Proof? Apparently they're going to get in on the ever-growing market of long travel downhill frames for racing and big mountain free-ride as evidenced by the photos of their new frame in the works. The frame is currently a modified single pivot cranking out 8 inches of travel from a 3 inch stroke shock. According to Nuke Proof's Face book page, the frame will have a "1.5in head tube for geometry tuning, based around a 63deg head right now though. Ride height adjustable via magic things."
Complete build after the break!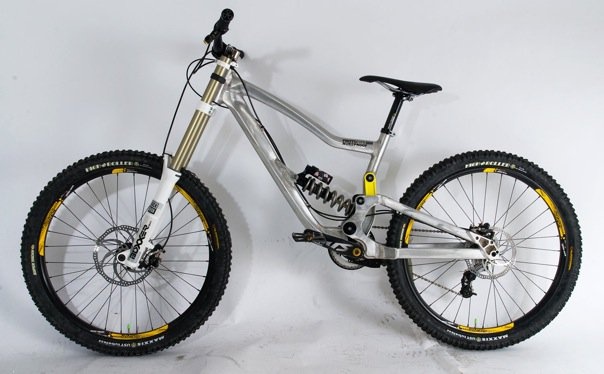 By the looks of things, Nuke Proof's first foray into frame building should be a lucrative one if the price is right. The pictured build came in at 37 pounds 11 oz., yeah, they used some really light parts, but that is very respectable for any DH bike regardless of spec. Price, availability, and sizing is all to be determined, but keep your eye out for final specs soon!