They say good things come to those who wait. If by 'good things' you mean incredible e-mountain bikes, then waiting for the new Specialized Turbo Levo SL Gen 2 is definitely worth it.
The original Turbo Levo SL was introduced back in 2020, and a lot has changed since then. The e-bike industry is still trying to figure out the sweet spot between power, torque, and range – but now the loudness of the motor is a factor as well.
Take all of that into consideration, and you have the all-new Specialized Turbo Levo SL Gen 2. Technically, this is almost Gen 3 as Specialized had this frame ready to go last year. However, they decided it could be better and went back to the drawing board on the motor.
All-New Specialized 1.2 SL Trail-Tuned Motor
And it's the motor that makes a big difference here compared to the original Turbo Levo SL. Notably, the new motor is entirely different. Specialized claims that not a single bolt was reused from the 1.1 to make the 1.2. They also managed to increase both power and torque without changing the motor size or weight. The Specialized e-Bike team obsessed over every detail on the new motor – right down to the finish on the casing.
Levo SL Gen 1 had a Specialized SL 1.1 motor with a fairly meager 240W of power and just 35Nm of torque. Listening to feedback from test riders and customers, Specialized determined the bike needed more power. The new 320w motor provides 33% more power to be specific.
It gets an even bigger bump in torque moving from 35Nm to 50Nm, for a 43% increase. Specialized managed this without much of an impact on the range in spite of using the same SL1-320Wh internal battery.
Depending on your feeling on e-bikes, one of the biggest improvements may be in the sound of the system itself. The Turbo Levo system is all about "you, only faster," but a whiny e-bike motor is a dead giveaway that it's more than just you pedaling. Thanks to an updated gearbox design and a new two-piece motor housing with an integrated honeycomb structure, the new motor is quieter. A lot quieter. Specialized claims a 34-45% reduction of noise compared to the SL 1.1 motor.
Turbo Levo SL Battery Range
BATTERY
ECO (35/35)*
TRAIL (75/80)*
TURBO (100/80)*
Internal (320 wh)
2000 – 2300m (climbed), 


45 -55km (Total distance), 3:30 – 4:30h (ride time)
800 – 900m, 20 – 30km, 1:30 – 2:00 h
750 – 850m, 20 – 25km, 1:15 – 1:30 h
Internal + Range Extender
(480 wh)
3000 – 3450m, 70 – 85km, 5:15 – 7:00 h
1200 – 1350m, 30 – 45km, 2:15 – 3:00 h
1100 – 1300m, 30 – 38km, 1:45 – 2:15 h
* Motor support/peak power in %, default values, customaizable in Mission Control App
Based on 15 mph/ 25kph max. motor assist speed. Deduct 10-20% range for 20 mph / 32 kph speed setting, depending on route profile and ride style.
If you're new to e-bikes, a battery's range will vary greatly based on riding conditions, rider weight, assist mode, and riding style. As a baseline, the chart above gives you a rough idea of what to expect. Even though this is considered a lightweight e-bike, it still has an impressive range that can be increased if you add the 160Wh Range Extender external battery.
Out of the box, the new Levo SL will be set with a default mode with 80% of peak power in Turbo mode which is said to optimize easy climbing and extend battery life. If you want 100% peak power though, it's easy to adjust using either the onboard MicroTune setting, the Mission Control App, or you can ask a retailer to do it for you in the shop using their Turbo Studio program.
Factor in changes that you can make using the Specialized Mission Control App, and you can squeeze every last drop of range out of the battery to make sure you still get home with some juice. Using the Smart Control feature allows you to tell the bike how long you'll be riding, and it will automatically adjust the assist to keep you rolling.
New Integrated Digital Display
If you don't want to have to break out the smartphone, that's fine too. It's even easier now with the new MasterMind Turbo Control Unit that includes a display screen to tell you vital information like assist mode, remaining battery life, speed, time, and more. The robust screen is made from Gorilla Glass, and the TCU also includes a power button for the whole system.New Integrated Digital Display
In total, there are a whopping 120 different possible display configurations, and the TCU is ANT+ & Bluetooth compatible allowing for over-the-air-updates.
When riding, you can toggle through the settings using the slim handlebar remote. The default settings include Off, Eco, Trail, and Turbo, though you can quickly get to the MicroTune control by holding down a button on the remote.
All New Frame
While a lot has changed with the Levo SL motor, even more has changed with the frame. Just about everything is new with FACT 11M carbon used for all models. With the Gen 2 Levo SL, Specialized is moving away from their Sidearm frame design relying on advanced FEA and Machine Learning to come up with the final design and layup schedule for the new frames. Like previous bikes though, it still relies on their Rider-First Engineered design process which results in similar ride qualities across frame sizes.
Not only is the frame different, but the wheel sizes are different as well. Levo SL Gen 1 was 29/29 only, whereas Gen 2 moves to mixed wheel sizes with a 29″ up front and 27.5″ out back. This is not something Specialized took lightly, stating that they went back and forth multiple times, eventually settling on the mixed wheel size as the most fun configuration of the bike. However, if you want to run 29/29 you still can by taking advantage of the flip chip at the chainstay. Note that if you do want to run 29″ wheels front and back, only the chainstay and wheelbase numbers will change – all the other geometry figures remain the same.
Adjustable Geometry
Further adjustment is offered at the shock extension with two positions that raise or lower the bottom bracket height by about 6mm. If that wasn't enough, there are also three head tube positions, changing the HTA from 63.8-65.4º (S3 size). In total, there are 12 different possible configurations (six 29/27.5, six 29/29). All bikes will ship out with the Nominal (middle) headset position, the Low BB setting, and the chainstay chip in 27.5″ mode. The effective geometry is very similar to the excellent Stumpjumper EVO, for good reason – the EVO is incredibly fun to ride and is quite versatile.
In terms of sizing, the Gen 2 is also different in that it moves to the Specialized S-Sizing system. Instead of the typical S-XL sizing, the S-1 through S-6 frame sizing is meant to allow the rider to pick the frame they're most comfortable on for their riding style.
With the exception of the S1, all of the Levo SL Gen 2 frames offer 150mm of rear travel paired with a 160mm travel suspension fork. In order to decrease standover height, the smallest S1 size runs 144mm of rear travel with a 150mm travel suspension fork.
In the Levo Gen 2 SL, Specialized set out to create the "Ultimate Trail Bike". To them, that means creating a bike that can do everything from flow trail laps, to big days in the alpine, or sending it down chunky terrain. To make a bike that is as fun as it is capable, the suspension leverage curve has been reworked to be flatter with more support off the top. That keeps the bike playful, but a more rearward axle path keeps the bike stable when plowing through rough sections of trail.
How Much Does Levo SL Gen 2 Weigh?
Specialized doesn't call this a lightweight e-bike for nothing. Specialized claims you'll find models that can be as light as 17.71kg (39.04lbs) – without any silly components. That's a big part of the overall Levo SL package. This has to be a capable bike, so skimping on parts just to save weight is not an option.
Because of that, you'll find spec like SRAM Code 4-piston brakes with 200mm rotors, Roval Traverse wheels, Fox 36 suspension forks and Float X rear shocks, and even room for 34.9mm dropper posts. Of course, higher end builds get the new SRAM Eagle Tranmission drivetrain too, with all models including a SRAM UDH.
You could make these bikes lighter. But Specialized thinks the build spec chosen will result in the most fun ride possible, without weighing you down.
Models, Pricing, and Availability
Initially, there will be four levels of Levo SL Gen 2 complete builds, along with an S-Works frameset option. That starts with the Comp Carbon, then Pro, S-Works, and a crazy $16,000 S-Works LTD build. Notably, the UK will not get the S-Works LTD model or the Frameset option. Here in the United States, all of the models will be offered at launch with the exception of the Pro model, which will be "avaialble later."
Levo SL S-Works LTD – $16,000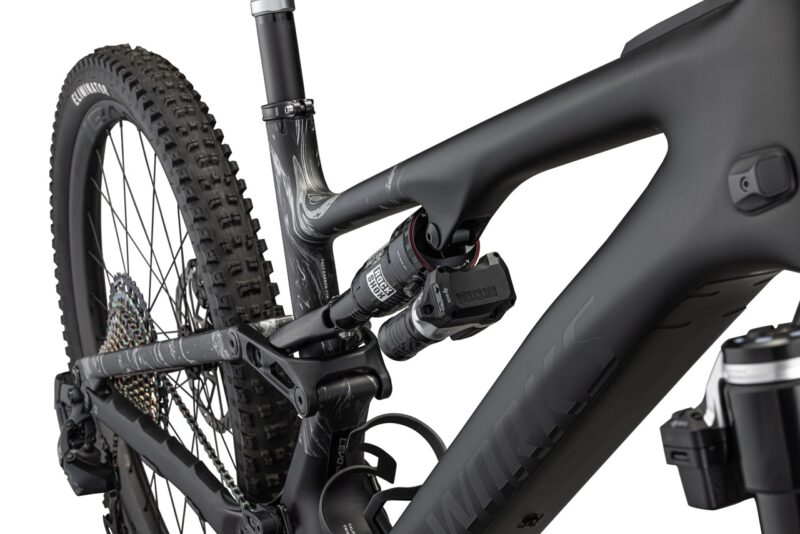 There's no question when you look at that price tag, the S-Works LTD is the top of the range. It gets a special Black Carbon/Smoke finish, plus matching graphics on the Rock Shox Ultimate Flight Attendant electronically controlled suspension package. Specialized points out that they worked with RockShox on this build so you don't have the use the standard pedal sensor for Flight Attendant. Instead, it relies on the cadence sensor built into the bike's motor. Other build highlights include the new SRAM XX Eagle Transmission, new SRAM Code Ultimate Stealth brakes, and finishing touches like a Deity Stem and Knuckleduster grips.
Levo SL S-Works – $14,500
Slightly less expensive is the Levo SL S-Works. Pushing past $15k with tax, the build is unapologetically high end with the main difference being the lack of RockShox Flight Attentdant and the finishes. Instead, you'll find Fox Factory suspension and a few other small changes.
Turbo Levo SL Pro – TBA
Specialized hasn't released the pricing for the Pro model yet, but to give you an idea in terms of Euros, the Pro is priced at €11,500, compared to €14,000 for the S-Works model. The Pro level drops down to SRAM X01 Eagle Transmission for the drivetrain, with Code Silver Stealth brakes, and Fox Factory suspension for a still-impressive build.
Turbo Levo SL Comp Carbon – $8,000
For the most "affordable" version of the Levo SL, look to the Comp Carbon. At $8,000 it's still a very expensive ride, but you should be able to get out the door for under $10k – even if you need some new accessories as well. To get the price down to that level, the bike forgoes SRAM Transmission, instead opting for the SRAM GX Eagle 1×12 drivetrain. You'll also find Code RS 4 piston brakes, the move to aluminum Specialized wheels instead of carbon, and Fox Performance series suspension. There's also a slight change to the frame with an alloy shox extension instead of the carbon extension on the other models.
Turbo Levo SL Frameset – $8,000
If you just have to build up your bike yourself, the S-Works level bike will be available as a frameset. Now framesets are a little different in the e-bike world, so that price includes the S-Works frame with the carbon shock extension, a Fox Float X Factory rear shock, SRAM carbon crankset with 32t chainring, a seat post binder (38.6 to fit the bigger not-included 34.9mm seat posts), the 1.2 motor with remote, 320Wh battery, charger, and wiring harness.
With the exception of the Pro Model in the U.S., all of these should be available at launch. Our first ride impressions are up next!