The mad scientists at Tailfin are at it again. This time, they're reinventing dry bag storage. OK, reinventing may be too strong a word, but they're certainly improving upon the idea with their usual ingenuity and obsessive design.
The idea of loading your gear into a dry bag and strapping that on your bike is nothing new. It's a common method of carrying gear, and it works well. Kind of. The biggest issue is always figuring out how to properly attach those bags to your bike in a way that won't come loose and won't interfere with your pedaling. The new Tailfin Cage Pack System seems to solve those issues with bags that are easier to fit and use on different locations across the bike.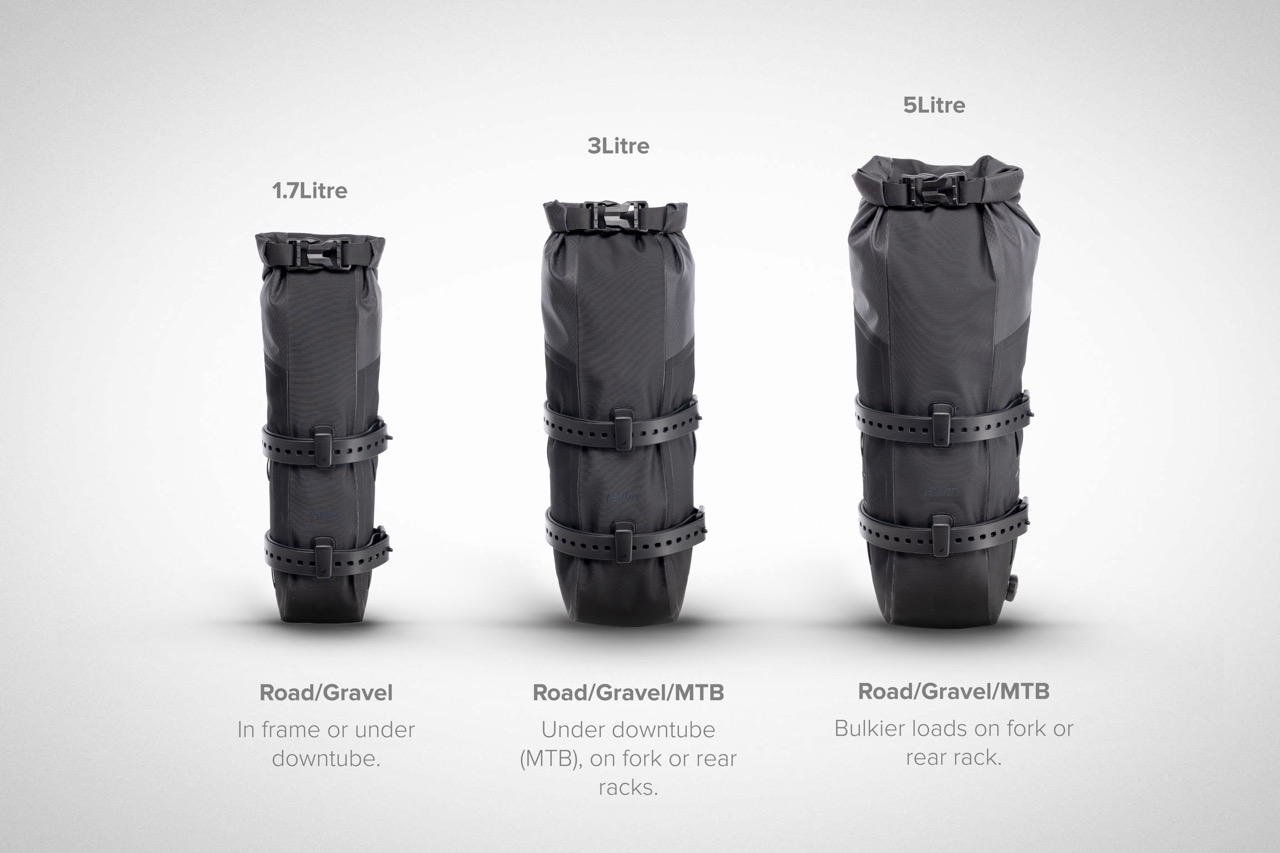 Available in three sizes, the Cage Packs are all built using a welded construction and heavy-duty 420D Hypalon laminate for high wear areas and lighter ripstop nylon in others to make a flexible bag that is also completely waterproof. The packs are also designed with flat sides to prevent them from rubbing on your legs while pedaling.
One of the most intriguing features of the Cage Packs is what Tailfin calls the Speed Hook Loading System. One of the biggest challenges with dry bag storage is strapping it down to the bike. Depending on the situation, it can require more than two hands to hold the bag in place and get the strap tight enough to keep it in place–not to mention tight enough to keep it there while bouncing down a trail.
The Speed Hooks allow you to preload the straps and load the pack. The hooks will rest on the straps and keep it in place even if the straps aren't tight. Then you can focus on properly tightening the straps without worrying about the position of the pack. The hooks also provide extra support while riding to keep the pack from slipping out from the strap.
While the Cage Packs are optimized for the Taifin Cargo Cages, they are also compatible with all other cargo cages and straps.
Along with the packs, Tailfin is introducing their own TPU cargo straps but in a typically Tailfin way. The straps use a shatter-resistant nylon Load Lock Buckle that will flex rather than deform like aluminum, and there are no metal parts to rub on your frame or fork. The hook and eyelet have been redesigned to work better with soft bags and compressible loads, and feature a self locking mechanism to prevent the strap from loosening even if the bag contents shift. Offered in four sizes, the straps are available separately or sold with the Cage Packs.
Specifications
Cage Pack
Volume: 1.7 liters, 3 liters, 5 liters
Materials: Hypalon/Ripstop Nylon,

 

Weight: 1.7L – 115g, 3L – 154 g, 5L – 183g
Color: Tailfin Black
Price (without straps):1.7L –

 

£30 €40 $40, 3L –

 

£35 €45 $45, 5L – £45 €60 $60

 

Price (with pair of straps): 1.7L – £40 €50 $50, 3L – £45 €55 $55, 5L – £55 €70 $70
TPU Cargo Strap
Lengths: 40, 50, 65cm
Color: Tailfin Black
Price (per strap): 40cm – £7.50, 50cm – £8.00, 65cm – £8.50
Price (when bought with Cage Pack): £10 per pair
For more information, checkout Tailfin.cc.