Wahoo surprised the tech-savvy cycling world at the Time Trial World Championships by giving everyone a sneak peek at their new product. Rollers. Or, the KICKR ROLLR to be exact. But as it turns out, this highly anticipated piece of kit would be launching simultaneously with another new Wahoo product—the new  POWRLINK ZERO power meter pedal. That's not by accident as you'll need a power meter on your bike to get the most of these new smart rollers.
What is the Wahoo KICKR ROLLR?
The Wahoo KICKR ROLLR combines a smart trainer, rollers, and a super-fast warm-up setup. Wahoo describes the KICKR ROLLR as their most straightforward unit to set up; just set the length of your bike, clamp in your front wheel, place the rear on the rollers, and ride. There are no adapters, no spin-down calibrations, just set up and ride. The best thing about it is it's just as easy to remove and get outside.
Why a ROLLR?
Wahoo saw the demand for a trainer unit that required minimal setup and gave natural sway like rollers — but not exactly rollers. The dual alloy tubes give just enough room to sway side-to-side but not enough to wreck in your living room.
Yes, the roller will be more audible than your direct drive trainer, but Wahoo finds the freedom from swapping of rear-wheel enough of a compromise to justify. This roller and wheel clamp setup allows the rider to go from warm-up to race in seconds flat — unless you plan on a wheel change.
"KICKR ROLLR gives endurance athletes a convenient, versatile, and feature-packed option to train indoors or get ready for an event," said Wahoo KICKR Product Manager Tyler Harris. "The ability to easily take your bike on and off the trainer while enjoying the singular ride feel of rollers really sets KICKR ROLLR apart."
How do the power and resistance work?
The Wahoo KICKR ROLLR employs a 10lb flywheel, magnetic resistance, and programable wattage to set it apart from others in the space. The KICKR ROLLR piggie backs power measurements from the power meter on the bike you're using, relaying the information to the unit and adjusting for the workout or virtual world you're adventuring in. It will do most of the smart trainer work of the other KICKR products, but this unit processes power a bit differently.
Can I use it to warm up at races?
Yes — unlike the other Wahoo KICKR direct-drive units, the KICKR ROLLR offers a progressive 0-450w of resistance and 1:1 mapping, so a warm-up before the race will be more than achievable.  The unit itself weighs 50lbs, not exactly light but not bad overall. It doesn't come with a traveling case, and the arms are less than compact, but we'll have to see when our unit arrives how it is in the field.
The KICKR ROLLR looks like an excellent option for a road bike, gravel bike, and time trial pre-race warm-up. The bike size compatibility is pretty vast at 1100mm in length (set by the Wahoo sliding wheel holder), so most road, gravel, and time trial bikes should be passable.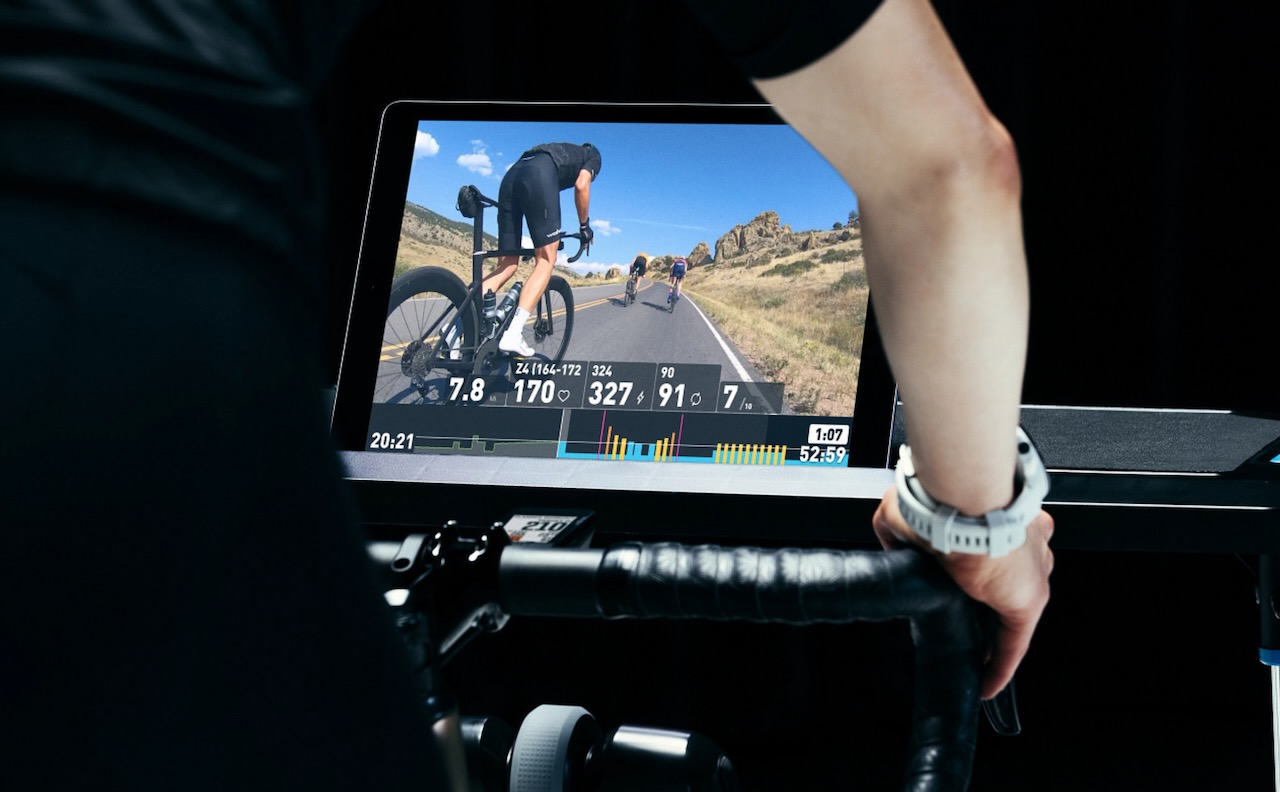 The Wahoo Safety Tire Gripper makes sure the front wheel stays in place without busting out the toolbox. The gripper holds the wheel tightly for aggressive spriting and out of the saddle efforts, so we assume it should be solid for Zwifting. The Safety Tire Gripper does have a maximum tire size though, and will work with tires up to 2.1″ / 53mm, making this primarily a tool for drop bars and old school XC bikes.
Can I Zwift race on the Wahoo KICKR ROLLR?
You can undoubtedly race on the new KICKR ROLLR platform, though the max resistance is 1500w, so plan your race tactics accordingly. The alloy shell rollers shouldn't slip under hard efforts, but it would be best to use trainer-specific tires just for the surges.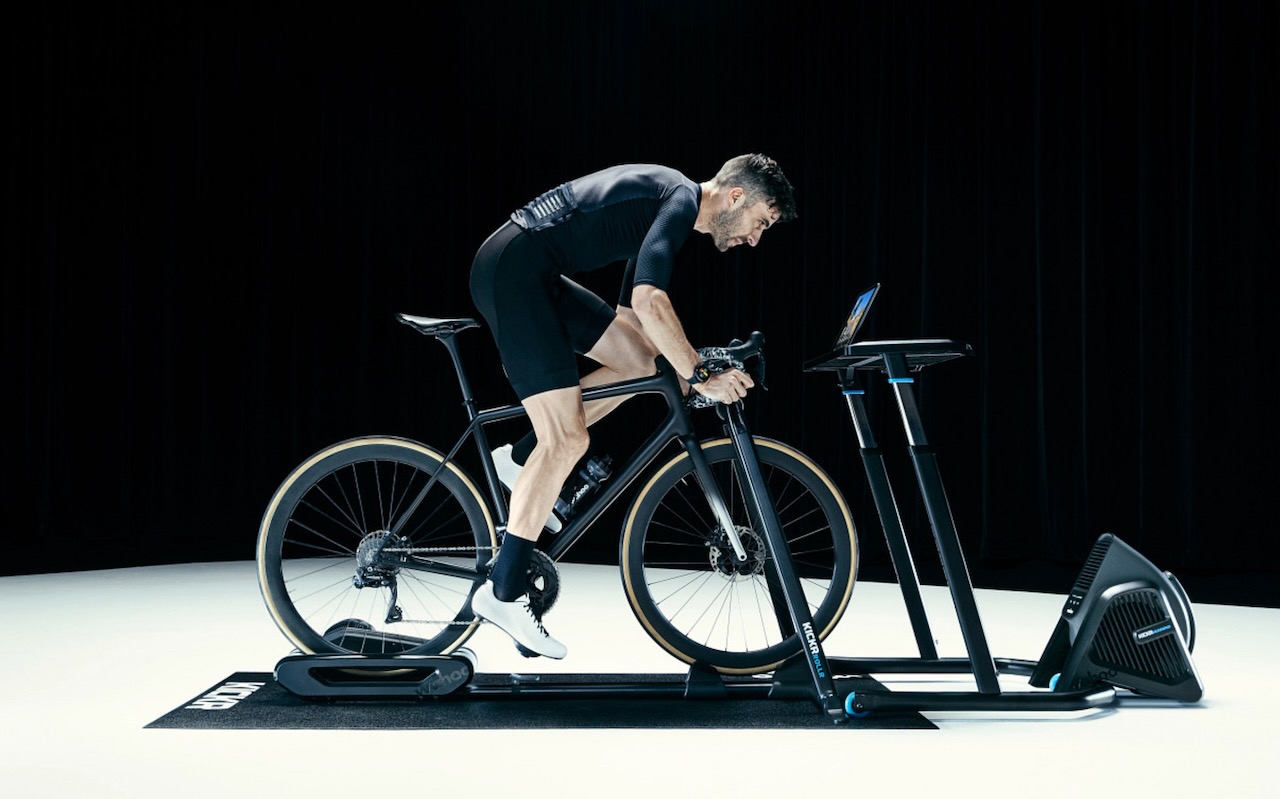 Wahoo KICKR ROLLR pricing and availability
The Wahoo KICKR ROLLR is available in two configurations; a stand-alone unit for $799.99 or bundled with the SPEEDPLAY POWRLINK ZERO single-sided power meter for $1399.99. Right now, there is no bundled unit with SPEEDPLAY POWRLINK ZERO dual-sided pedals, but we wouldn't count it out.
The Wahoo KICKR ROLLR is available for purchase now at WahooFitness.com or through authorized Wahoo retailers.
Check out WahooFitness.com and check back for a full review for more information.