For years, I've wanted to bring a bike on a cruise. We've done a lot of cruises over the years, but at every port it's the same thing – crappy tourist-trap shack villages selling trinkets and trash, or excursions that stick you on a bus ride for an all-too-short experience before whisking you back to the cruise port, where you're funneled back through the maze of vendors.
But with a bike, I thought, maybe we could explore more of an island. See stuff from a local level. Catch the nuances of a place missed from a bus window at 60mph. That was our goal on a recent Western Caribbean cruise, and our friends at Oyama thought they'd help out with bikes. Here's how it went, and what you need to know before you try to take a bike on just any cruise line…
Exploring beyond the cruise port
Never been on a cruise? Lemme paint the picture for you: You walk off the ship, you're funneled into a shanty town of tents filled with shells, shirts and sh… you don't need. What I really want to is to get past it all, and far from it, to see more of the destination's local flavor. Thanks to Oyama, Kristi and I finally got that chance.
We took a Western Caribbean cruise on Norwegian Cruise Lines with stops at Key West, Grand Bahama and Nassau. At Canaveral's departure port, we folded the bikes, left them and our luggage with the porter, and boarded. Champagne time!
Port #1 – Key West
Key West, Florida, is a fun stop with a bike. There's a lot of great stuff to see that's not on Duval Street, which is the main tourist drag full of chintzy T-shirt shops and tourist traps like Margaritaville.
Venture off a few blocks and you can get local tips from Eaton Bicycles, where our friend Chris has all the high end stuff and intel on group rides for serious cyclists. They also stock a fleet of well-maintained beach cruiser rentals, not to mention one of the coolest cycling jerseys we've seen. Grab your handlebar-mounted coozy and turn the corner to…
Cuban Coffee Queen has, hands down, the very best iced coffee in Key West. They also have an amazing sandwich menu, perfect for refreshing/energizing and packing a sando for a picnic lunch somewhere.
If you're craving seafood, Bo's Fish Wagon (above) is close by and gives you that island "shack" vibe while still serving up decent grub. Also worth noting is Blue Heaven, where you can watch the roosters and baby chicks scramble underfoot while dining al fresco on giant blueberry pancakes.
Speaking of roosters, the "Key West Rooster" is, well, I was going to say one of the most colorful characters in town. But that's a disservice to plenty of locals…like Captain Outrageous, who paints many of the bikes-turned-fixtures around town. Let's just say they're everywhere, and they're (sort of) protected.
Ev. Ree. Where.
By getting off the beaten (tourist) path on various trips to Key West, we've been able to explore the West Martello Gardens & Fort, participate in a 0k run (yes, you get a T-shirt) across the shortest bridge on the island, and hit Sandy's Cafe for Cuban/Mexican food (cash only). Or El Siboney for even better Cuban food. How do we know these are good? Because they've actually been around for more than a couple years…they're staples of the "Conch Republic". And we've eaten at all of them. End the day with drinks at Ocean Key for a front row seat to the sunset…just make sure you get back to the ship in time!
Port #2 – Grand Bahama
Grand Bahama made the bringing-of-bikes decision completely worthwhile. The cruise port is situated far from anything "local". Or interesting. We covered 20+ miles on this day, finding hidden paths that led to pristine beaches with ultra clear water.
See this? Up above? This is not Grand Bahama. This is an artificial tent city with stuff you don't need. The same stuff you don't need that you can buy at the next port. And the next. And the next. Maybe just with a different island's name screen printed on it.
But this? This path here? With that brilliant azure water next to it? That's something we found about 8 miles away by exploring backroads in the general direction of the beach. Sure, Google Maps helps (and you can download regions and store them on your phone in advance so you won't need connectivity…though data service was good at all of these places). But sometimes it's worth taking that secret path through the trees to see where it goes.
Sometimes you're rewarded with this. And this makes it all worthwhile.
It gets even better when you see locals plucking conch straight from the ocean…
…then see where they're taking it…
…then have them fry up the biggest basket of conch and conch fritters you've ever had. Throw in cheap, ice-cold local beers, friendly chit chat, and gorgeous views and you have a winner. Go ahead and Google Map Toads on the Bay, Grand Bahama, and you'll see why the best way to get here is by bike.
There's quite a few conch stands and food shacks along that beachside road. Take your pick, dip your toes, then roll back to the boat for free drinks (see notes at bottom of post to score those).
Port #3 – Nassau
Nassau is another stop Kristi and I have been to several times before. There are actually quite a few things you can walk to (the National Art Gallery, John Watling's rum distillery, Queen's Staircase). But first you've got to get through the "Straw Market", which is almost a maze, and which opens up to streets of more tourist craps, er, traps. Seriously, just say no to Señor Frogs, mmmkay?
The cool thing about the port is that, to exit with your bike, you have to get a (free) customs inspection. Which means a free sticker. And you definitely need to get it, because you'll need to show that to bring the bike back through port security to get back on the ship. Great souvenir!
Once out, note the traffic patterns and left lane driving, then head east to Fort Montagu. It's tiny, and it costs a couple dollars to enter, but you may see some small locals hanging out in what was a pirate prison cell. The rusted cannon mounts show how they would swivel to aim, and how the ramps allowed them to recoil, then roll right back down into position.
Outside in the parking lot, you'll like find street vendors hawking fried seafood and a local rum drink called Sky Juice. It's basically rum and fresh coconut water. If you don't see them tapping the coconuts right there, move along.
Bicycles are the perfect way to see more of an area with the added bonus of being able to stop wherever you want. Need a second Sky Juice? No problem. Well, actually, you might have a problem. But I'm not judging.
The one caveat is to keep your wits about you. We looped back westward on backroads, through neighborhoods, and had myriad route options. Some of those options looked a little rough, so we asked and were given some recommended safer routes. Remember, you're the guest here, and outside of the tourist areas, may not always be as welcome. By and large, though, everyone we met was extremely friendly and engaging.
West of the cruise port is Junkanoo beach. Which is easily walkable, but bikes will get you there faster, helping make time for visits to the distillery and art gallery, too. We did a big loop of all that, then worked our way up and down the beachside food shacks. Beyond them is a row of restaurants with largely interchangeable menus, but depending on the season and time of day, how many are actually open varies. We grabbed conch fritters from one, snacks and beer from another, and found a seat.
It's kinda hard to go wrong. But it is hard to go fast. None of the spots move with a quickness, so grab some drinks and enjoy the view…
Despite being almost adjacent to the port, Junkanoo Beach is rarely packed. It's just far enough that most people won't make the walk, but too close to be a good Cruise Excursion. There's a good chance you could have it mostly to yourselves.
From there, it's an easy cruise back to the ship. Dockside, you'll find locals pulling up in their boats with a fresh haul of shells and such. Just do your research ahead of time, we're not sure how Customs & Border Patrol will feel about these things being brought back into the U.S. But they are pretty to look at!
About the Oyama bikes…
Why Oyama? There are a few reasons we partnered with them to make this happen, and in full disclosure, they helped pay for this trip and donated the bikes. First, they have a history of making dependable, well-featured folding bikes since 1966. Second, they have a huge range, so we could pick the right size bike for this type of adventure…and size matters.
First, you have to get the bikes to the ship. Both bikes easily fit inside the trunk space of our 2008 Toyota Sienna minivan, with room for other essentials and gear.
Cruise ship cabins are small, especially if you opt for the interior rooms with no balcony, which is what we usually choose because, really, we're not spending much time in them. The 20″ wheel is a happy medium between comfortable ride quality and cruising speed and being small enough to maneuver in and out of the rooms.
We chose the Oyama Skyline in7B, whose name indicates an internally geared 7-speed Shimano Nexus hub and Belt drive. That combination provided a reasonably good gear range for tackling rolling hills (or headwinds) but with no exposed gears, chain or grease. That's huge when stuffing a bike next to clothes, bedsheets, etc. And when exposing it to salt air. Everything stays perfectly clean and rust free.
Two more features stand out about this model: It has a lightweight alloy frame, and it comes with fenders and a rear rack with integrated bungie strap. All for $799, a pretty good deal for a bike with CNC'd folding and locking mechanisms that should last a long time.
The bikes use a telescoping steerer tube, adjustable handlebar tilt, and have really long seat posts. So, they can be made to fit a wide range of riders, too.
Opening them up to ride is quick and easy. Folding them down is fairly quick, but folding them down perfectly is a bit more of an art. It never took more than a couple minutes, but we had to learn how to rotate and position the handlebars to get the magnets to make strong enough contact to keep it closed when carrying it in the folded position.
The fenders slide out of alignment if it gets banged around, but they're easy to slide back into position. If there were one upgrade I'd make on these, it'd be to have sturdier fenders, but that they're included in the first place is a big win. Overall, the Skyline is a solid package with smart parts spec (Schwalbe Big Apple tires roll well and are tough to puncture). Its hard to imagine a better bike for such things without spending 2-3x more.
Which cruise lines allow bicycles?
Are you allowed to bring a bike onto a cruise ship? That depends on the cruise line, and the size of the bike. Here are the official written rules for the most popular North American cruise lines:
Disney – Disney cruise lines does NOT allow any type of bicycles or wheeled recreational equipment
Royal Caribbean – No bikes of any kind allowed
Norwegian – We tried calling NCL twice and no one seemed to be able to confirm if it is okay or not. They did say no electric bikes, but the list of things on their site that you cannot bring does not include folding bikes or regular bikes so it could be a go, but could be a risk. It worked for us. And pretty much every crew member that saw them was impressed with how small and cool they were.
Carnival – Regular bicycles are not allowed on Carnival ships, but folding bicycles with wheels less than 20″ are allowed only to be used in port. Meaning, you can't ride them on the ship.
If you are bringing a bike, keep in mind that the private islands (like NCL's Great Stirrup Cay) rarely have any paved paths or anything worth exploring by bike. We found that it made locations we'd been to several times before far more interesting when riding. And as the pictures suggest, we found better food and more interesting sites.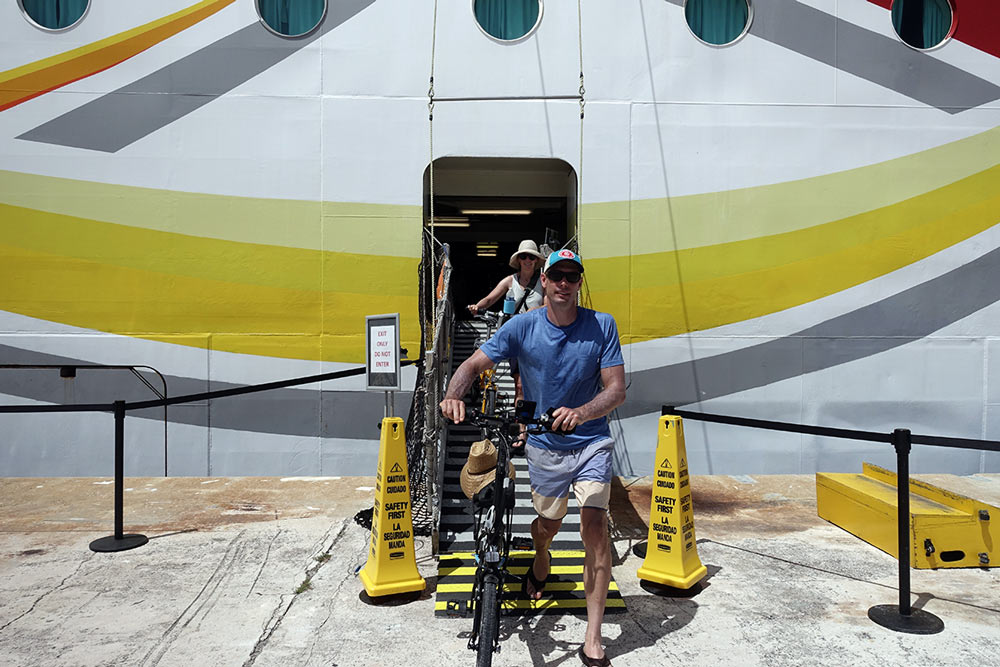 Bonus planning info
We cruised aboard NCL's Sun. As of this post, Norwegian Sun 3-5 Day sailings since May 2018 provides all guests with complimentary beverages which include "designated spirits, cocktails, bottled beer, draft beer, and wines by the glass and unlimited fountain soda and juices at all bars, lounges, restaurants and Great Stirrup Cay." So, if you're buying the cruise and get to pick a free "bonus" item, choose something other than an upgraded drink package…unless you really want to pick and choose from the top shelf spirits.
When is the best time to go on a cruise?
As you may imagine, winter holidays like Christmas have much, much higher prices…sometimes 2x or more than summer cruises to warm locations. Our family travel philosophy is to always go to things in off-peak times, during the school year when possible, because it's usually less expensive and less crowded. Spring Break tends to have mid-level prices, but can be crowded with young, drunken idiots (we've all been there).
Headed to the Bahamas or Mexico or surrounding areas? Plan on it being really hot when you land, but the wind at sea tends to keep it more tolerable. Short cruises are fun, but the ones with a full day at sea are a nice way to unplug and just relax.
In our experience, NCL tends to attract a slightly older 30+ crowd, but between Carnival, Royal Caribbean and NCL, prices are similar…just find the destinations and schedule you want. Disney is more expensive, but (from what we've heard, we haven't cruised with them) caters really well to kids…just not to bikes.