For some, 2018 can't come soon enough. But before we break out the bubbly and pucker up at midnight, here's a quick look back on the bicycle side of 2017. It's safe to say that 'gravel' was probably the buzz word of 2017, though only two of the top 10 stories have to do with bikes that would fall into the category.
#1 – Rim Width vs. Tire Width
However, our number one story did at least include the gravel category as we dove into the balance between rim width and tire width. Not surprisingly, as both tires and rims have gotten wider, there are a lot of questions about what is best for what purpose, and we got some great info straight from various manufacturers.
https://bikerumor.com/2016/08/12/tech-story-match-bicycle-tire-width-rim-width-best-results/
#2 – Cannondale revives XC, again
Our second most popular story clearly highlights the power of search engines – since it's just a teaser, and not even from 2017! Apparently when you say XC is dead, you get a lot of traffic. The story does have a link to the actual release of the new Scalpel though. We also posted the tech specs and pricing here, and our ride review here.
https://bikerumor.com/2016/04/20/cannondale-says-xc-dead-teases-new-xxc-mountain-bike/
#3 – 2018 Specialized Epic Actual Weights
Posts about Specialized always draw a crowd – especially when it includes bikes on a scale. This year that meant the 2018 Specialized Epic round up. Clearly, XC isn't quite dead.
https://bikerumor.com/2017/07/07/2018-specialized-epic-actual-weights-retail-pricing/
#4 – TT Fat Bike Hack
TT x Fat Bike hybrid? Sure, why not. It's just weird enough (and well built) to be an utterly fascinating creation.
https://bikerumor.com/2017/01/23/tt-bike-fat-bike-baby-fat-trek-equinox-born/
#5 – The New Specialized Diverge
When Specialized and Gravel collide… well, then you have our 5th most popular read about the all new Specialized Diverge. The Future Shock, SWAT, and dropper post made it almost as entertaining to read about as it was to ride.
https://bikerumor.com/2017/06/15/new-specialized-diverge-drops-future-shock-swat-ton-options/
#6 = #VanLife
The #vanlife trend is gaining more traction than ever. How do we know? Readers dug up a post from 2015 on the new (now old) MB Sprinter 4×4 Diesel enough times to make it into the top 10. Should we include more cargo van coverage for 2018?
https://bikerumor.com/2015/05/31/new-2015-mercedes-sprinter-diesel-4×4-is-the-dream-vehicle-outside-van-makes-it-real/
#7 – Cannondale Slate Review
Another gravel (or all road) rig from a big manufacturer, the Cannondale Slate review slips in at #7.
https://bikerumor.com/2017/01/03/review-cannondale-slate-road-bike-just-much-fun/
#8 – SRAM Eagle Still Flying High
In spite of launching in early 2016, SRAM Eagle was still a popular search. We're guessing that's the result of many riders waiting until their current drivetrains wore out before considering the leap to 12 speeds. Spoiler alert – it's worth it. And with GX Eagle, it's actually somewhat affordable.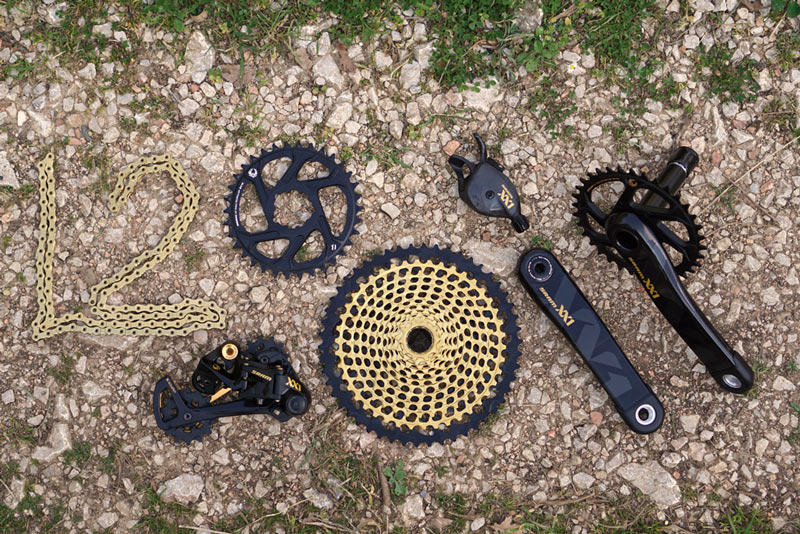 https://bikerumor.com/2016/03/24/sram-xx1-x01-eagle-specs-actual-weights/
#9 – Mandaric Reinvents Drivetrain Layout
One of the most interesting things we found at Interbike 2017 is also one of the most read stories of 2017 – no surprise there. With a 21.5mm axle, bearings in the frame, and the cassette outside the chainstay with a derailleur in front, there was certainly a lot going on with Mandaric's 'Standard 21.5'. Are we looking at an early blueprint of the future of bicycle design, or just an exercise in engineering?
https://bikerumor.com/2017/09/25/ib17-wild-mandaric-standard-21-5-concept-runs-the-cassette-outside-the-frame/
#10 – Shimano Dura-Ace Wheels Go Wide
Number 10 was a bit of surprise. It wasn't any of the posts on the new Shimano Dura-Ace R9100 group, rather the new R9100 carbon wheels. I suppose when Shimano is offering wider, tubeless ready or tubular, deep carbon road disc brake wheels it grabs your attention.
https://bikerumor.com/2016/12/30/shimano-dura-ace-r9100-wheels-detail-wider-carbon-tubeless-road-disc-brakes/
WHAT'S NEXT?
Now that we're wrapping up 2017, what should we focus on for 2018? What can we do better? What do you already love? We really do bust our collective butts to bring you the best cycling tech and news coverage, and we appreciate your feedback. Let us know in the comments.
As always, thanks for reading, and here's hoping everyone has a great new year filled with plenty of riding!
SaveSave