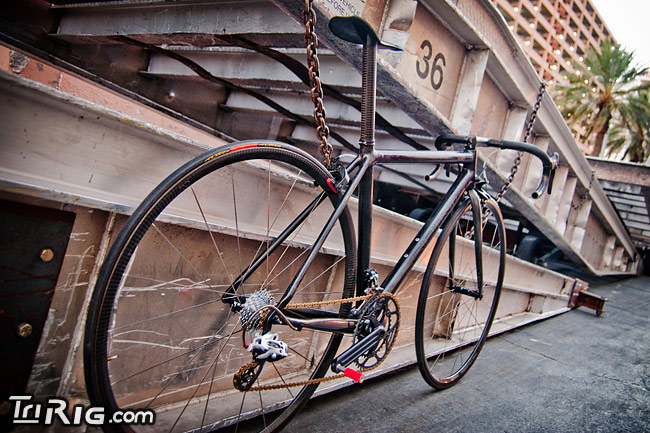 If you want the world's lightest production road bike, click here. If you want what appears to be the world's absolutely lightest bike, read on.
Hiding somewhere in the back of Interbike's halls was this 6lb road bike. The bad news is time conspired against us in actually getting to see it and put it on our scale. The good news is, TriRig and Velonews have some photos and specs, which we're happy to list here.
First up, you may have seen this frame before. It's the same frame and fork that's shown up in Internet lore when built and owned by German Cyclist Gunter Mai, at which time it weighed in at a still unworldly 6.55-ish pounds. Well, Gunter broke it down and sold the parts online, and according to Bicycle Design, the custom Spin frame and THM fork went to a Colorado rider who then sent it to Fairwheel Bikes, which brought it down to six pounds even (2,700g)!!!
A big part of the diet is thanks to some prototype-but-sort-of-going-into-production parts from Dash Cycles, which are insanely light.  Check out links and parts lists with a few photos after the break…
First off, let's start by listing the things you won't be able to do to get your "stock" bike this light:
Integrate the downtube shifters into the frame at the headtube…heck this whole frame for that matter, although Cervelo's Project California gets you pretty close.
Get the rear hub (but you can get something close)
Get the rims because they're made from leftover Formula One carbon fiber material that's basically unobtanium
The fork is a complete one-off custom, and the integration of the fork to the frame would make it difficult to mimic the headset configuration
A lot of parts are one-off customs, which you could get similar if you have very, very deep pockets. The estimated cost to recreate something like this bike is more than $45,000.
From there, a lot of the stuff on this bike is either available or modifiable.
Hailing from Boulder, CO, Dash Cycles has been building composite items for various industries for years. Being avid cyclists, they finally turned their attention to two wheeled items and created some hubs and saddles. While the rims used on this bike are completely custom and one-off from AX Lightness, the hubs are very similar to these production versions that you can buy for $1,000 per set (or $350 front, $750 rear). Production versions (shown here) weigh in at an unbelievably light 30g (F) and 99g (R) with Enduro ceramic bearings. This bike, however, gets a pre-production prototype rear hub that weighs just 84g!
The result is a 583g wheelset. Word on the street is Dash Cycles is developing both tubular and clincher carbon rims, so you may be able to do something similar to this wheelset in the future.
In addition to the frame, Fairwheel kept several of the components from the original Gunter build, including the seatpost/saddle combo and the stem, handlebar and brake levers.
Oddly enough, from here Fairwheel actually had to increase the weight of several components from what Gunter had put together in order to make the bike better handle descents and "normal" riding (although Gunter claimed to ride the bike daily in its sub-7lb form). For example, they wanted a full range of gears rather than the 6 speeds Gunter had on the rear, and the brakes needed more power.
For example, the modified Red derailleur above comes in just over 100g, but that's a full 59g heavier than the custom Huret/BTP rear derailleur Gunter had.  Add in a 10-speed Red cassette and you start talking about 3% to 5% of the entire bike's weight. The derailleur pulleys are totally minimal carbon units (not sure who from…nor the chain, but we're looking into it).
To further combat gram creep, Fairwheel used a prototype crankset from Myth's Rico de Wert that weighs in at an astoundingly light 281.4g with bottom bracket bearings! These saved about 16.6g over the THM Clavicula crankset on Gunter's build. They look an awful lot like Craig Edwards/eeCycles' new Sweetwings…
The carbon gear rings aren't an entirely new concept, we showed you some from Newbury Park Bike Shop in NJ in April, but these are from another manufacturer (still trying to find out).
Fairwheel also saved some grams with the headset, helping them achieve the almost unbelievable weight of just 6 pounds for a completely functional, actually ridden road bike.
SPEC LIST:
Full Spec List with links and weights when we could find them. We'll fill in the holes as we find more info (Thanks to the readers for helping us fill in some holes…we'll keep updating):
FRAME: Custom SPIN carbon frame (643g)
FORK: One-off custom THM Scapula SP Tuned(185.9g)
HANDLEBAR: Schmolke custom TLO (111g)
STEM: NoRa CfK by Oliver Grest (54g)
SHIFTERS: Carbon downtube shifters by BTP (9.2g)
REAR DERAILLEUR: modified SRAM Red (~102g)
FRONT DERAILLEUR: modified Campagnolo Record (49.9g)
CRANKSET/BB: Myth prototype including bearings by Rico de Wert (281.4g)
CHAINRINGS: Fibre-Lyte (39T 29g / 53T 43g)

CHAIN:
BRAKE LEVERS: modified Campy Ergo shifter levers to remove shifter parts
BRAKES: AX Lightness Orion Premium w/ BTP race pads and cordz adapters (103.5g)
SEATPOST COLLAR: BTP (2.9g)
SEATPOST/SADDLE: custom one-piece Schmolke TLO/Tune Speedneedle combo (75g)
HUBS: Dash Cycles Monique (F) and Rachelle (R) (129g)
RIMS: custom AX Lightness
SPOKES: Pillar titanium
PEDALS: custom Aerolite, then drilled out (<76g)
CABLES/HOUSING:
OTHER: Foam rubber grip tape
HEADSET: Mostly custom, Extralite and KCNC Morion, but see Fairwheel link below for explanation (18.9g)
EXTERNAL LINKS:
If you feel like tumbling down the rabbit hole and wasting the rest of your day, here are the links that helped us put this story together:
Fairwheel Bikes has a pretty extensive run down of how they built this bike up, what they modified and basically a good story to tell. Check it out here. Oh, and they mention how they're going to make it even lighter, and by the time this bike hit Interbike, there were already some changes versus what's on their blog.
You can find the original build from Gunter Mai here.
VeloNews has a photo gallery from Interbike here.
TriRig borrowed the bike and took a lot of photos here.