If your young shredder has outgrown his or her 16″ or 20″ bike and has a deep love of all things singletrack, then it's time to think about getting a dedicated 20-inch or 24-inch mountain bike that's actually designed for riding on trails.
Since 24-inch bikes can fit riders up to around 5'3″, your kiddo could be riding a 24-inch mountain bike for a few years, so choosing the right bike for the riding they love does matter. In fact, many kids who race in the NICA youth mountain bike racing series' around the US will be on 24″ bikes for their first season or two before outgrowing them and swapping for 26″ wheels.
The bike your child rides can make trails much more fun—or much more difficult if it's the wrong bike for the terrain. Here, we're sharing the bikes that Bikerumor staff's kiddos have loved over the years. Scroll down to check out the Buyer's Guide and Frequently Asked Questions if you're wondering about fit or specific components. But, before we begin…
Can't I just buy a department store bike?
Here's the thing, while those bikes have come a long way in terms of quality for the price, they still pale in comparison to the types of bikes you'll find at a real bike shop, or from a consumer-direct brand like Trailcraft or Fezzari. Bike Shop bikes not only have dramatically better parts and quality, but they work soooo much better.
Yes, Bike Shop bikes are definitely more expensive, but if you want your kid hanging with you on the trails and chompin' at the bit to go again, give them a real bike. More on this in the FAQ section at bottom…
20″ Kid's Mountain Bikes
If your tiny shredder is serious about mountain biking, the Blue Sky from Trailcraft is arguably the best 20″ bike on the market. For a kid's bike, it's shockingly feature-rich…check out the tech specs in our launch coverage. It's also relatively lightweight at just over 20 pounds when set up for tubeless tires, and it rides like a dream. Trailcraft was the first brand to come to the market with truly made-for-trails MTBs for kids, and they continue to innovate as technology evolves.
In addition to adult-level components like Shimano Deore 4100 on both builds, and hydraulic disc brakes from Tektro or Shimano depending on the Pro or Special build you choose. It also has proper wide-range cassettes, and tires you'd find on many trail bikes: Schwalbe Rocket Rons or Vee Crown Gems.
You even can add features rarely found in kid's bikes when you order: For an extra $30, the tires can be set up for tubeless (definitely worth the spend!) or for $285, you can add a dropper post.
Size: 20"
Frame: Aluminum
Colors: Pink, red, green, turquoise blue
Components: Shimano Deore M4100 10-speed, Tektro hydraulic disc brakes
Tires: Vee Crown Gem 20×2.25″ (Schwalbe Rocket Rons come on the Pro Build option)
Weight: 20.2 pounds tubeless
MSRP: $1700 ("Blue Sky Special Build", no add-ons)
PROS: Premium frames & parts, lots of room to customize the build in ways children's bikes rarely offer
CONS: Pricey for a 20″ bike

20″ bikes tend to go more in the 'kiddie' direction for most brands, meaning they're still in the V-brake, singlespeed, 'riding in the driveway and backyard' mindset. Not this one. For a tiny bike, we love that this Norco Fluid really mimics an adult model. It boasts legit front suspension, standard adult gearing, hydraulic disc brakes, and is built as a serious trail bike.
It's a cushy ride even without dual suspension, thanks to the choice of Kenda's 20×2.6″ tires. They make handling easier and comfier, but may be overkill for more casual riders, since they do add weight and cost energy.
Size: 20"
Frame: Aluminum
Colors: Red
Components: Shimano Altus, RevoShift, 8 Speed, Tektro HD-M286, Hydraulic Disc
Tires: Chaoyang MTB, 20×2.6″
MSRP: $829
PROS: Feels like a "big kid" bike, massive traction inspires confidence
CONS: 2.6-inch tires may be too much for some kids, only one color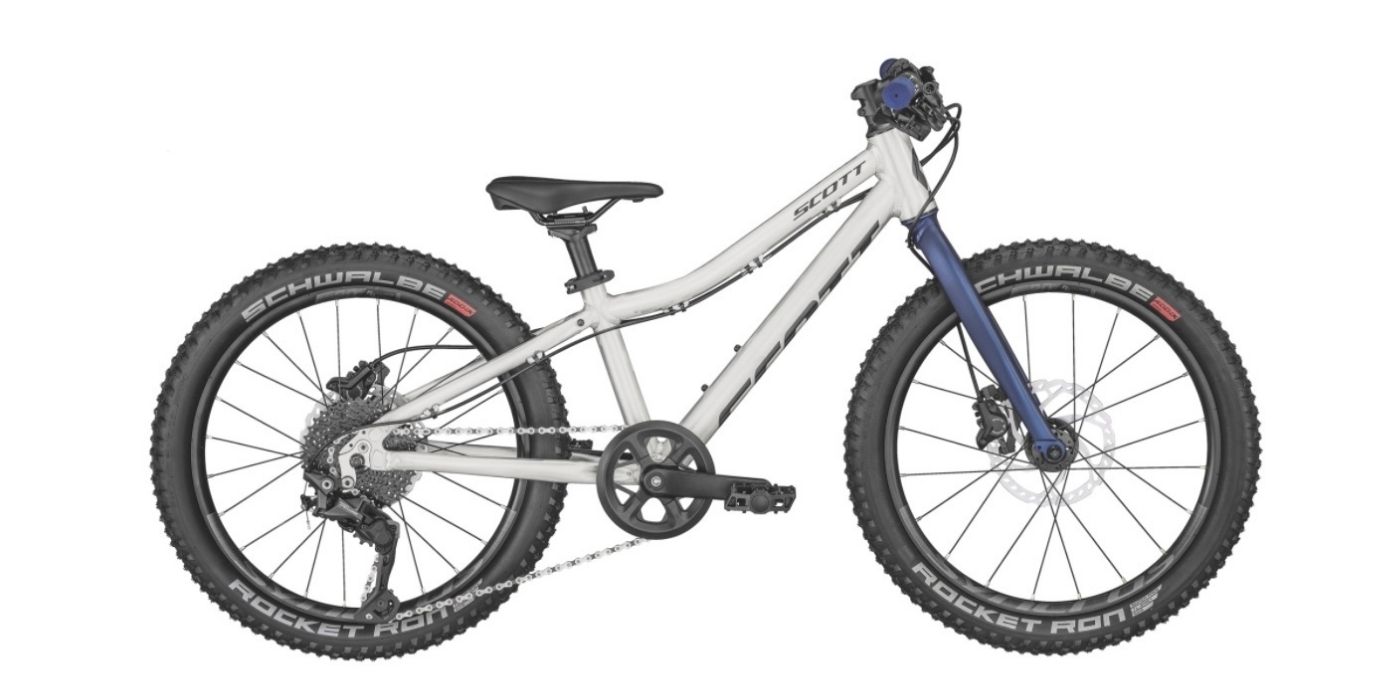 The incredibly lightweight 17.4 pound Scott Scale RC 200 is a nice mix of solid components—Shimano Deore 1×10, hydraulic disc brakes, and 2.25″ Schwalbe Rocket Ron tires—in a tiny lightweight alloy frameset for young kids. Again, we love a kiddie model that looks just like the grown-up version, and this one does not disappoint. They keep it light by ditching the suspension fork, which is probably a fine for riders of this size and age.
The only tricky thing is clearance: Because it has a wide range of gearing to make pedaling up and downhill easier for tiny legs, the derailleur gets quite close to the ground, and rocky, uneven terrain or logs may pose a bit of a challenge in certain gears.
Size: 20"
Frame: JR20 Rigid Disc Light Alloy Frame
Colors: White
Components: Shimano Deore SL-M4100-R 10 Speed; Shimano BR-MT500 hydraulic disc brakes
Tires: Schwalbe Rocket Ron, Evolution / ADDIX Speed 20×2.25″
Weight: 17.4 lbs
MSRP: £769
PROS: Ultra-lightweight for a kid's bike, great spec
CONS: Low derailleur hanger, no suspension fork

Islabikes Beinn 20 Small is one of the best ways to get small new riders on proper full-function geared bikes, with lightweight kid-size-specific alloy components like brakes, bars, grips, saddle, pedals, and cranks. The Beinn 20 Small offers lower standover and reach than pretty much any other 20″ bike we've tried, making it perfect for small kids who have the balance and coordination to step up earlier to the bigger wheels and wide gearing spread… without getting too expensive or heavy.
Size: 20″
Frame: Aluminum
Colors: Teal, pink, orange
Components: SRAM 3.0 twist shifter 7-speed; Aluminum mini V-brakes
Tires: Islabikes Mixte, 20″ x 1.4″
Weight: 16.3 lbs
MSRP: £499.99
PROS: Truly built for small bodies
CONS: V-brakes instead of disc

24″ Kid's Mountain Bikes
Again, Trailcraft was the first brand to come to the market with truly made-for-trails MTBs for kids, and as your child ages up into the 24″ wheel category, if you're looking for a full-suspension bike that can last them for a few years, we like the Trailcraft Maxwell 24″ full suspension option.
Like the Blue Sky 20″ option, this one has plenty of build choices and features to add, including going tubeless or adding a dropper post. You're also able to choose between 26, 28, 30, and 32-tooth chainrings, allowing you to set the bike up for the terrain your kiddo rides most often.
In addition to adult-level components like Shimano Deore 10-speed and hydraulic disc brakes, and Stan's NoTubes rims, the Maxwell PRO has a Rockshox Reba 120mm travel fork plus 120mm of rear travel with a Monarch rear shock—the perfect amount for a preteen learning to shred. Read our full review of the 26″ version of the Maxwell.
Size: 24"
Frame: Aluminum
Colors: Pink, red, green, black, orange
Components: Shimano Deore 4100 10-speed, M6100 hydraulic disc brakes
Tires: Vee Crown Gem 24×2.25″ (Schwalbe Rocket Rons come on the ELITE Build option)
Weight: 25 pounds tubeless, 25.5 pounds with tubes
MSRP: $3100 ("PRO" Build—the mid-range price point of the three builds offered)
PROS: Premium components, customization options, lots of colors
CONS: Pricey

The Commencal Meta HT 24 is a proper shredder of an alloy hardtail with a special kid's lightweight JUnit 120mm Manitou Machete fork. While most kid's bikes use Shimano components, SRAM lovers will appreciate Commencal's use of the SRAM NX drivetrain and hydraulic brakes, along with a dropper seatpost, and 2.3-2.4″ Maxxis DHR tires (with room officially up to 2.5″ tires, although 2.6″ Crown Gems fit too).
This is pretty much the kid-sized equivalent of an enduro hardtail for the next generation of gravity riders. At 26.4 pounds, it's surprisingly light for a bike that many adult mountain bikers would be jealous of, and the price point is decent for the quality of components and frame.
Size: 24"
Frame: Alloy 6061 aluminum
Colors: Olive
Components: Rockshox fork, SRAM SX drivetrain, Shimano MT-501 hydraulic disc brakes
Tires: Maxxis DHR tires
Weight: 26.4 lbs
MSRP: $1750
PROS: Lightweight for an aggressive hardtail
CONS: Pricey (but not bad compared to other high-end options!)

In a sea of brightly colored bikes, the Meerkat 24 stands out with its simple graphite frame color combined with a vegan leather cognac colored saddle. And we're not mad about that. (For color-loving kiddos, there are a couple other options.) This bike looks deceptively simple, but features a Sturmey Archer 5 speed internally geared hub. There are front and rear rack mounts for the intrepid bikepacker, even if she's just nine years old and camping in your backyard.
The only downside is that the internally geared hub has only five speeds—you won't be able to retrofit or modify it, so you're locked into those gear options. And while internally routed hubs can be great, if you live in an area with a ton of rain or mud you may run into some mechanical issues that you can't fix on your own.
Size: 24″
Frame: 1020 alloy steel tubeset
Colors: Graphite, pink, green
Components: Sturmey Archer DLC-50 5 speed internally geared hub; Tektro HD-291 Hydraulic disc
brakes with junior levers
Tires: Kenda K-Rad, All round tires 24 x 1.9
Weight: 28 lbs
MSRP: $630
PROS: Classic style, great price
CONS: Only 5 speeds, more of a bike path racer than singletrack ripper

The Trek Roscoe is only about $70 more than many other bikes in the category that use V-brakes and lesser components, yet it's still hundreds less than some other bikes here. It gets a Shimano 1×8 group with SunRace cassette and Tektro mechanical disc brakes, and the rear caliper is tucked into the frame so it won't get damaged when they inevitably drop the bike on its side (or wipe out).
A closed front dropout provides peace of mind that even if they don't close the skewer properly, the wheel won't fly out and end in disaster. At 25.58lbs it's not the lightest, but part of that weight comes from the plus-sized 2.8″ wide tires, which give them gobs of traction and great compliance. When they get more confident, throw some lighter, narrower tires on there and watch them fly!
Size: 24″
Frame: Aluminum
Colors: Black, Red/Black, Azure
Components: Shimano Tourney 8 speed; Tektro V-Brake
Tires: Chen-Shen 24×2.8″
Weight: 25.6 lbs
MSRP: $549
PROS: Great price, cool colors, upgrade-worthy frame with smart features
CONS: Heavy

Love fat biking in the winter? The Timberjack 24 just might allow your young shredder to join you on hardpacked snow, thanks to the 3″ wide plus tires on this rigid mountain bike. We also appreciate that it's kitted out for adventure, not just fun times on the trail: It has Salsa's Three-Pack mounting bosses on the fork to carry extra water bottles or Anything Cages to haul a child-sized portion of gear on a family bikepacking overnighter.
And at just over $500, we're amazed that it still features disc brakes—it's the cheapest bike on this list to still have them—and a Shimano drivetrain. It's using the cheaper options (Shimano Altus and Promax brakes) compared to others, but this price puts it directly in competition with many department store options with much lower quality components.
Size: 24″
Frame: Aluminum
Colors: Blue, Orange
Components: Shimano M310 Altus 8-speed; Promax mechanical disc brakes
Tires: Chaoyang 3" tires
Weight: 25.6 lbs
MSRP: $509
PROS: Great price
CONS: Plus tires might be overkill for smaller riders

The Specialized Riprock 24″ is a great bike that's been thoughtfully sized down to kid-size from tire tread to saddle (top to bottom). We love that its geometry has been reimagined for typical kid measurements rather than just shrinking the adult MTB frame. And unlike some cheaper kid's bikes, this one doesn't skimp on now-common MTB details like hydraulic disc brakes,  internal cable routing, and a wider-range drivetrain for ups and downs.
The cranks are shortened, the saddle is narrower than average, and even the grips are a thinner version of the usual adult model. And at $700, it's an amazing value for a great first MTB. It's lacking in suspension, but as we say in the Frequently Asked Questions, we'd rather skip suspension than have cheap suspension (and you can always swap out for a suspension fork later).
Size: 24″
Frame: A1 Premium Butted aluminum
Colors: Green, orange, black, blue
Components: microSHIFT Advent RD-M6195M, 9-speed, C-STAR Hydraulic Disc Brake
Tires: Ground Control Sport, 24×2.35″
Weight: 24.7 lbs
MSRP: $700
PROS: Great value for a killer kids bike
CONS: No suspension

At just over 30 pounds, this bike definitely gets into the heavier department, where you might wait until the kid gets a bit bigger, but… If you have a kid that is already shredding the downhill tracks at the bikepark and can't fit an adult bike yet, the 24″ full-suspension Commencal Clash 24 has 145mm of proper air shock travel in both front and rear and frankly, a spec that will make you jealous.
It's not cheap, but we can't really imagine a more gravity-capable 24″ kids bike. And really, since 24" bikes like this can be ridden up to a height of 5'3", there's a chance your rider will have it for years.
Size: 24"
Frame: Aluminum (AL-6061 + AL-6066)
Colors: Olive
Components: RockShox suspension, Shimano MT501 disc brakes, SRAM NX 11-speed
Tires: Minion DHR and DHF tires
Weight: 30.64 lbs
MSRP: $2899
PROS: Serious mountain biking is no problem on this bike
CONS: Pricey, not a bike for climbing

If your shredder likes to do all kinds of adventures, from road to singletrack, and you're more of a cyclocrosser than a MTBer, you may want something that's a bit more versatile for your shredder-in-training. The Bombtrack Beyond Junior is a great dropbar bike for bigger gravel and off-road adventures.
At 10.9kg complete, the alloy frame and alloy fork with rack, fender, and cage mounts comes built with 1.95″ tires, and room for even a bit bigger fast-rolling MTB tires. You can even pick up the Beyond Junior frameset on its own to build your kid's own custom adventure bike.
Size: 24"
Frame: 6061 aluminium
Colors: Blue
Components: MicroSHIFT Advent SB-M090 9-speed; Tektro Mira F / LYRA R mechanic disc brake
Tires: Kenda Small Block Eight 24″ x 1.95″
Weight: 10.9 kg
MSRP: $1300
PROS: Awesome for the adventuring do-it-all shredder
CONS: Not a dedicated MTB, drop bars may take more getting used to

Woom offers kid-specific geometry on all their bikes. The Woom 4 introduces an 8-speed drivetrain with grip shifters to kids and is marketed for those aged 6-8 years. Though the bike doesn't come with disc brakes or front suspension, it is a great transitional opportunity for a kid coming from a single speed coaster bike. The V-brakes can help them learn how to use hand-pull brakes before graduating to a more powerful disc brake, instilling more confidence in the rider.
Additionally, the Woom 4 comes in a wide variety of color options which, as we know, can sometimes be the most important factor for the kiddos. Coming in at $499, the bike is priced mid-range compared to some of the other 20" models in this list.
Size: 20"
Frame: Aluminium
Colors: Red, Green, Blue, Purple, Yellow
Components: SRAM X4 8-speed grip shifter, V-brakes
Tires: 20"x1.4" Schwalbe Little Joe folding tires – Woom edition
Weight: 17.9 lbs
MSRP: $499
PROS: Lightweight, color variety
CONS: no suspension fork, V-brakes instead of disc

Frog is another kid-specific bike company based in the UK. Their bikes are unique because the handlebars can be lowered or raised within a range of 54cm to accommodate the growing rider. This feature makes the Frog 62 a sound option for the price at $610. The bike has linear pull brakes, and no front suspension, but it still makes for a capable introductory mountain bike for riders just getting into the sport. It is marketed for riders aged 8-10 years. The bike comes with an 8-speed drivetrain equipped with FrogFitTechnology® shifters that have a short lever travel for easier gear changes.
On a more technical note, Frog uses their own patented cranks with a lower Q-factor (space between the pedals) for more leverage on the pedals which increases efficiency.
Size: 24"
Frame: Aluminium
Colors: Red, Green, Blue, Purple, Yellow
Components: FrogFitTechnology® youth-specific 8-speed with short travel shifter, Tektro 837 AL linear pull brakes
Tires: 24"x1.5" Kenda K1047
Weight: 20.39 lbs
MSRP: $610
PROS: Lightweight, price, color variety
CONS: no suspension fork, V-brakes instead of disc


Buyer's Guide for Kid's Mountain Bikes
Consider usage. How often and where your kiddo is riding will determine what kind of bike they need. If you live in a flat area that has mostly easy double track and your kiddo doesn't ride too often, a singlespeed will probably be just fine.
But if your little shredder is out on gnarly up-and-down terrain most days and is already beating you through singletrack sections on their current 16" bike, it's time to look for something that has gearing options that suit your area as well as things like suspension or a slightly lighter weight.
Choose the right size. Measure your kiddo's height and make sure that they can comfortably stand over the bike without hitting the frame. If it's a struggle to stand over the frame, it's too big. (More on sizing below.)
Look at components. Yes, you absolutely can swap out components like tires, but changing drivetrain parts might be tricker since most of us adults are now on 12-speed groups. But, as long as the freehub bodies are the same on the wheels, you should be able to retrofit a better group on your kids bikes eventually (as long as the derailleur's pulley cage isn't too long!!!). Wheel upgrades will be harder since there aren't many high-end aftermarket 20″ and 24″ wheels available.
Look for component names you recognize, like SRAM, Shimano, and Tektro for shifting and braking to ensure better, more consistent quality. A note on brakes: We prefer bikes with disc brakes at this point, though for kids who aren't tackling gnarly singletrack, V-brakes will work. Tires matter a bit less, since they're relatively easy and inexpensive to swap out.
Balance your budget. Are there some amazing kid's bikes that are priced over $2000? For sure. Does your kiddo need a bike that expensive? Probably not. When looking for a kid's bike, don't feel the pressure to overspend—but at the same time, don't automatically opt for the cheapest option either. Your best bet is to buy a mid-range option (like many we've listed above) that's from a good, trusted brand and has solid components. Not only will your child be able to happily ride it for years, you can likely resell it and recoup some of the money you spent…or pass it on to younger siblings and cousins. A used department store bike, on the other hand, won't hold much resale value…or outlast your child.
Frequently Asked Questions about Kid's Mountain Bikes
What size bike should I get for my kid?
The general rule of thumb is:
20-inch wheels for ages 6-10 or between the height of 42 and 52 inches
24-inch wheels for ages 8-12 or between the height of 50 and 58 inches
Note that there's some overlap there, and it's worth mentioning that many 24″ bikes are rated for up to 63 inches by the brands. You may want to upgrade to 26-inch wheels after your kid hits 58 inches, but depending on comfort, leg length (inseam matters more than overall height in this case!), and of course, budget, you may be able to keep your kiddo on a 24″ bike a bit longer. (One Bikerumor editor used a 24″ mountain bike for much of her early college years, since at 5'2″, it still fit fine.)
That being said, the key with bikes for small kids is often trying to fit them on bigger wheels as soon as possible. And then, adding wider tires. Each step up in wheel size is a huge improvement in comfort, obstacle rollover, overall smoothness, and off-road capability. And bigger wheels WILL make your kid enjoy riding more.
Generally speaking, until your kid has plenty of standover clearance over a 24″ bike with >2.2″ tires a rigid bike will usually offer more enjoyment than anything with a suspension fork (or full-suspension). If your child is between 20" and 24", opt for the bigger frame!
Just remember, going from 20″ to 24″ wheels is a 20% boost in diameter which is almost double the 11.5% increase you got going from 26″ to 29″ wheels, and no adult could imagine going back to 26″ wheels these days. (Going from 16″ to 20″ was already a 25% diameter increase!)
Read more about why bigger wheels make such a big difference here: AASQ #103: Why would you want a wheel size larger than 29″?  And REI has a great article on kiddie bike sizing if you want to learn more.
How heavy can my kid's bike be?
Other than wheelsize, lighter is always better in kids bikes. Try if you can to keep your kid's bike at or under 1/3 of their weight if you want them to enjoy longer rides with you. Think about this equation from one Bikerumor dad:
I weigh 80kg and want my XC/trail bike to weigh a max of 12.5kg (15% of my body weight). My 34kg son's decently light 11kg rigid steel 24″ MTB is still 1/3 of his weight. That'd be like me riding a 26kg mountain bike (or riding my regular bike and carrying a complete second bike on my back as I rode.) Yikes!
That doesn't mean you need a carbon kid's bike: light alloy or steel are almost always fine. It's more that you want a simple bike and kid-sized alloy components. Rigid bikes with light 2.6″ tires beat out a heavy, low-end suspension fork every time. In fact, as a rule, we just say no cheap suspension, full stop. Save up your money now to buy your kid a bike with a lightweight fork when they have plenty of clearance over a 24″ bike.
It's worth noting that the bikes listed above with suspension forks all have good quality forks. These forks are exponentially better than any suspension fork you'll find on a department story bike, which quite often are mostly cosmetic without any performance benefit while adding pounds of dead weight.
Why not buy a cheap department store bike?
Cheap department store bikes might seem tempting, but the same issues that exist for adult bikes are true of kid's bikes. Department store bikes tend to be made with cheaper components that aren't as durable, and often are significantly harder for bike mechanics to work on. This means your costs for repairs will likely be higher—and kids aren't exactly gentle on bikes!
It's worth spending a bit more to get a 'name brand' bike from a bike company you trust, and you'll likely recoup a good chunk of money in the end anyway, since those bikes with better components and higher quality frames are easier to sell used.
What are the average age / height ranges for 20" and 24" MTBs?

20-inch wheels for ages 6-10 or between the height of 42 and 52 inches
24-inch wheels for ages 8-12 or between the height of 50 and 58 inches
When does my kid really need a mountain bike?
Basically, your kid needs a mountain bike if she or he is… well, mountain biking. For terrain like towpaths and rail trails, your child can get away with a more 'all purpose' bike, but if you're regularly on rocky or rooty terrain, in mud, or on tight, twisty trails that climb and descend, you'll want your kiddo to have the tires, suspension, and gearing to handle the trail.
And of course, if you have a competitive kid who's hopping into local MTB kiddie races or NICA events, a proper mountain bike setup is more important—for safety as well as speed!
What features matter?
We prefer disc brakes over coaster or V-brakes, but for lower-budget MTBs, V-brakes are still a common option. If you do have gnarly terrain or a particularly adventurous shredder though—especially if you're buying a 24" MTB for a young athlete to race on with any level of competitiveness—disc brakes are the safer option. They'll continue working better if they bend the rim slightly, and are generally easier to maintain.
Other than that, look for components like shifters, brakes, and tires that have brand names you recognize: SRAM, Shimano, Kenda, Bontrager, Schwalbe, KMC, and so on. If all the components are no-name, they likely won't hold up to a lot of use.
Should I set it up tubeless?
One trouble many mountain biking parents will find is there aren't a lot of options for kid's tubeless, and we all know that can save weight and let you run lower pressures: a huge boost for lighter riders. Time to bring back homemade tubeless conversions like in the late 90s? No, probably not, as you don't want your kid having to pump their tires every single ride, or risk sliding out because they burped the tire.
Some brands like Trailcraft are selling their bikes with tubeless-ready tires (and will even set them up tubeless for an extra fee). And more and more MTB companies are making 24″ tires available for a proper, safe tubeless setup. It's still rare for a bike to come stock with the optimal tires and wheels for a tubeless setup in this category, though.
What other accessories does my child need?
Don't skimp on a helmet, especially for a trail riding kiddo! We also recommend padded bike shorts for comfort as your child gets a bit older and is riding longer hours. Fun accessories like hydration packs sized for kids can be great ways to get them in the habit of eating and drinking on the bike without prompting.
And for adventurous kiddos, elbow and knee pads, as well as gloves, are always a good idea when mountain biking. A bell can be nice as well, since kids on 20″ bikes may not be as obvious on the trail when they sneak up behind other riders.
Feature image: courtesy Commencal, ride photos by Nicolas Brizin