When it comes to comfort, your road bike saddle is the most critical contact point on your bike. When road cycling, we spend lots of time sitting on our saddles, so finding the right one for riding style, body position, and, most importantly, that fits you properly is of the utmost importance.
By positioning and supporting the pelvis – the control center of the pedal stroke – the saddle influences the movement and comfort of the entire body, from the knees all the way up to the neck and shoulders. Finding the ideal saddle shape can be a process of trial and error, but by reading this guide, we hope you can hone in on suitable options and find your ideal saddle more easily. We gathered a diverse group of options from well-established industry leaders, to lesser-known innovators, and tested them each for several weeks of daily riding.
Our top picks are listed below along with the best of the rest that are all worthy options to consider. To view the specs of the models we tested at a glance, check out our handy comparison chart. If you need help deciding what's right for you, our comprehensive buying advice is a great place to start, and our FAQ section provides answers to common questions.
The Best Road Bike Saddles of 2023
Best Overall Road Bike Saddle
Specs
MRSP

$325

Measured Weight

247g

Width Options

143mm, 155mm

Width Tested

155mm

Length

240mm

Material

3-D printed liquid polymer upper, nylon injected base

Rails

Titanium, 7x7mm
Pros
Unbeatable comfort

Proven shape

Easy to position
Cons
Expensive

Heavy for the price
Best Value Road Bike Saddle
Specs
MRSP

$139

Measured Weight

225g

Width Options

143mm, 153mm

Width Tested

153mm

Length

245mm

Materials

Nylon base, EVA foam, microfiber cover

Rails

Titanium alloy
Pros
Reasonable price

Excellent perineal relief

Promotes an aggressive position

Wide enough!
Runner-Up Best Road Bike Saddle
Specs
MRSP

$400

Measured Weight

188g (150mm, carbon rails)

Width Options

140mm, 150mm

Width Tested

150mm

Length

265mm

Material

3-D printed liquid polymer upper, carbon fiber base

Rails

Carbon fiber 7x9mm
Pros
Supportive and comfortable in both upright and aero positions

Looks great on a race bike
Cons
Very expensive

A little heavy for the price
Best Endurance Road Bike Saddle
Specs
MRSP

$130

Measured Weight

435g

Width Options

140mm

Width Tested

140mm

Length

283mm

Material

Vulcanized Rubber

Rails

Aluminum, 7×7 round
Pros
Classic looks

Firm and comfortable

Easy to position

Affordable
Cons
Heavy

Cutout feels superfluous
Best Road Bike Saddle for Racing
Specs
MRSP

$220

Measured Weight

167g (142mm, carbon rails)

Width Options

142mm, 152mm

Width Tested

142mm

Length

255mm

Material

Carbon reinforced polymer, EVA foam, carbon rails

Rails

Carbon fiber 7x9mm
Pros
Great support and comfort in aero riding positions

Looks great on race bikes

Lightweight

Reasonable price for carbon rails and low weight

Comes in "curved" version as well as "Performance" version with INOX alloy rails
Another Good Value Road Bike Saddle
Specs
MRSP

$100

Measured Weight

312g

Width Options

135mm, 145mm, 155mm, 165mm

Width Tested

145mm

Length

270mm

Materials

Nylon base, EVA foam, microfiber cover

Rails

Chromoly 7x7mm
Pros
Affordable

Comfortable shape

Minimal branding

Integrated accessory mount
Best of the Rest
Specs
MRSP

$160

Measured Weight

220g

Width Options

140mm, 150mm

Width Tested

150mm

Length

265mm

Materials

EVA foam upper, polyurethane base, Ki:um rails

Rails

Ki:um (proprietary alloy), 7x7mm
Pros
Minimal aesthetic

Reasonable price

Generous cut-out
Cons
Edges of cutout can create pressure ridges
Specs
MRSP

$139

Measured Weight

230g (TiRox alloy rails)

Width Options

147mm (Space), 140mm (PAS)

Width Tested

147mm

Length

250mm

Material

Carbon reinforced polymer, EVA foam, TiRox alloy rails

Rails

TiRox alloy 7x7mm
Pros
Great support and comfort in aero riding positions

Looks great on a race bike
Specs
MRSP

$315

Measured Weight

172g

Width Options

135mm, 145mm, 155mm

Width Tested

145mm

Length

250mm

Materials

Carbon base, EVA foam, microfiber cover

Rails

Carbon fiber 7×9
Pros
Lightweight

Minimal branding

Firm but comfortable

Blendr accessory mount
Specs
MRSP

$269

Measured Weight

292g

Width Options

138mm

Width Tested

138mm

Length

274mm

Materials

Leather/Microfiber upper, nylon base, Ti rails

Rails

Titanium 7x7mm
Pros
Excellent build quality

Remarkable fore/aft pelvic stability
Cons
Heavier weight

Heavy branding

Polarizing aesthetics
Specs
MRSP

$319.90

Measured Weight

168g

Width Options

130mm, 145mm

Width Tested

145mm

Length

248mm

Materials

EVA foam upper, Fibra Tek cover, Ti rails, Nylon Shell

Rails

TI 316, 7x7mm
Pros
Light with metallic rails

Excellent build quality
Cons
Requires perfect setup

Hard to find the sweet spot

Expensive
Specs
MRSP

$80

Measured Weight

263g

Width Options

142mm

Width Tested

142mm

Length

282mm

Materials

Nylon, EVA foam, waterproof cover

Rails

Chromoly
Pros
Classy aesthetics

Easy to Clean

Good support in more upright riding positions

Very reasonable price
Cons
Poor finish quality on rails

No cutout

Only available in one narrow-ish width
Specs
MSRP

$198

Measured Weight

203g

Width Options

143mm

Width Tested

143mm

Length

244mm

Materials

Ti Rails, EVA foam upper, polymer base

Rails

Titanium 7x7mm
Pros
Comfortable shape

Minimal branding
Cons
Pricey

Build quality could be better
Road Bike Saddle Comparison Chart
| Saddle Model | MSRP | Weight | Width Options | Length | Rails |
| --- | --- | --- | --- | --- | --- |
| Specialized Power Pro with Mirror | $325 | 247 grams | 143, 155mm | 240mm | Titanium 7 x 7mm |
| Prologo Dimension Space | $139 | 225 grams | 143, 153mm | 245mm | TiRox 7 x 7mm |
| Fizik Vento Argo 00 Adaptive | $400 | 188 grams | 140, 150mm | 265mm | Carbon 7 x 9mm |
| Brooks Cambium C15 Carved | $130 | 435 grams | 140mm | 283mm | Steel 7 x 7mm |
| PRO Stealth Team | $220 | 161 grams | 142, 152mm | 255mm | Carbon 7 x 9mm |
| Bontrager Verse Comp | $100 | 312 grams | 135, 145, 155, 165mm | 270mm | Chromoly 7 x 7mm |
| Fizik Vento Argo R3 | $160 | 220 grams | 140, 150mm | 265mm | Kium 7 x 7mm |
| Prologo Scratch M5 Space | $139 | 230 grams | 140, 147mm | 250mm | TiRox 7 x 7mm |
| Trek RSL Bike Saddle | $315 | 172 grams | 135, 145, 155mm | 250mm | Carbon 7 x 10mm |
| Selle SMP Dynamic | $269 | 292 grams | 138mm | 274mm | Titanium 7 x 7mm |
| Selle Italia SLR Boost TI 316 Superflow | $319.90 | 168 grams | 130, 145mm | 248mm | Titanium 7 x 7mm |
| Fabric Scoop Elite Shallow | $80 | 263 grams | 142mm | 282mm | Cro-mo 7 x 7mm |
| Velo Prevail TT | $198 | 203 grams | 143mm | 244mm | Titanium 7 x 7mm |
Why Should You Trust Bikerumor?
For over a decade, the team at Bikerumor has been reporting on the latest cycling news, technologies, and products. Our crew of passionate cyclists spends lots of time on the bike, whether testing new bikes, components, accessories, or apparel, training for the next race, or riding just for the fun of it. All that time spent in the saddle has taught us the importance of having the right tools for the job, and particularly finding the right saddle so we can be comfortable for hours on end. We also know just how tough it can be to find the perfect one.
For our road bike saddle buyer's guide, we tapped frequent Bikerumor contributor, Bennett Shane, to test and compare the 13 models included in this review. Bennett has been road cycling for over two decades and in that time has spanned the spectrum of riding disciplines. Though he hasn't lined up for a race in a few years, he spent quite a bit of time rubbing elbows in crits and pelotons. These days he prefers to put in big miles on epic rides throughout the Pacific Northwest not far from his home base near Portland, OR. On top of his cycling experience, Bennett spent years working in the cycling industry for several prominent brands. This experience has given him unique insight into the product lifecycle as well as the design, materials, and construction of products spanning from apparel to components. When considered together, his experience in the industry and as a rider/consumer gives him an understanding of products from the inside out, and he has developed a keen ability to discern the performance differences in the products he tests. This year alone, Bennett has applied his testing expertise to several other categories including protective cycling helmets, the best road bike shoes, and cycling bib shorts.
After researching the best and most popular road bike saddles on the market, we rounded up 13 models for side-by-side testing and comparison. After weighing each model for comparison to the manufacturer's specs, they were mounted up on Bennett's small fleet of boutique road bikes and taken for numerous rides to get a feel for their shape, comfort, padding, anatomical relief, and most importantly, how they stack up against each other. After a couple thousand miles of testing, we honed in our favorite models and those that excel in specific ways compared to the rest.
Buying Advice: How to Choose a Road Bike Saddle
A good road bike saddle is critical for your comfort on the bike. With so many models, sizes, materials, and designs to choose from, finding the right saddle isn't the most straightforward thing in the world. There's a lot to consider when choosing a new saddle, so here we break down the most important factors to help you make a more informed purchase decision.
What Type of Riding do You do?
The type of riding you do, and most importantly, your body position while riding, plays a major role in the saddle that will work best for you. Racers and aggressive riders tend to lean forward more which results in more forward pelvic rotation. Often, riders in these powerful positions tend to prefer saddles with short lengths, flat side-to-side profiles, flat tip-to-tail profiles, and effective anatomical relief in the form of a cutout or channel. Riders who ride more casually or simply prefer a more relaxed body position for endurance riding may benefit from a somewhat rounded side-to-side profile and a slightly cradled tip-to-tail profile that provides more support. That said, there are no hard and fast rules, and the saddle that works best for you is the one that fits you well and provides long-term comfort.
Width and Sizing
Our bodies are all different, so finding the correct saddle width to suit your anatomy is one of the most important things you can do for comfort. Many people don't realize that road bike saddles come in varying widths to accommodate different-sized and shaped bodies to get an ideal fit. The distance between our sit bones in particular is very important to consider as that is where the majority of our weight rests while seated. A saddle that is too narrow doesn't provide enough support for the sit bones and can result in excessive pressure on the perineum or pubic bone arch and sensitive soft tissues. Likewise, a saddle that is too wide can cause discomfort by pushing outward on the hips or digging into your inner thighs and negatively impacting the pedal stroke.
Saddles range in width from around 125mm up to 160mm, generally speaking. Many saddles are offered in several different width options across this spectrum while others are available in only a single width. While many riders associate narrower sizes with reduced friction, an appropriately sized saddle can actually reduce friction and many other issues by promoting greater pelvic stability. Thankfully, you don't have to guess your ideal saddle width. Most bike shops offer some type of measurement of the sit bones, which will tell you which saddle width is ideal for your anatomy. It is also possible to take this measurement at home, and you can easily find instructions on how to do so online. Many shops also have test saddles so you can try before you buy to make sure it works for you. Several brands also offer comfort guarantees so you can try a saddle risk-free and send it back if it isn't the right fit.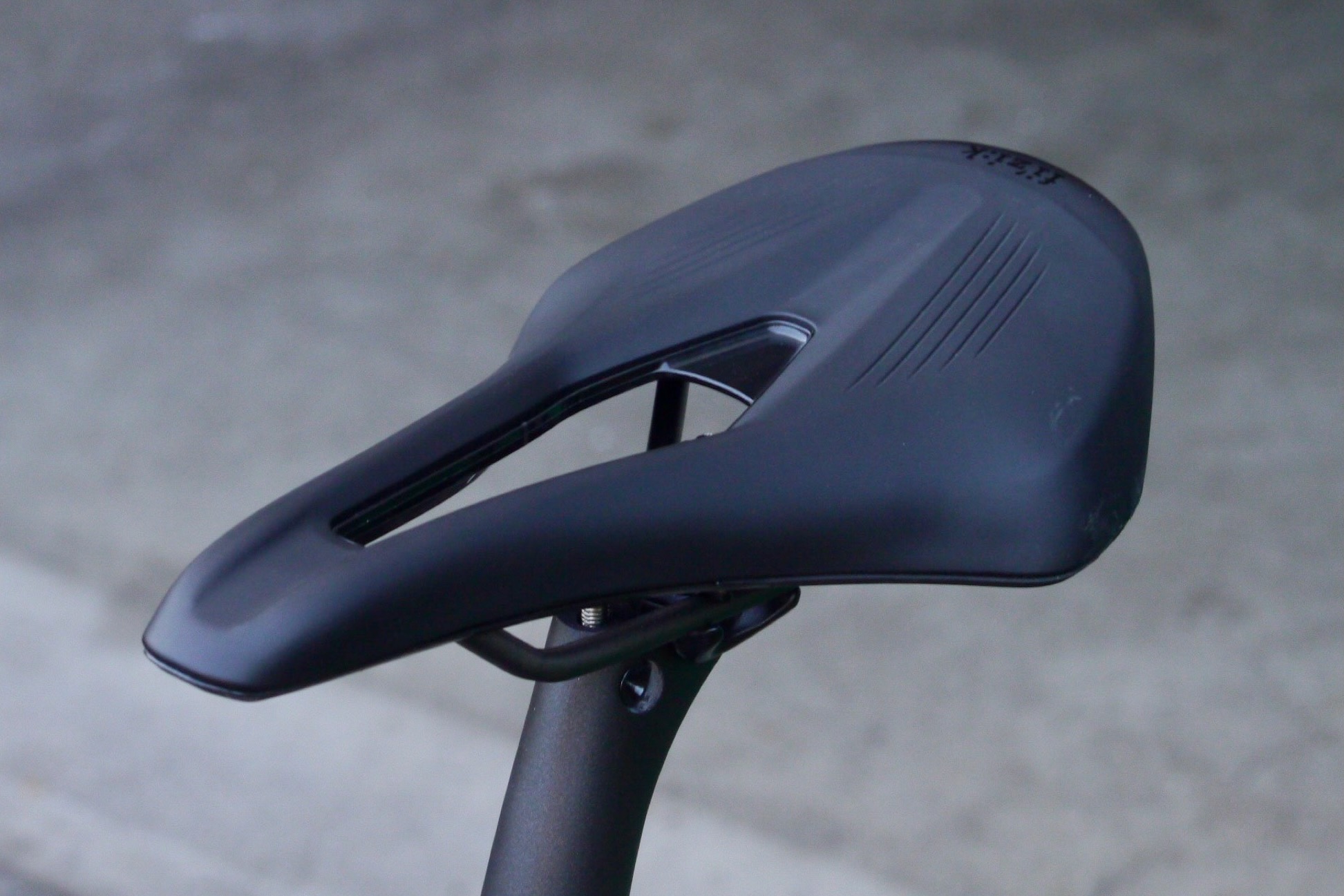 Anatomical Relief
While road riding, we spend lots of time seated and pedaling with most of our weight resting on and around relatively sensitive parts of our anatomy. Almost every saddle being developed now will feature a central cutout or pressure relief channel of some sort. These cutouts or channels are intended to take pressure off of the perineal area which can help to increase comfort, maintain blood flow, and reduce the chances of numbness, irritation, and other issues that may arise. The idea is pretty simple, but the execution varies greatly from brand to brand and saddle to saddle. Some cutouts feel like little more than decoration, while others deliver legitimate pressure relief hour after hour of riding. Along with a good, well-fitting saddle, a quality pair of cycling bib shorts is an essential piece of kit that can enhance comfort over the course of your rides.
Saddle Profile: Side to Side
A saddle's profile – the shape of the saddle from side to side across its widest part – is a key factor in comfort. Much like the width of a saddle, different profile shapes, typically flat or curved, may work better with people's unique anatomies and different riding styles. Profiles vary from brand to brand and model to model, and some saddles, like the PRO Stealth Team, are even offered in both a regular and a curved version. Traditionally, saddle profiles were more rounded, as it was thought that a gradually curving profile would be more accommodating to the sensitive tissue around the pelvis. While this may still work for some riders, profiles have trended flatter in recent times. Flatter profiles promise to enhance lateral stability of the pelvis, which in turn takes pressure off the lower back, and encourages activation of the gluteal muscles during the pedal stroke. Another important benefit of a flat profile saddle is that it allows for more effective cutout designs. Cutouts in combination with a flat profile remove significant pressure from soft tissue and encourage a more even distribution of pressure across a wider section of the pelvis and surrounding muscles and soft tissue.
Also, it is important to bear in mind that a saddle's profile can play a role in the effective width and where your sit bones rest on the saddle. A saddle that has a more rounded profile will effectively be narrower than its measured total width, while a flatter profile will be much closer to the actual width.
Saddle Profile: Tip to Tail
Another factor to consider is the profile of a saddle from tip to tail. For the most part, saddles are either fairly flat or they have a slightly cradled shape. In general, a flat tip-to-tail profile is better suited to more aggressive, powerful, or aerodynamic riding positions with more forward pelvic rotation. Racers, powerful riders, and those who tend to move around the saddle typically gravitate towards a saddle with a flat profile. Saddles with a cradled profile typically lend themselves better to more neutral or relaxed body positions with less forward pelvic rotation. If you mostly ride from the hoods or the tops or go on long endurance rides, a saddle with a slightly cradled tip-to-tail profile may be the best option for comfort and support. An example of a cradled saddle is the Selle SMP Dynamic which has a relatively dramatic curved shape that locks the rider into the sweet spot for static seated pedaling.
Rail Material
Saddles are often offered in several versions with one of the main differentiators being the material used for the rails. Rail material plays a large role in overall saddle weight and price with lighter and more exotic materials commanding a higher price. The most common types of rails are steel, Chromoly, titanium, and carbon fiber (in order from heaviest/least expensive to lightest/most expensive). As an example, the Fabric Scoop Shallow comes in 5 versions, Sport (steel), Elite (Chromoly), Race (titanium), Pro (carbon fiber), and Ultimate (carbon rails and base). Not only do the different versions range in price from $42 (Sport) up to $285 (Ultimate), but the weights follow suit at 338 grams down to 162 grams, respectively, with the other versions falling in between those extremes.
Another factor to consider with rail materials is their size. Most metal rails are round and have standard 7 x 7mm dimensions that will work on virtually any seatpost. Carbon fiber rails allow saddles to cut upwards of 100 grams of weight but usually have 7 x 9mm rails. Carbon fiber rails may not be compatible with all seatpost clamps, or you may need to get a special adapter to make them fit. If purchasing a saddle with carbon fiber rails, we recommend making sure that your seatpost is compatible. Carbon rails can also make saddles feel stiffer, which may or may not be desirable. Titanium rails achieve decent weight savings compared to chromoly or steel rails, will work on virtually any seatpost, and tend to give the saddle a bit more forgiving feel than carbon fiber rails.
3D Printing
3D printed saddles represent a significant step forward in saddle technology, by shifting away from traditional design which sandwiches foam between a plastic or carbon fiber base and a synthetic cover. Instead of bonding several layers, 3D-printed saddles are made of a latticework of liquid polymer that flexes precisely to the shape and movement of each rider's unique anatomy and pedaling motion. Not surprisingly, two 3D-printed saddles received top honors among our test group, the Specialized Power Pro with Mirror and the Fizik Vento Argo 00 Adaptive. 3D-printed saddles are examples of true innovation in the cycling industry, and while they are more expensive, we feel they are worth the investment. In addition to the two models we tested, there are a number of other 3D-printed models from Specialized, Fizik, Selle Italia, and others.
Adjusting Your Saddle
Some fine-tuning of saddle position is almost always necessary to achieve the proper position and optimize comfort for your anatomy and riding style. Adjustments include tilting the nose up and down, sliding the saddle fore and aft (within the adjustment range of the rails), and adjusting the height by telescoping the seatpost in the bike frame. A great place to start is with the saddle clamped in the middle of its rails, and perfectly level, then make adjustments as needed. You can use a spirit level or eyeball it with a ruler. Keep in mind that not all saddles have the same amount of stack (the vertical distance between the rails and the top of the saddle), so if you change saddles, you may also need to adjust the saddle height slightly. If you're unsure of how to adjust your bike saddle, a professional bike fit can be a great way to dial everything in on your ride.
Women's Saddles
All of the saddles we tested are unisex and are used by both male and female riders. There are a number of women-specific saddles on the market, however, that are designed to work better for female riders. While many female riders get along fine with the dimensions, shapes, and profiles of unisex saddles, some ladies may benefit from a women-specific model. While they look essentially the same as unisex models, many women-specific saddles are offered in wider widths to accommodate wider sit bones and some may also have larger cutouts to enhance comfort for the female anatomy.
Price
The cost of road bike saddles varies wildly from less than $50 all the way up to $400 or more. Spending top dollar on a saddle typically gets you fancier materials like carbon fiber, more advanced construction methods like 3D printing, and typically a significant reduction in weight compared to the least expensive options. In the grand scheme of things, the weight penalty of less expensive saddles isn't that significant, and often they are just as comfortable as more expensive versions. A good example is the Prologo Dimension Space, which at $139 is 1/3 the price of the $400 Fizik Vento Argo 00 Adaptive. The Prologo Dimension weighs only about 40 grams more, has a great shape, a functional pressure relief cut out, and comes in two widths to suit your needs. Similarly, the Bontrager Verse Comp retails for $100 and provides a nearly identical level of comfort to the $315 Trek RSL, although it weighs 140 grams more. So, unless weight is your highest priority, you don't need to shell out the big bucks for fanciest models on the market. That said, if you're willing and able to afford the best of the best, we doubt you'll be disappointed assuming the fit is right.
Frequently Asked Questions About Road Bike Saddles
How do I know what size saddle I need?
When we talk about saddle size, that is mostly related to saddle width. Road bike saddles come in a range of widths, from approximately 125mm to 160mm (give or take). If you already have a saddle that works well for you, it may be as simple as getting one that is roughly the same width. That said, getting your sit bones measured is the best way to zero in on the correct size to suit your anatomy. Most shops have sit bone measurement tools, and often they have test saddles that you can try out.
Which saddle is the most comfortable?
Saddle fit and comfort are highly subjective and depend on many factors. Everyone's body is different, so the most comfortable saddle for you may be completely different than for someone else. Finding a saddle that is the right width and profile are two of the most important aspects when it comes to comfort. Adjusting it properly will also play a big role. Whenever possible, trying a saddle before you buy is the best way to ensure it will work for you. Or, if buying online, saddles with a comfort guarantee are a low-risk way to find your perfect match.
Why are some road bike saddles so expensive?
It really all comes down to the materials and construction methods. Saddles with carbon fiber rails, bases, and 3D-printed tops are expensive to produce and therefore cost more than models made with less exotic materials and simpler constructions. Like many things in cycling, spending more also equates to a reduction in weight which may be important to many riders and racers. Assuming you're okay with carting around 100-150 extra grams, there are plenty of comfortable saddles that are a fraction of the price of the top-of-the-line models.
Do I need a saddle with a cut-out?
Full cutouts or channels are common on most road bike saddles these days. While many people can and do ride saddles without them, most people can benefit from having this feature. Cutouts and channels are designed to keep pressure off the perineum in men or pubic bone arch in women with the goal of enhancing long-term comfort, increasing blood flow, and preventing numbness and pressure-related issues that may arise. This is of particular importance for riders who spend lots of time in more aggressive riding positions with the upper body hinged further forward, as this rotates the pelvis forward and can result in more pressure on sensitive soft tissues.
How should my saddle be positioned?
Proper saddle positioning is critical for comfort and performance, and dialing it in perfectly is often a process of trial and error. While many people can find comfort with their saddle positioned perfectly flat and in the middle of the rails, others may need to shift the angle, height, and fore-aft position to optimize it for their body or riding style. Saddle height is generally fairly straightforward and is necessary to achieve proper leg extension during the pedal stroke. Sliding the saddle fore and aft on the rails can lengthen and shorten your reach to the handlebar. Adjusting the tilt angle of the saddle can help to optimize its position for the right amount of support for your body position while riding. When in doubt, consulting with a skilled bike fitter is a great option to get your bike dialed in.