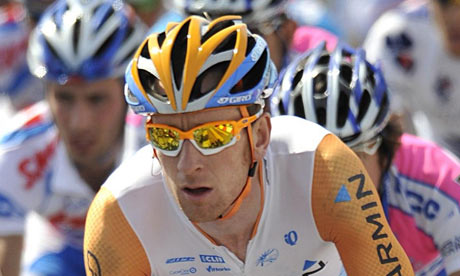 British Garmin-Slipstream rider Bradley Wiggins, who finished fourth in this year's Tour de France, is making public two years of blood tests to dispel any rumor that he didn't earn his top finish.
Many were surprised that he finished as well as he did, and he wanted to nip any controversy in the bud.
"Brad is an exceptionally talented athlete and it was great to see him do so well in the Tour de France," said Jonathan Vaughters, chief executive of Slipstream Sports. "He's always been an outspoken advocate of cleancycling. He requested that we release his results after the Tour and his decision makes me and the entire team proud."
"I came from nowhere on the Tour and everyone knows where it's been with blood doping," said Wiggins yesterday. "I don't want there to be any suspicion or doubt that what I did was natural. I have nothing to hide and I want this transparency. If more people did that, fans would have a lot more respect for our achievements."
Hit 'more' to see his blood test charts…
What this stuff means:
HEMOGLOBIN: The pigmented (red) blood cells that carry oxygen around your body.  It's measured in grams per 100ml, which is abbreviated to g/dl.  Normal range for men is 13.5 to 17.5g/dl and women is 11.5 to 15.5g/dl.  So, based on the charts below, Bradley Wiggins is perfectly normal
OFF SCORE: In order to better measure against blood doping, the Off Score was developed, derived as: Hemoglobin – (60 x √Reticulocytes).  Basically, it's the hemoglobin concentration compared to the reticulocyte concentration.  Reticulocytes are immature red blood cells. Reticulocytes tend to decrease when Hemoglobin counts are artificially high, so when Hemoglobin counts are too high compared to reticulocytes, it's a good sign they've put a little sumthin' sumthin' in their blood.  Bradley's measurements below measure well below the "suspicion cutoff" of 134.
The other important thing to notice is that the levels trend the same from 2008 to 2009 and during the events measured, showing a consistent pattern of clean racing.
This fact, combined with his stellar finish, points to cleaner racing overall and guess what?  The Tour was as exciting as ever, and everyone left with some warm fuzzy feelings.  Well, maybe not the French…