Not only has indoor training increased in popularity, but with the novel coronavirus forcing many of us to stay home, we can at least be grateful for the massive improvement in virtual training programs available now. Zwift may be getting close to becoming a synonym for indoor training, but there are a LOT more options out there.
If you're wondering what the best indoor training app is, or just curious what the differences are between them, we'll help you figure out the best option for you. Here, we'll explain the main features and differences between TEN different virtual indoor training platforms you can stream onto your big screen…
Zwift
OVERVIEW: Zwift truly gamified indoor training by offering an immersive looking virtual world where you can ride as an avatar, compete against others, and customize your equipment to gain an advantage.
One of the strongest features is the social integration, letting you plan group rides, races and meetups. If they could integrate voice chat, it would take that to the next level, but it's still the largest pure cycling platform here with such deep real-time shared riding integrations.
The variety is lacking a bit – they have just six worlds with a total of 64 available routes inside them as of this post. But they're constantly developing new things, have a rotating "guest" world every month, and offer a fairly open beta program to let users try new features (like steering, mountain biking) to provide feedback. But one of our favorite things about Zwift is that they offer free accounts for kids under 16.
KEY FEATURES:
Blends solid riding and training with entertaining social aspects
Customizable avatars and bikes
Huge user base means there's always someone to ride with
The pros use it, so you can race directly against them
Opportunities to get noticed by pro teams
Free accounts for kids
PRICE: 7-day free trial, then $14.99/month. Free for kids 16 and under.
TL;DR: Zwift lets you ride through video game-like virtual worlds and racing others in real time, with leaderboards. Zwift.com
Kinomap
OVERVIEW: Kinomap takes user-generated videos and GPS tracks, then creates videos that will move at the same pace as your riding. By pairing your speed and cadence sensor (at a minimum, using a power meter or smart trainer will improve the experience), it syncs the video's speed with your speed, allowing you to "ride" thousands of routes around the world. These include all of the most famous climbs in major races like the Tour de France. Even the CERN Large Hadron Collider.
It's a cool way to see parts of the world you can't get to, have an nearly endless supply of fresh scenery on every ride, and even upload some of your own footage. The latter means you could upload (or find someone else's) footage of a big race you're training for and get a good feel for the elevation, scenery & and key segments. Power users can even earn (a little) money by submitting good videos and routes.
Kinomap also offers running and rowing routes, all accessible under a single account. Check out our ultimate virtual cycling environment build with Kinomap to see it in action.
KEY FEATURES:
129,000+ miles of real world footage
Thousands of routes to choose from
Growing library of HD, stabilized video
Inexpensive, plus a one-time lifetime membership option, too
Training videos and programs with specific workouts included
App-based, with option to stream video to a big screen
Works with 900+ trainers, treadmills & rowers
PRICE: Unlimited free trial of a few routes. Full access is $10/mo, $79.99/year, or $229 for lifetime membership.
TL;DR: Kinomap lets you ride just about any route from any major road race in the world, all from the comfort of your own home. kinomap.com
RGT Cycling
OVERVIEW: Offering a completely free version that lets you ride their "Real Roads" and join races, RGT is something like taking the idea of Zwift and also making it more of a social ride tool accessible to anyone, than just a virtual training tool. You get simulated real-world routes and a computer generated avatar on a bike, plus that key opportunity for FREE virtual riding without any subscription plan at all.
OK, the free version of RGT is pretty limited to just a handful or real roads (like Ventoux above, and another handful of classics covering everything from mountain climbs to crit courses to cobbled race routes… Stelvio, Paterberg, Formentor, etc.) But the idea is that paid members can invite other cyclists to join them for free. RGT also claims the most realistic physics engine to better recreate real drafting & braking results, unlike most other virtual platforms.
Have a bike shop and want to invite people for free virtual group rides when a pandemic puts everyone on self-quarantine? RGT lets a paid subscriber create a virtual ride from real road data, then invite anyone else to come join you for free. That also means event promoters can pay to design custom or real race course, and invite participants for free. Or your single paid subscriber riding partner can create a regular weekly group ride, and everyone else rides for free. Premium also gets access to structured TrainingPeaks-created workouts, custom-made "Magic" roads with generic scenery.
KEY FEATURES:
Cyclists can RGT's standard Real Roads and join ANY event for free!
Virtual avatars riding virtual recreations of real-world roads
Ride data is saved & synced to training plat like TrainingPeaks, etc.
Premium paid members also get access to structured & personalized Real Training plans, all RGT's recreated Real Roads, organizing their own or attending any virtual Real Events, Magic Roads creation based on any uploaded GPX file.
PRICE: Free for Real Roads & attending Real Events. 14-day free Premium trial, then $15€ per month for full feature access.
TL;DR: A free platform for anyone looking to casually ride online – on eight classic routes or invited events. Then, paid premium membership that lets you train, organize rides & invite anyone to join you for free, or turn any prior real-world ride into a virtual ride. RGTcycling.com
Rouvy
OVERVIEW: Rouvy blends elements of Zwift and Kinomap into a system that offers real-world routes with avatar-based riding. It also uses user-generated content (video + GPS file) to produce speed-paced video routes you can ride.
Want to ride (or race) others in real time on "real" roads? Rouvy has a limited number of those routes processed into "worlds" that you can ride as an avatar with others. The rest of their 7,000km of routes are first-person POV ride footage with GPX data to simulate the grade and effort.
Add in 4,000 workouts (including TrainingPeaks WODs), and the ability to build your own, and you've got a realistic looking virtual race platform with enough training structure to help you get fit between group rides. Oh, and they pay out with annual competitions, too!
KEY FEATURES:
Virtual avatars riding real-world roads
Race against friends
$10,000 annual Challenge prize purse
$10,000 annual Career prize purse
PRICE: 14-day free trial, then $10/month for a family account with unlimited profiles.
TL;DR: An interesting mix of real and virtual that could change the game down the road, Rouvy is one of only two platforms offering cash payouts for online bike races. Rouvy.com
The Sufferfest
OVERVIEW: The Sufferfest was a pioneer in making indoor training videos tolerable. Enjoyable even. They invented the idea of combining real race footage, an entertaining narrative, killer music and tough, structured workouts. The result was something infinitely more watchable than a taped spin class, and it immediately became one of our favorites.
Fast forward to today and they have more videos, better music, and much larger library of workouts developed by APEX Coaching's Neal Henderson. They also have Yoga, Strength Training, and Mental Fitness videos to make you a more well-rounded athlete.
Subscribers can even download workouts for offline use, great if you're traveling.
KEY FEATURES:
Entertaining without needing social aspects
4DP tests reveal more than just your FTP
Uses that data to customize workouts for your goals
Offers Yoga, Mental and Strength workouts, too
Offline workout videos
Unique, highly rewatchable videos
PRICE: 14-day free trial, then $14.99/mo or $129/year.
TL;DR: Killer videos, great music, and solid workouts make The Sufferfest highly effective and re-watchable. TheSufferfest.com 
BKool
OVERVIEW: BKool seems to package the best features into one app by turning GPX data into three different experiences. Upload (or find an existing route from their huge list) and you can ride it as a 3D avatar, follow the video, or see your progress on an advanced map.
Once a route is uploaded, their system transforms the GPX route into a virtual world, making it look like the screenshot above.
They run league events throughout the year, letting you challenge yourself against others while competing on the same stages (usually at the same time) the pros race on. Or challenge a friend to beat your time.
KEY FEATURES:
Turns real outdoor rides into virtual experiences
Three viewing modes for every route
Thousands of different routes to choose from
Upload your own video + GPX files to create routes
Leagues and challenges let you race against others
Lets you customize your avatar's jersey, kit & bike colors
PRICE: Free month trial, then $9.99/month
TL;DR: BKool turns your real world rides into virtual 3D simulations that you can ride indoors. BKool.com 
Veloton
OVERVIEW: Veloton is the only app in this list that's not quite ready for you to try, but it looks promising. It's being built by the folks who make the VirtuPro indoor cycle, and for now, the beta test access is only offered for those who own that machine.
Why? Because it has built-in steering controls that let you steer your in-game avatar. This is key because it's one of the few (only?) games that won't let you ride through another player's avatar. That means you can block riders during a sprint, use team tactics, and otherwise better simulate real-world pack riding.
The other key difference is that it doesn't use the power measurement coming from your smart trainer or bike to determine in-game speed. It's only using your speed sensor for that, so your avatar will coast along just like you would in the real world as your trainer spins down. This helps you keep moving like normal, and take better advantage of drafts and descents to recover.
They're working on adding popular traditional smart trainers to their approved device list, and you can join the Beta Access list on their homepage.
KEY FEATURES:
Simulated real-world look and feel
Team and individual racing
Ability to block and draft other riders
Look backward to see if an attack is coming
Steering, but for now that requires their Virtu Pro Cycling bike
Seriously good graphics
PRICE: TBD
TL;DR: Real racing tactics, realistic coasting, and impressive graphics could make Veloton the game to beat when (if) it moves out of Beta.  VelotonCycling.com
CVRcade
OVERVIEW: Launched by former Zwift team members and chasing the e-Sports dream, CVRcade took the "video game" concept of indoor training to the next level with some really interesting new features. In-game audio chat was the low hanging fruit, but wind conditions, drafting, steering, power-ups, and even crashes add real strategy to the experience.
Throw in a full race schedule with cash purse and the fact that it's completely free to use and it sets itself apart from the rest. Their "Physical Equalization" feature helps level the playing field in terms of power output, making endurance, skill and strategy more important.
You can race solo or create teams, customize your avatar, the maps, and more. Some skins, upgrades and options are paid, much like on Fortnite, Roblox or Titanfall.
KEY FEATURES:
Completely free
Retro video game look and feel
Upgradable bikes and aesthetics
In-game audio chat
Requires skill to win, not just raw power
"Physical Equalization" lets you race against anyone
Cash purses
PRICE: Free, with paid upgrades and skins available
TL;DR: Want to race a Tron bike against others? CVRcade lets you ride through a video game and try win money. CVRcade.com
FulGaz
OVERVIEW: FulGaz is an app based training platform that pairs real first-person, action cam shot HD bike ride footage with your indoor trainer efforts to more accurately reproduce what it feels like to ride outside on the open road. While other platforms rely on gamification, competing against other rider avatars to keep you interested while stuck on the trainer, FulGaz tries to make it look like riding real life roads (even gravel, too!)
In the background, it's still a solid training interface, matching the smooth video footage to advanced physics modeling to make virtual riding feel real. Simple stats overlays give you all the detail you need to keep on a training target, yet aren't obtrusive if you just want to ride.
KEY FEATURES:
Hundreds of real roads from 24 countries to train on (currently 596 routes & 11,711km)
New rides emailed to members every week
ALL rides shot with real HD video that responds to your efforts
Pre-made workout library & training plans overlaid on ride videos available, too
Smooth video available for Apple TV, iOS, Android, or Windows 10
PRICE: Like most, a 14-day free trial to get you hooked, then $13/month or $109/yr. If you buy an annual subscription, it also lets you add a second family member for free.
TL;DR: Real high-definition video footage, all shot on bikes then linked to GPS data so you feel like you are actually riding on real roads, not in a video game. FulGaz.com
What about TrainerRoad?
The real purpose of this head-to-head breakdown of all the major virtual training platforms is to compare the different options for cyclists looking to recreate outdoor riding, indoors. These ten main options pretty much opt for either real video shot out on the road or a virtual video game environment. But we're probably remiss in not calling out TrainerRoad as a viable option for cyclists looking to get their indoor training on. While it's mainly a workout builder tool, not an actual virtual world or video platform that adds that extra element of entertainment, TrainerRoad is one of the most popular tools for effective indoor (and outdoor) training.
Pick the overall training plan, then individual workouts to move towards your personal race or event target, then follow the easy-to-understand power-based effort guidance to keep your training rides pointed towards your goal. It's pretty much just staring at power graphs to keep on target, so might be less motivating & entertaining for some who need the distraction of video or video games.
KEY FEATURES:
Customized structured indoor workouts and "science-based" training plans
1000 structured interval workouts to train on
Training that works indoors on the trainer, and outdoors on the road
Ride Analysis Tools to track your progress
BYOE, bring your own entertainment. No video or video game distractions, simply training optimized to power output.
PRICE: $20/month, $190/yr. If you buy an annual subscription, it also lets you add a second family member for free.
TL;DR: Sweat it out with your goal in mind. No games, no distraction. Just you pushing yourself to improve your power output towards a custom goal you define. TrainerRoad.com
How does Peloton compare to Zwift and other "real" cycling training apps?
We view Peloton and its ilk as more of a "fitness" product aimed at a totally different audience. Not because it wouldn't develop cycling power, speed and endurance just as well, but it's really because of the marketing, equipment and training experience they offer.
Peloton offers a great social aspect, both socializing and social pressure (or motivation, depending on how you look at it). The training experience is driven by real, live coaches and leaderboards. But you're watching someone on a spin bike rather than rolling down a real or digital road.
At $39/mo plus a minimum investment of $2,245 for just the stationary bike, it's a more expensive ongoing monthly commitment. And you can't take the bike outside when the weather's nice.
What about iFit? Anything else out there?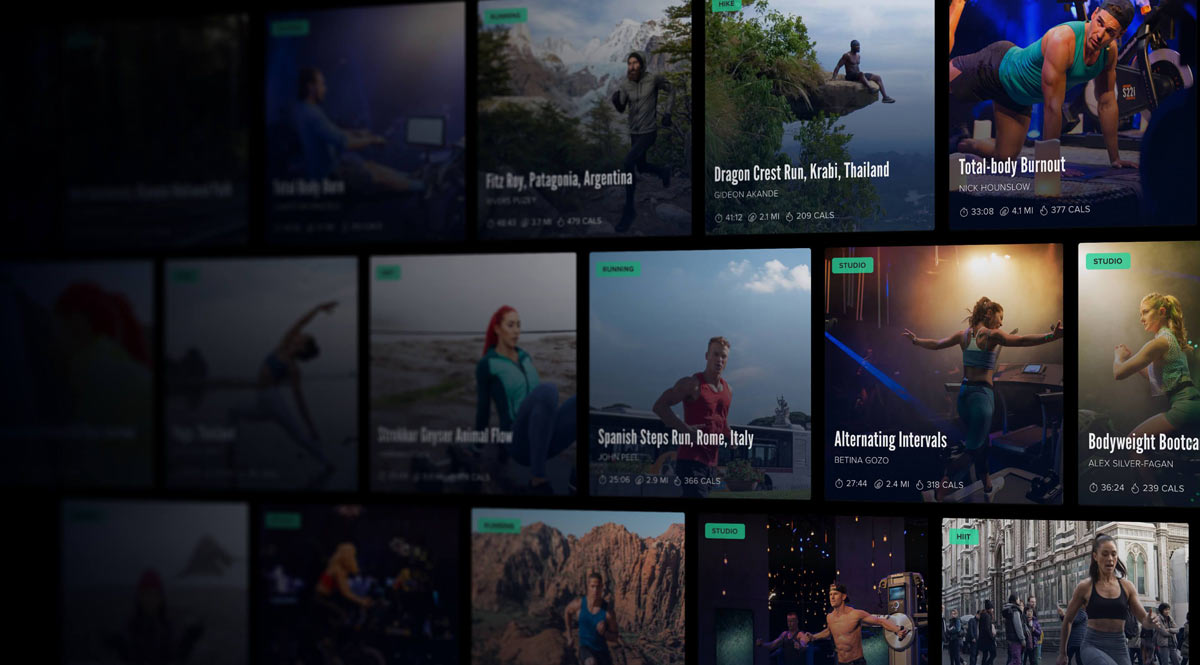 iFit is Icon Fitness' alternative to Peloton, offering coach-based training. Their unique take is that the experience expands beyond the spin studio with outdoor-based riding. And running and rowing, too. Even strength training. Of course, you'll need their bike, their treadmill, their rower and their workout machine to use all of them, but you get access to all of them with a single subscription.
If you're looking to build out a full, multi-sport home gym, they've got it all. The social aspect isn't nearly as strong on their platform, but the scenery's better.
So, why would you choose one of these over a bicycle trainer-based platform? If you want one indoor trainer for the whole family, the stationary bikes are the way to go.
Which virtual cycling trainer platform is the best?
That really depends on what you're going for. Entertainment? Try CVRcade and get your friends to join. Zwift gets close while offering a bit more of a serious training platform. Kinomap should beat your boredom while also providing a killer workout, and Rouvy is trying to take the best of both of those. The Sufferfest is great if you prefer to train solo and just get the damn job done without being bored out of your mind.
You could argue we're living in the golden age of virtual, indoor training options. Each one has its own unique take on indoor spinning. Which ones have you tried? What's your favorite? Did we forget one? Let us know in the comments!