Vee Tire has been attacking the market lately, rapidly building a line of very compelling fat bike tires at prices much lower than the other brands on the market. The Trax Fatty from Vee Tire is their offering for the 29+ format pioneered by Surly for use on their Krampus model. Zach first got a look at this tire at the Taipei show, and now we have a pair for a test ride.
The plus-sized tires are not necessarily intended for fat bikes, although they have taken off rapidly because the 29+ platform easily fits into most existing fat bikes, so riders were able to give the idea a try without buying a whole extra bike. Thats exactly what we did, by mounting them to Sarma Naran 29+ wheels and the Sarma Shaman test bike. With firm conditions lately in the midwest, we tried them on snow covered trails, back to back with a 26×4.25″ tire.
Check out the weights, details and our first thoughts after the jump…
The Trax Fattys are available in a variety of different configurations, and ours were the folding bead 120tpi variety that are claimed at 920 grams. Not a light tire, but when you consider that a normal 29er tire with a similar tread and material would be around 700 grams, and a fat bike tire would be 1,200+ grams, it is right where we would expect the weight. Mounting up the Trax Fattys and the Sarma Naran 29+ carbon fiber wheelset dropped more than 2lbs off the already light 23lb Shaman. Being that we had very firm conditions, this created a 21lb bike that could be ridden on the snow.
Ramped center knobs and reinforced side knobs are made so that the tire has a low rolling resistance, with a bit of bite in the corners. While not made for snow, it did work reasonably well, with the only drawback being a bit of traction on the rear tire when climbing. Intended for the dirt, it was actually pretty impressive how well they worked on snow, so they should have more than enough grip in their intended terrain.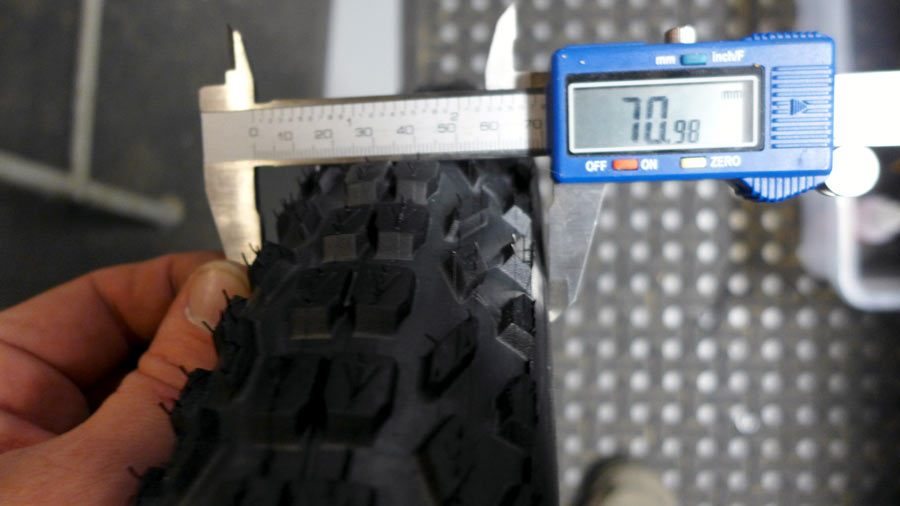 Even on the 50mm wide Naran rims, the tires did not measure out to a full 3″. This has been the common case with fat tires, with almost every tire on the market measuring in with 5-10% less width than claimed. While a bit disappointing, the 2.8″ overall width still gave enough float, and is much wider than normal 29er tires. And while 2.8″ is "close enough", the tread did not come all the way to the edge of the tires, measuring only 2.47″ wide. For a dirt tire, a lot more meat is expected from a tire claiming to be 3″ wide.
Actual weight is pretty accurate, coming in at 937 grams compared to the claim of 920 grams. The tires also claim to be tubeless ready, and they inflated extremely easily with a floor pump and some sealant, sealed immediately, and held air without issue.
SPECS –
Compound: Silica – Single
Tire Casing: 72 or 120 tpi
Bead: Wire Bead or Folding Bead.
Recommended pressure: 8-20 psi (0.6bar-1.4bar).
AVAILABLE CONFIGURATIONS – 
29×3.0 (WB, 72 TPI) (Weight: 1025)
29×3.0 (FB, 72 TPI) (Weight: 950)
29×3.0 (FB, 120 TPI) (Weight: 920)
27.5×3.25 (WB, 72 TPI) (Weight: 895)
27.5×3.25 (FB, 72 TPI) (Weight: 830)
27.5×3.25 (FB, 120 TPI) (Weight: 800)
There are a limited amount of options on the market right now, so the Trax Fatty is welcome as another addition to move the plus-sized idea along. At $120 for our high-end model, and starting at just $100 for the 72tpi wire bead, they are more expensive than similar Surly Knard 29×3 tires, which is an interesting departure from Vee Tire's normal pricing. As more options are on the market, Vee will need to do a better job with hitting stated widths, but in the short term, it's a great alternative to the single Surly option if you want to try 29+.