Sleek internal cable routing looks here to stay, with everything from aero road bikes to XC mountain bikes trying to tuck shift wires & brake lines out of sight. Now FSA adds a third semi-integrated routing SCR family to their ACR & ICR cockpits offering clean lines for all manner of road, gravel, and mountain bike cockpits. Plus, their new premium KFX lightweight MTB line-up gets filled out with more cockpit options.
FSA internally routed cockpit integration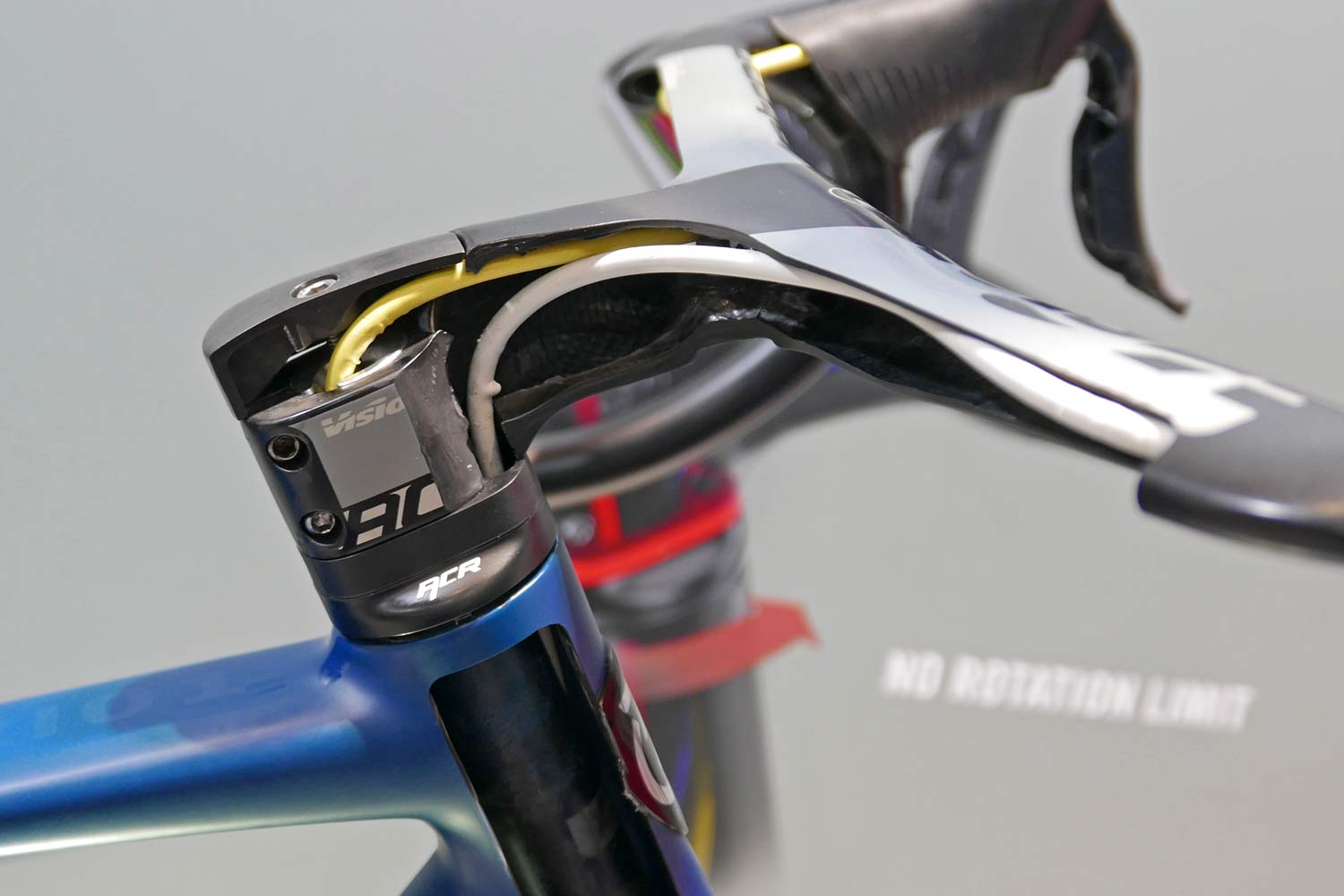 First FSA released ACR, their fully internal Aerodynamic Cable Routing system for aero road bikes that kept every cable, wire & brake line out of the wind – from direct entry into the bar, through special stems and inside of a proprietary headset, directly into the frame. It makes for an undeniably sleek setup, no steering rotation limit & claimed drag reductions, but requires a specific frame & headset setup, so really will only make sense for OEM use.
Then came ICR or an Integrated Cable Routing system with new bar & stem designs that could accommodate up to 5 cables/hoses internally, making a worthwhile cockpit solution for sleek mountain bike setups.
Again, ICR requires a proprietary frame spec with an ACR or ICR headset, so it remains OEM only until the standard catches on.
But now a new SCR – Semi-integrated Cable Routing system gives another intermediary step for electronic shift groups on & off-road. Sure, if you get a SRAM eTap, AXS, or even FSA's on WE groupset you don't need shift wires out of the bar anyway.
But for Shimano Di2 or Campagnolo EPS, the simple new SCR cockpits will take your shift wires cleanly from under the tape into your stem, and out of the bottom without requiring any other proprietary components. It definitely isn't totally integrated, since brake lines still get conventional routing. But it is a sign of more commitment to neater cable routing whenever possible, and is an easy aftermarket upgrade for riders looking to clean up their cockpit.
FSA lightweight KFX component line goes beyond cranksets
We got an early look at FSA's new premium KFX mountain bike line earlier this year with their new forged, then heavily CNC-machined alloy cranksets. The modular, two-piece bonded cranks arms can be assembled into just about any configuration, with Boost 1x options with 28-38T chainrings the first to become available (170 & 175mm arms with 169mm Q-factor, and claimed weight of 520g.) But those new cranks are set to get a more complete range, with light & stiff KFX bars, stems & seatposts to round out your top-tier MTB cockpit.
A 3D forged, then CNC-machined 2014 alloy stem will get wrapped with carbon for light & stiff steering control. The new Carbon Structural Integration stem will be available in +/-12° with a 31.8mm bar clamp, titanium bolts, and in 60-140mm lengths. Claimed weight for a 100mm stem is 143g.
Two lightweight UD carbon cross-country to light trail mountain bike handlebars will also bear the new KFX name. Both share reinforced brake lever zones, reinforced & textured 31.8mm stem clamping zone, are compatible with Di2 internal routing.
The KFX Flat bar gets 9° backsweep, 4° upsweep and comes in race-y 685mm (155g), 700mm (160g), 760mm (165g) widths. The KFX Low Riser bar also gets 9° backsweep, 4° upsweep, plus 18mm or rise. It oddly comes in even more narrow widths, but is even lighter: 660m (150g), 700mm (155g).
In the way of seatposts, the new KFX SB0 gets a one-piece, continuous fiber carbon shaft and head with zero offset. The post uses a classic two-bolt clamp design, with forged alloy top clamp & chromoly steel hardware to fit traditional 7mm round saddle rails. The post comes in 27.2 & 31.6mm diameters and 350mm & 400mm lengths, with a claimed 181g weight for the smallest 27.2x350mm option.