We first spotted the FSA ACR integrated stem/headset/steerer system at Eurobike. Now we have more detailed photos of the parts showing how they're able to create a fully integrated system that hides everything from view. And, most importantly, it's a design that any frame manufacturer can integrate into their bikes. Already, brands like Bianchi, Titici and others are either prototyping or prepping it for future frames, and we suspect others are likely to come on board. Here's how it works…
Using either a one-piece bar/stem or a specifically designed stem, all cables, hoses and wires are first run into the stem. From there, they head into special channels and slots in the headset to get them either into or around the fork's steerer tube. Likely, the front brake hose would be going into the steerer and the rest would simply fit around it so they could be channelled into the downtube.
The beauty of the design is that it still works with a standard tapered steerer with 1-1/8″ upper diameter, but will require a larger upper headset bearing OD. Frames should be able to be made to either use it or not without requiring crazy new standards for those who want to run a traditional system. That said, we're betting frames designed around this standard will lack external cable ports.
Technically offered under FSA's Vision road bike component line, the ACR system will also use special spacers that provide the channels for the hoses and cables.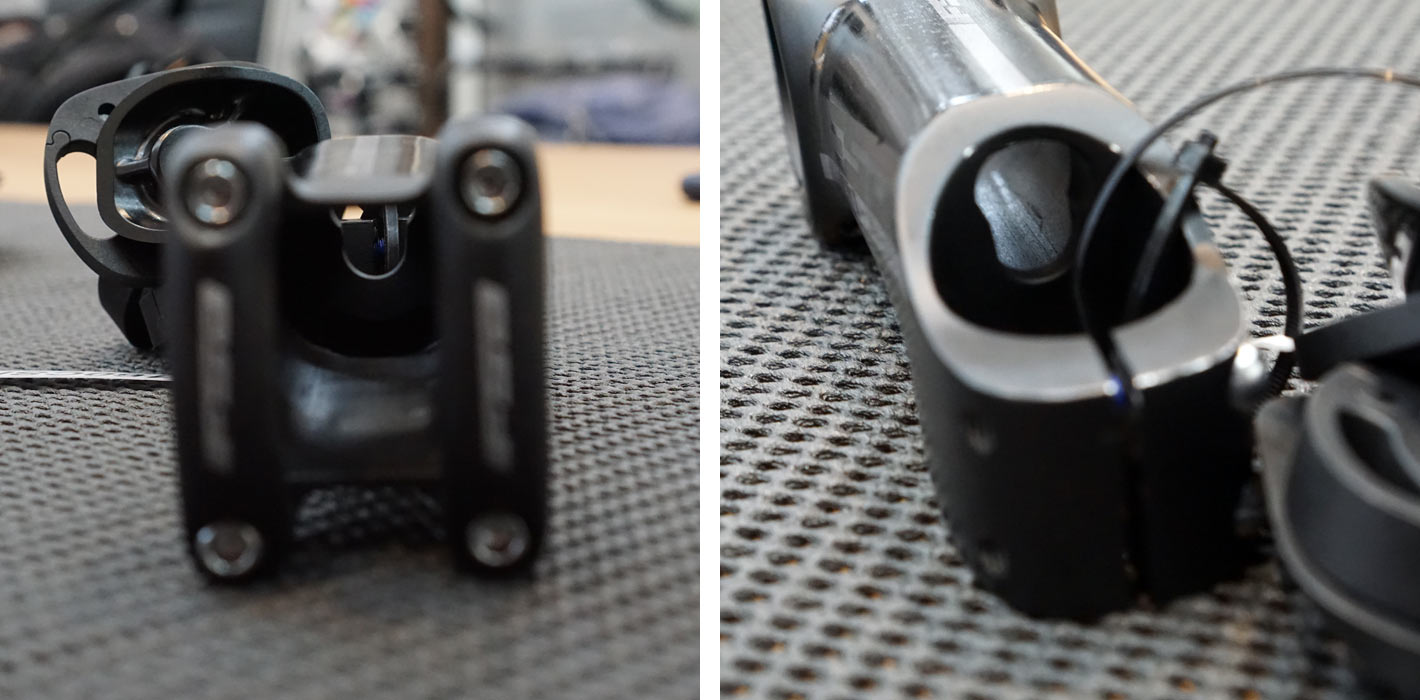 The stem leaves room at the back for cables to turn downward and fit between the gap in the headset's sleeves. Shown on some of these spacers are slits that let them pull open, so they can be added or removed to get the fit right without having to redo all of your cables. Our hunch is that feature will be on all of them for production versions.
Check our Eurobike coverage to see more photos of the system, including the underside of a one-piece ACR-compatible bar/stem unit. And here's their video:
The design allows for a wide range of bike fits and still keeps the cockpit ultra clean.
2019 Vision Metron Clincher TL Disc
For triathletes and time trialists that want to go tubeless for better traction and reduced rolling resistance, the new Vision Metron Clincher TL Disc rear wheel gives them the option to do just that. The "disc" in the name refers not just to its design, but also disc brake compatibility.
Like most of their disc brake road wheels, this one is showing model numbers for both 6-bolt (DB) and CenterLock (DB-CL) rotor options. That 1,150g claimed weight is just for the rear wheel, not a pair. Look for this to start shipping in early 2019.