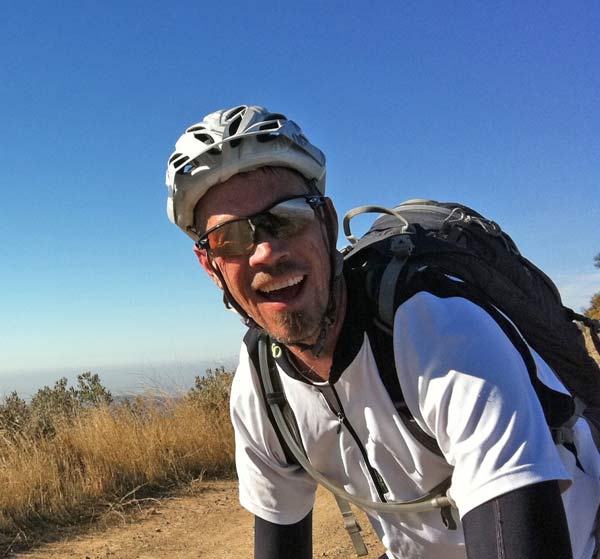 If you're looking for a job that encompasses virtually all aspects of industry workings, product manager at a large component company will give it to you. In this interview with Shimano's Matt Robertson, you'll see just how many points of the process you've got to keep up with, from product development, OEM spec, launch timetables, marketing and consumer preferences…and more. He juggles all the pieces to ensure you're riding some sick components. Along the way, as you'll see in the video further down, he gets to work with some of the world's top cyclists to refine prototype parts in some pretty sweet riding spots. Here's how he does it…
Who are you and what are you doing here?
My name is Matt Robertson, I am the MTB product manager for Shimano. I work in Irvine, CA, and I am involved in the development and marketing of mountain bike components and technology. I traffic in ideas and information. I am challenged to be an expert on the Shimano brand in order to clearly promote Shimano in the U.S. bike market and I am challenged to be an expert on the U.S. MTB bike market, in order to make sure that we are in tune with what riders are doing today and our brand is continuing to make riding more enjoyable everyday.
What was your first job or experience in the cycling industry? How did you "break" in?
Like most industry types, I started in a bike shop. My first bike job was turning wrenches at the AS Bike Shop at UCSB. I was never a bike racer, just a trail rider and an engineering student. You could say I came in through the technical side of bikes. In 1995 I made the jump from Helen's in Santa Monica to GT Bicycles in Santa Ana where I was hired as an assistant R&D engineer. I had sent out waves of resumes to industry employers, with no luck, before I happened to meet a customer named Kevin Martin at Helen's who, "knew a guy", that worked on the GT corporate accounts at Merrill Lynch. Through his help I was able get my resume in front of the right person, and the timing must have been right as GT had just gone public and was using funds from the IPO to expand its product development department. I can't remember his name and I never met him directly, but I would definitely say thanks if I ever got the chance. Kevin Martin was actually the brother of a guy I knew from Santa Barbara who was a customer at Velo Pro. So it all goes back to Velo Pro….big shout out to my VP alums!
What's your educational background?
I have an undergraduate degree in Mechanical Engineering from UCSB (University of California, Santa Barbara). And yes, it's a BS! Pretty appropriate for a product guy.
After that first experience/job, what was the path to your current position?
At GT, I started out splitting my time between sweeping the shop, building bikes, learning to draw BMX frames on AutoCad and 'doing spec' – that is building bike models, choosing parts, colors, graphics, etc – on Robinson BMX. It's funny that I worked on Robinson, no one really knows that, but everyone seems to call me Robinson instead of Robertson, particularly Bill Duerhing. I worked for Bill Duerhing at GT and learned that the best bikes in the world come from the most dedicated minds. Bill was legendary for building the brand into a powerhouse through a tireless pursuit of quality. He was determined to build quality bikes and would never accept the 'status quo' or a 'best try' – not good enough was not good enough. I think Bill taught half of Taiwan how to build bikes.
Eventually I found my spot. I took over frame engineering for suspension bikes during GT's I-drive development and found that the technical challenge and the teamwork required to achieve success on high performance products fit my talents and was highly rewarding. I also really enjoyed 3D modeling. I was hooked. Eventually, I was given free reign to expand the i-drive platform to gravity racing and got to design the first DH-i, a bike credited as a pre-cursor to the modern DH bike, with its long slack geometry, slammed BB and 150×12 rear through axle. I was lucky to have the opportunity to develop such a focused product directly with Eric Carter and Steve Peat, two legends of gravity racing, who impressed me with their strengths. As riders, they possess the same focus and determination to win races that I would need to develop the bikes that would get them there. The iterative process and the shared success during that time is something I am still proud of. Working directly with riders is still one of the biggest thrills for me as a development guy. Another cool part of racing was meeting the Shimano guys. They always seemed to have incredible resources and this scientific process that could churn out stuff that the other guys can only dream about. When GT went bankrupt and began their hibernation, I moved over to a local company called SST and worked on detangling brake cables on free-style BMX bikes for a year before I moved to Shimano. My highlight of working for SST, aside from absorbing a small bit of the brilliant mind that is Brian Scura, was installing a proto-type MTB detangler on the bike of a 16 year old kid named Kyle Strait. Apparently this cat was out in the desert doing fat tail whips and bar spins on his mountain bike….wonder where that led. SST was great, but I'm a mountain biker. I have been at Shimano developing mountain bike products for the last eight years now couldn't be more satisfied with the challenge of developing at the highest level.
What's a normal day for you?
A lot of e-mail. When you deal in information, you are constantly in the middle of a thousand discussions. I try to read as much as I can and I also write presentations and ad copy. Basically, sharing and shaping product information takes the majority of my time. I try to ride my bike as much as I can, you have to walk the walk, and I have to turn wrenches and touch the product on a regular basis to stay connected. I started as a mechanic and there is still something relaxing about working on a bike, not to mention I can't stand riding a bike that is not dialed – I'm fanatic about that and will rarely let anyone touch my bike even though we have some of the top mechanics in the business working under our roof.
Matt didn't have a lot of pics ready, but we shot him explaining their Shadow Plus last year.
What are the highlights of your job?
I love to ride and I love to talk. Nothing beats a day at work where a customer, who also happens to be one of your best friends, shows up for a sales presentation. You drink coffee and talk about XTR for an hour or two, before a blue truck arrives and whisks you off to the top of San Juan trail on a perfect winter, or spring, or fall (we do live in California) or summer day. Awaiting you is a new XTR bike, an hour and a half, gravity positive ride with the last 20 minutes straight ripping single track, a burrito at Los Golondrinas and the requisite smiles and high fives that accompany such an epic day. That would definitely be a highlight. But an even bigger rush is getting to work with the brands that are shaping mountain biking. First peaks and first rides on amazing new products are like rocket fuel for a bike geek like me.
What could you do without?
I truly appreciate working for a company with incredible resources, but large companies require a lot of structure and can take some of the flow out of my day. Meeting schedules and reporting process reflect the needs of the company at large, which might conflict with my needs, and it takes some patience and understanding to deal with that. And of course, all the rules. Product development is about breaking rules, but successful execution of product designs is all about rules, processes and procedures.
What advice would you give to someone looking to follow your path today?
I would say go to college! Learn about product design, marketing and business and challenge yourself to determine your individual strengths. There are a lot of great jobs in the business that are not straight product. Sales, service, marketing and operations within bike companies are all filled by bike riders and can provide great opportunities to break into the business. I'm a product guy, so I can tell you what that takes. First you have to be curious, if you are not interested in obscure details you will never keep up. Good product people are highly observant, they pick up on things and can make connections. But just looking and seeing are not enough, you need to be able to clearly articulate ideas and concepts. Public speaking, technical writing, and data analysis all play a much larger role in product development than it may appear from the outside. At the end of the day the bike industry is collection of bike riders – we ride, and we talk about riding – so if you are interested in the bike industry, just keep riding and keep talking to people about riding and you're on your way!