A SRAM Eagle hack deliver business up front, party in the back. We've discovered how you can build a #BudgetMullet SRAM drivetrain for your adventure gravel bike, thanks to an insider tip from Parallel Handbuilt, a bike shop in the Netherlands. All you need is your current mechanical SRAM 1x drivetrain, a new Eagle derailleur, a few standard tools, and a little bit of patience. Then your dropbar adventure gravel bike will be ready for up to a 52T cassette!
How To: Parallel Handbuilt BudgetMullet dropbar Eagle 1×11 hack
Mullets, the same idea behind mixing 27.5 & 29″ MTB wheels and mixing MTB rear derailleurs with road cranks & shifters on gravel bikes. You get fast-moving efficiency up front and technical trail-capability in the back. It's one of the reasons that the newest SRAM AXS wireless groups are so interesting, pairing Red/Force AXS dropbar shifters with XX1/X01 Eagle MTB Derailleur. But all that wireless 1×12 drivetrain options are still gonna cost you at least $1400 just for derailleur, levers & cassette. And you need to keep everything charged. Not exactly the best option for remote bikepacking.
So, is there a better way?
Enter the #BudgetMullet SRAM Eagle hack. After some digging and measuring, Joergen Trepp of Parallel Handbuilt figured he'd try to make an Eagle derailleur work with his Rival1 shifters. Instead of aftermarket cages of leverage ratio gadgets, he uncovered a cheaper & easier solution, all the while sticking with original SRAM parts.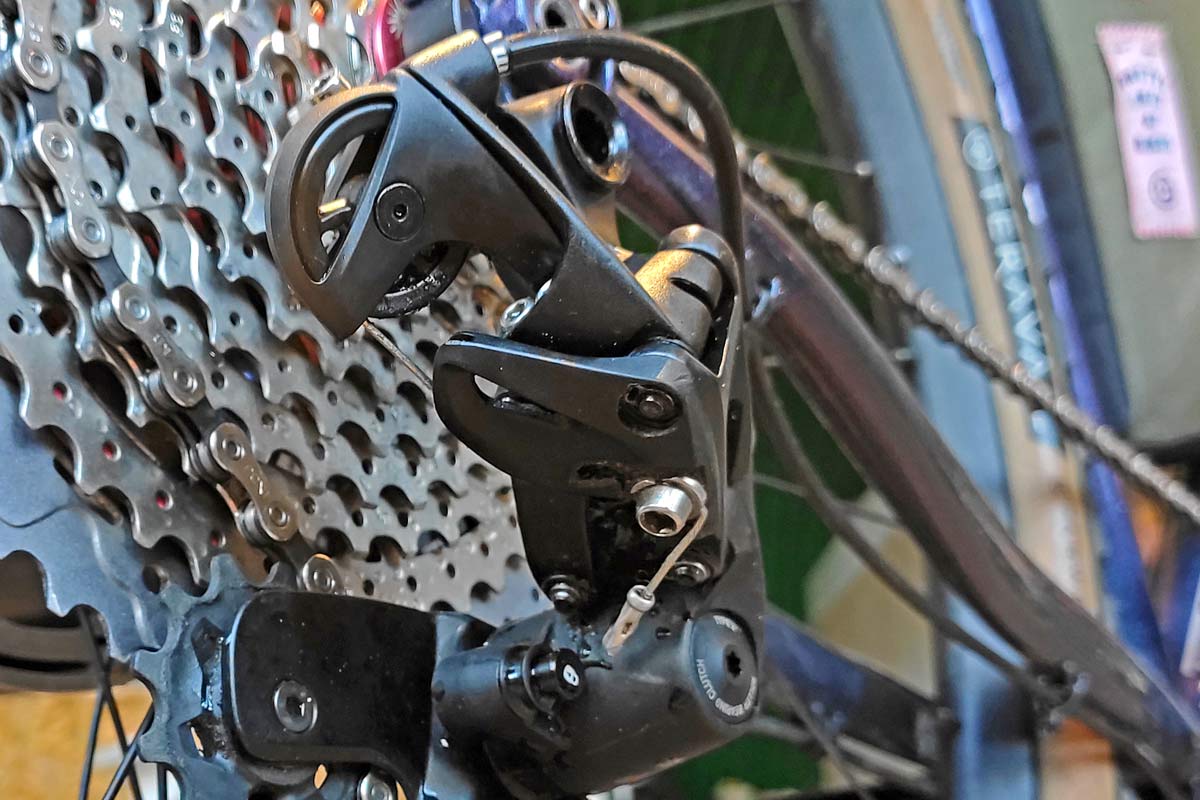 The secret is the cable fin. That's SRAM's name for the small curved cable guide that directs the derailleur wire into the pinch bolt. That simple & replaceable part on all modern SRAM MTB & CX 1x rear derailleurs also happens to determine the cable pull, and swapping it can convert a regular X-Horizon Eagle MTB derailleur into a 1:1 Exact Actuation Eagle road pull derailleur.
But Why?
The biggest cassette cog supported by the Force 1 derailleur is 42T, but swapping to a GX Eagle derailleur extends that up to 52T. Joergen is headed off to ride the Atlas Mountain Race next week, lugging a loaded bikepacking bike over the Atlas mountains in Morocco. And he wanted a wider gearing range (without resorting to a 2x) to crawl up steep off-road climbs, while not just spinning out on the descents & flat sections of the 1145km long self-supported race.
Let's talk compatibility
This hacked conversion requires a mechanical SRAM 1x road/cross/gravel rear derailleur to donate its cable fin. Likely, you already have this on the bike to start. If not, find someone who has broken one. (SRAM does not currently sell it as a spare service part.) Only Force 1 & Rival 1 are compatible, as their cable fin is clipped/bolted-on. With a steady hand, you might be able to drill out the rivet on a Apex 1 derailleur, but that's on you if you try.
As for the replacement MTB derailleur, you will need an XX1 Eagle, X01 Eagle, or GX Eagle rear derailleur. NX & SX won't work since they rivet the cable fin on, and so you can't really reinstall the donor fin.
Then, you are going to need a new 11-speed cassette to get the most out of this conversion. Remember, the shifter determines how much & how many times the cable gets pulled with each shift, so you still end up with a 1×11 setup. Since SRAM doesn't do an 11-speed cassette bigger than 10-42 or 11-42, you need to look elsewhere. Any big 11-speed cassette should work, but be according to Joergen, "beware of chain length when using small cassettes with an Eagle derailleur."
His ideal choice is a Sunrace 11-50t cassette for its simple setup. TRW Active also offers an 11-speed 11-52T cassette, a colorful Garbaruk 10-50/11-50T, or OneUp used to have a 50T Shark conversion for a Shimano 11-42T cassette if you happen to have one of those still laying around. And if you want the most range, look no further than the eThirteen TRS Plus 9-46t.
Here's where the hack begins and we remind you that this is not authorized by SRAM, and is likely going to void your warranty. Now, let's do it!
Step-by-step: Hacking your BudgetMullet Eagle derailleur
SRAM Eagle hack instructions, as provided to us: 
Step 1: To remove the cable fin's, remove the small circlip holding the fin using pointy tweezers or an actual circlip tool. Avoid using a flathead screwdriver as it may bend the circlip (you need to reuse it).
Step 2: Once the circlip is removed, loosen and remove the cable pinch bolt. Now you can lift the cable fin off of the derailleur.
Step 3: Swap the shorter Exact Actuation cable fin onto the Eagle derailleur. Follow these instructions in reverse to install the cable fin again.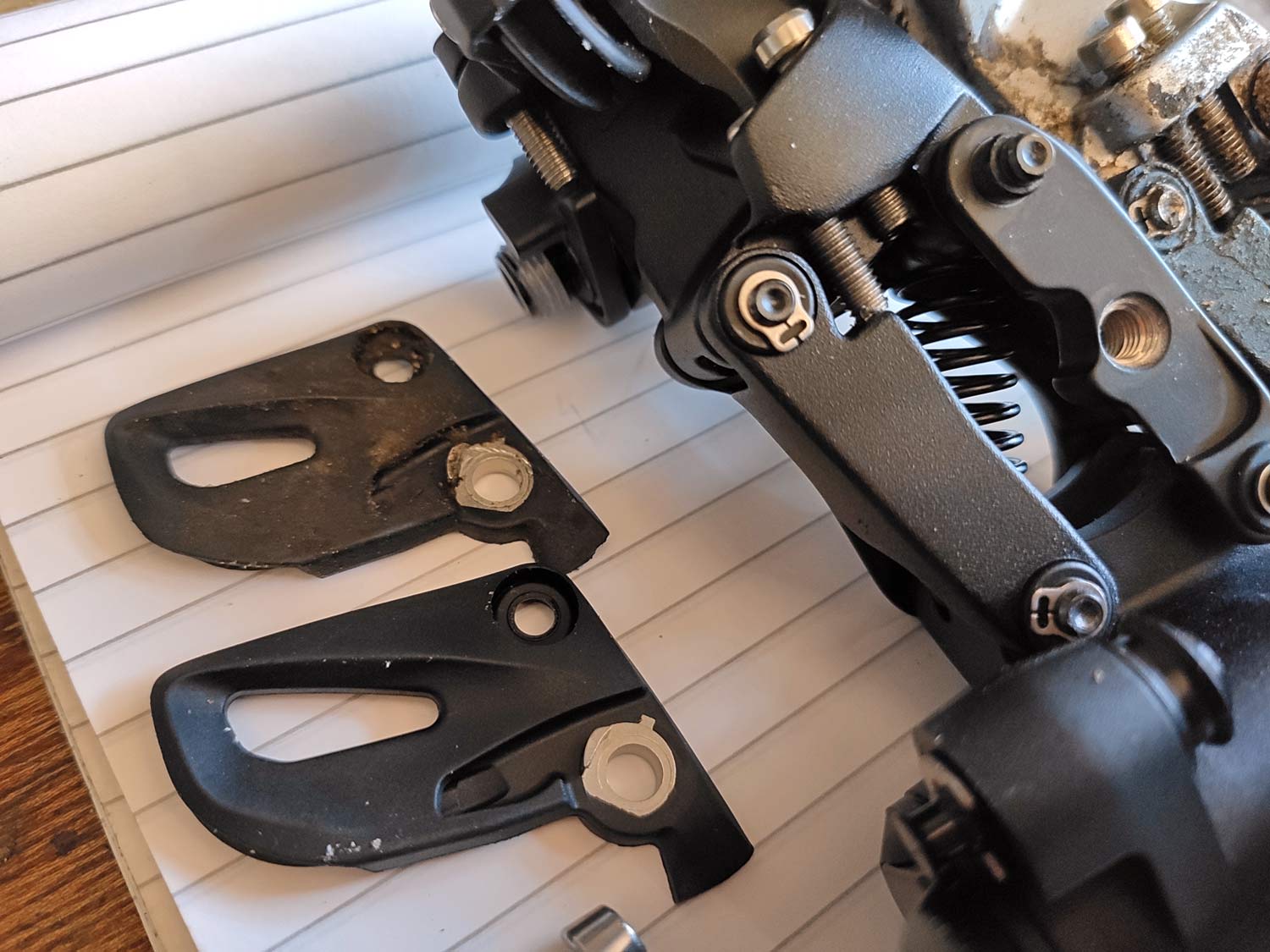 For bonus points you can also replace the cable wheel on an Eagle derailleur with the barrel adjuster from a Force1 derailleur, however [Joergen] prefers to go without and place an inline barrel adjuster near the cockpit for on-the-fly adjustments.
Step 4: Go ride you newly Eagle-equipped dropbar bike on an adventure, confident in the fact that you just managed to hack together your own #BudgetMullet setup. And you avoided buying a bunch of expensive new wireless AXS components, working with a lot of what you already had mounted to your bike.
One last thanks to Joergen Trepp and Parallel Handbuilt in Rotterdam, The Netherlands. If anyone at SRAM asks, we don't know him, he doesn't know us, and we don't know what you are talking about.