Boyd's been rather busy since showing us his Eternity Hub at NAHBS this past spring. What's new? Everything. All alloy and carbon wheels are completely new. And they're introducing MTB wheels.
For the carbon rims, the new shapes were proven in the wind tunnel with this machined alloy prototype that's built in two halves, joined together and then clear coated. These are made for the few best designs after they've done CFD development so they can test the real shape in the wind tunnel. It weighs about 15 pounds, but is far better for testing than 3D printed plastic wheels for two reasons. First, a plastic printing process is stepped, so they'd need to be sanded down, which could alter the shape slightly. Second, it's strong enough for them to inflate a tire to 100psi for testing, which is what they set tire pressure at on competing wheels they're benchmarking against.
Here's the results of all that effort…
A close up look at the alloy test mule, which turned into this:
The new Boyd 60mm carbon clincher shows off the revised rim shapes were developed around a 25mm tire since more and more riders are putting the larger rubber on their bikes now. That meant putting the widest part of the rim near the brake track, moving away from a very flat, Zipp 404-like profile.
All carbon wheels get tubeless rim beds, wider profiles and better aerodynamics. They also get a slight textured braking surface for better wet weather performance. It's subtle, so it won't chew through brake pads, but it's there. And they added new resins that handle higher temperatures. Outside the lab, they've tested it by riding down Paris Mountain in Greenville, SC, on hot summer days dragging the front brake continuously for about 7-1/2 minutes with no issues.
Note the bead shelf to hold tubeless tires firmly in place. Each rim depth is different, optimized for that particular size.
The 28mm deep rims, which are all-new, are 25mm wide (18mm inside).
The 60mm and 44mm deep rims move to 27mm wide (19mm internal), up about 3.5mm from the prior design. Weight actually stays the same because they were able to improve the manufacturing process with higher pressure molding for better compaction, with bladders fully removed, which helps them make up the 20g or so that going wider would normally add.
The 90s are still in CFD, but they're looking like they'll end up at 25mm external to pinch the tire just a bit for better head-on aerodynamics. That's done because on windy days where you're worried about crosswind aerodynamics, it's unlikely you'll be riding a 90mm deep wheel. So, they could optimize for frontal winds more, and the tire shaping this design produces helps keep the air attached to the tire/rim combo for longer, which means less drag and turbulence.
They're offered in 20/24 and 24/28 spoke counts. All have disc brake versions, only in 24/28, but use the same rims.
The alloy wheels switch to a welded rim with bead blasted finish and tubeless ready profile. The blasted surface allows more anodization to seep in, which makes it stronger and stiffer.
The new Altamont Lite gets a smaller, lighter rim than the standard version, coming in at 24mm wide (19.5mm internal) and 25mm deep. That helps it save 100g per set compared to the deeper, wider regular Altamonts. 1430g per set, starting at $700.
New MTB wheels are named after trails in the Carolinas. The Ridgeline carbon wheel is named after a trail in Dupont State Forest, NC, and gets a hookless, tubeless bead.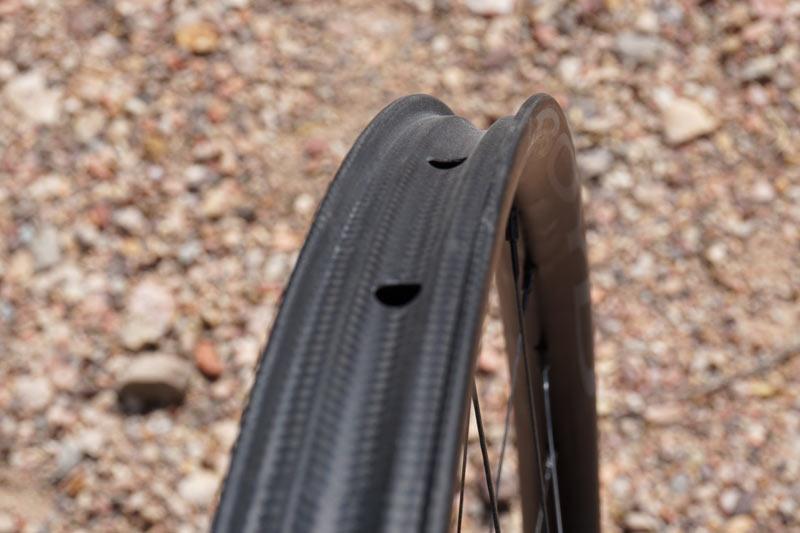 Widths are 26mm internal, 33mm external.
The Kanuga is alloy and named after a trail near Paris Mtn, SC.
Width is 25mm internal, 29mm external.
Both are all purpose wheels, since they know most riders put one set of wheels on their bike and go ride everything. They're wide enough, but not ridiculous.
Wheelset weights are not final yet as they'll be getting new Quest hubs, which is the MTB version of the Eternity road hub shown at NAHBS with the super wide bearing stance and titanium freehub body. Pricing will be just under $1,000 for the alloy ones, and $1,800 for carbon. They'll have threaded end caps to swap between QR and thru axle.
That Eternity hub gets a slight revision that's pushed back its production until about now. They were originally using a dual alloy axle, but a team rider hit a pot hole during a sprint and bent the outer sleeve that supports the freehub body. So, they replaced the threaded alloy sub axle that the freehub body rests on a carbon fiber piece, which is stronger. The main axle is still alloy and runs through the entire hub. (hit that link for a detailed run through of how that hub works)
Cutaways of the carbon rims show that the bead hooks are molded, not machined, which makes for stronger, more durable wheels.
Now that everything's gone tubeless, they're offering extended length tubeless valve stems to fit the deepest of rims, including their own upcoming 90mm. That little tear drop shaped bit is a clever valve stem nut that gives you a bit of extra leverage when installing or removing it. Ever tried removing an overly tight or stuck round nut? Then you get it. Simple, smart and now on our want list.