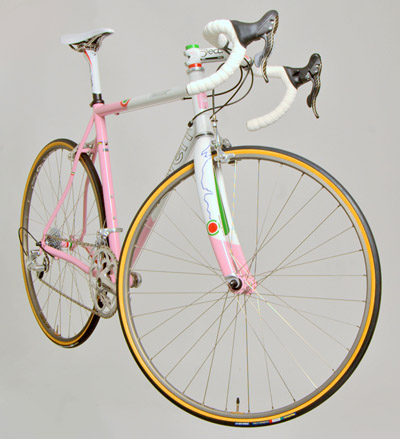 FROM SEVEN CYCLES: Ride Studio has collaborated with Cascade Bicycle Studio and Seven Cycles to create a limited edition Giro d'Italia inspired race bike.
RSC and CBS are offering a limited run of 21 very special custom bikes. Here are some of the details:
Each bike is built to order with all the customizable elements that Seven Cycles offers.
Available exclusively through Ride Studio and Cascade Bicycle Studio.
Each frame has a unique "PdC"—for the Plan de Corones stage location—steel tube set tailored for climbing—and you as an individual.
95% of the bike's parts are sourced from Italia.
Prices start at $5,495 with Fulcrum wheels; price as shown: $6,295.
Order deadline is 21 days after the Giro's 21st stage on May 30. In other words, the order deadline is June 21.
These bikes are works of art. Virtually every element of the bike has been customized and detailed in unique ways: painted hubs, an outline of the race course on the fork, hard to find Ambrosio rimmed hand-built wheels. Both Cascade Bicycle Studio and Ride Studio Cafe have the Giro Project Bike on display.
More pics after the break…