The good news is, there's a new 29×2.25 Maxxis Aspen, which is a slight increase from the 29×2.20 currently offered. The bad news? The best version of it is reserved for their sponsored riders. Both sizes will remain in the line, along with the 2.10 width in 27.5. Yes, narrow by today's standards, but the is the tire of choice for their elite XC tires.
One twentieth of an inch may not seem like much, but there's more to the new size than that. Maxxis' rep told us prior to the Olympics, the Swiss athletic federation did a lot of rolling resistance testing and found that the Aspen was the fastest tire. Not just from Maxxis, but across multiple brands. So they wanted it for Nino Schurter to use in the Rio Summer Olympics, but they wanted a few tweaks made. The center knobs were made slightly shallower, and the side knobs were made slightly taller. The change in the center knobs was to make it roll even faster, and the side knobs gave him better cornering traction.
Technically, it's that slight 0.5-1.0mm side knob height increase that gives them the 2.25 width, the tire casing itself isn't really any wider.
The casing Nino used was a new, race-only 170tpi version, a huge increase from the commercially available 120tpi, that makes the tire even more supple and dropped 40g off the tire weight. As you can see above, the tire literally flops and folds around like a soft noodle. Soooooo supple.
Unfortunately, the 170tpi version won't go into production, they're only for sponsored athletes. The Aspen is very much a hardpack conditions tire, which is a pretty limited use, so that pro-only idea makes some sense. The other reasons are that a) they're hard to produce, which means b) they're expensive and would cost about $150 per tire, and c) even with EXO protection, they're much easier to damage. Even so, they also made some without the EXO sidewall protection for Nino, and those came in about 30-40g lighter still. Based on current claimed production weights, that would put the 29×2.25 around or just under 500g.
They're also making the Ikon in a 170tpi version, and I rode it, and it's freakin' amazing. But it's also only for their pros. (sad face)
It's a shame because it's absolutely amazing. Sure, I was coming off a weekend of riding their bigger, tougher DHF/DHR and Aggressor tires, but the sensitivity to terrain these Ikon 170tpi tires offered was unreal. They melted over rocks and roots and provided surprisingly good traction on leaf-covered trails that challenged even the deeply knobbed DH tires others were riding.
So, what's so special about a 170tpi casing? Let's start with their lowest thread count option and work our way up. Above, left to right are the 27tpi, 60tpi, 120tpi and 170tpi fabrics they use.
The 27tpi is only used in low-end, cheap tires and pretty much not on anything you or I are likely to buy aftermarket. The threads, all of which are nylon for all of their tires (they don't do cotton casings, for various reasons but chiefly durability), are thicker and more widely spaced. This means they're heavier and more rubber gets between them, which is also heavier.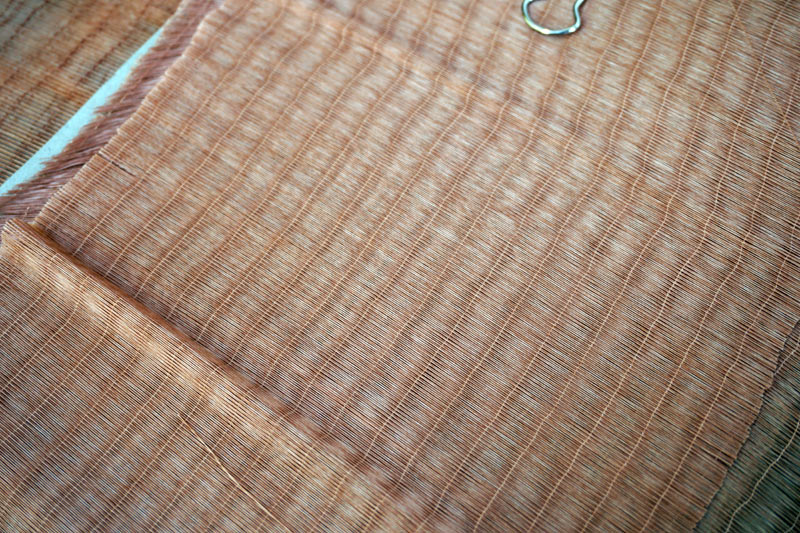 The 60tpi casing is used on their base level tires. Threads are slightly thinner, but there's still plenty of space between them for more rubber to fill in. So, not as thick or heavy as 27tpi, but they're not going to be nearly as supple as the higher thread count tires. The upside is they will offer better puncture protection.
The 120tpi casing uses much thinner threads that are more tightly packed. Thinner threads mean they bend easier, and less rubber can fill in between them, which equates to a more flexible tire. This means better traction and a smoother ride, but it loses some inherent puncture protection.
The new 170tpi gets the thinnest threads and lots more of them. The progression is what you'd expect: less rubber infill, softer feel and more supple ride. And because the threads are thinner and less rubber is used, the tires end up significantly lighter.
To reinforce their tires, whether all the around from bead to bead, just under the tread or only on the sidewalls, they use woven layers made with materials they didn't want to talk about. However, you can see two of their different options here, and closeups below show just how tight the knit is to keep things from poking through or, depending on the application, tearing the sidewall.
These casings and layers are used across their range in various combinations. Check this post for more on their new DH and Wide Trail "plus" tires.