Extralite's new Hyper hubs are coming in very, very light but feature rich.
The rear has a weight of just 168g, yet it has double O-Ring seals on either end, an external bearing preload system for easy tuning and an oversized 36-tooth freehub body. Extralite says it'll handle more than half a ton of chain pull, so unless you can regularly crank out 1,000 lbs of torque, it should hold up.
Hit 'more' for the front hub and add'l pics…
UPDATE #1 with axle options. Lots of axle options
UPDATE #2 explains why these are perfect for 29er wheels and basically awesome, at bottom

The hubs have a "hart coat" finish on the axle  and freehub body and black anodized "special" 7075TXX alloy hub shells. Ceramic bearings are an option, but they come standard with four sealed cartridge bearings in the rear.
It uses a straight pull spoke design available in 32 or 28 hole drillings. The body and axle are designed and made in Italy using finite elemental analysis, and EL says they're strong enough for any XC application.

The 17mm rear axle is milled at specific widths in high stress sections to be strong yet minimize weight.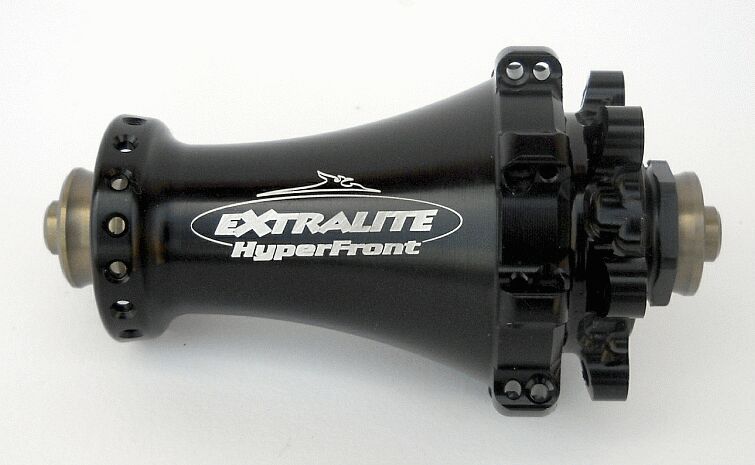 The front hub also uses straight pull spokes, but goes with a radially laced driveside design. At just 78g, we were expecting it to be super minimal in size, but the hubshell is fairly stout looking with a nice buildup to the 6-bolt brake mount.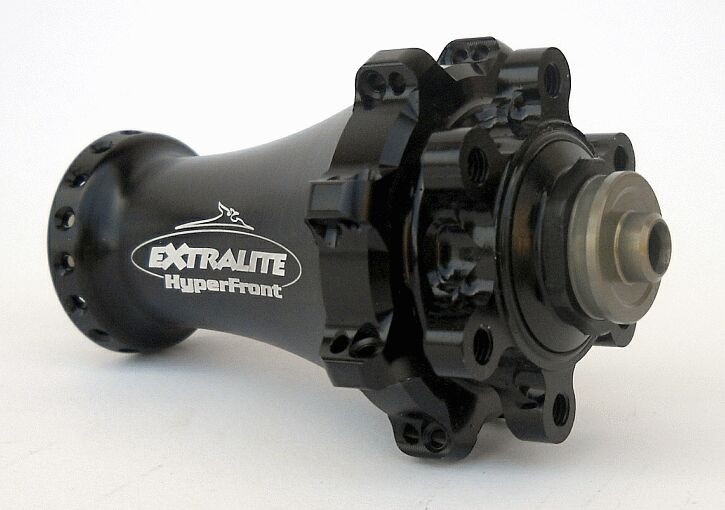 The specs are virtually identical to the rear save that it only uses two bearings instead of four. There are options for a heavier duty bearing on the disc brake side or ceramic bearings throughout.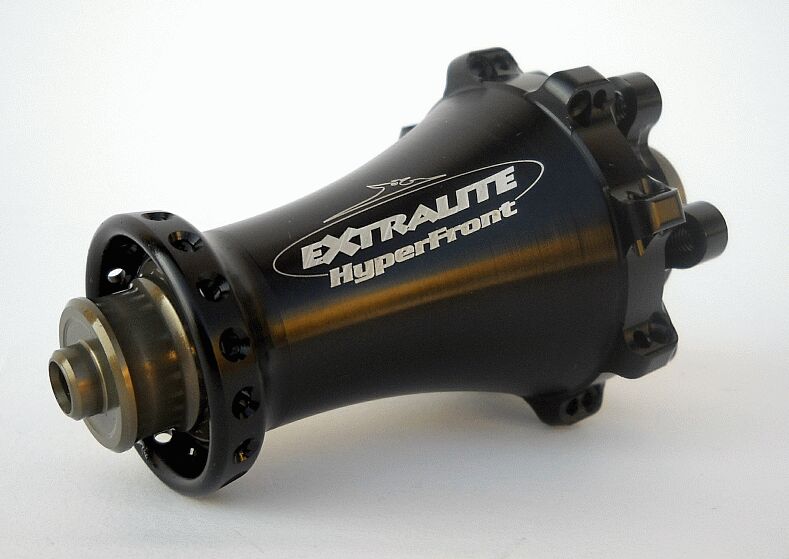 Jason at Fairwheel Bikes had some prototype versions of these hubs and pulled them apart, here's what the internals look like:
The freehub body, below, has the other set of teeth, which effectively does away with traditional "pawls". The set of teeth mounted to the hub rest on three small springs that push it against the freehub body to engage, and simply let it bounce along them as you coast. While that sounds like it would create a lot of friction and wear, other manufacturers (Chris King comes to mind) use similar "ring drive" type mechs and are super smooth, so we don't imagine this would be an issue with longevity.
One really cool feature is the greater-than-90º cut back on the tall side of each tooth, making so that they actually hook each other when engaged. This should make it so there's zero slippage (at least at anything less than 1,000 pounds of torque…)
AXLE OPTIONS
The Hyper hubs are available with the following axle/spoke drilling options:
HyperFront (standard 100mm) 24-28-32h, 78gr (RTP 180.91)
HyperRear (standard 135mm) 28-32h, 168gr, (RTP 408,18)
HyperLefty (Lefty fork standard) 24-28-32h, 84gr, (RTP 180.91)
HyperFront QR15 (standard QR15) 24-28-32h, 78gr, (RTP 180.91) (available in March)
HyperRear QR12 (standard E-Thru/142/142+) 28-32h, 169gr, (RTP 408,18) (available in March)
TECHNICAL JIBBER JABBER
I emailed Extralite founder Sergio to ask if the hubs were up to the task of 29er wheels. Why ask this? Well, there's a reason Shimano didn't launch the new XTR wheels in 29er format…there's additional torque placed on the hubs to turn the larger wheels, so it's an important question to ask. Sergio's response is fantastic and covers way more than the 29er issue:
HyperRear / HyperFront spoke camber is wide and helps to lace stable 29wheels.

Basically we have developed those hubs improving every aspect of our succesful SPD series.

No shortcuts have been taken to shave the weight down.

On the contrary the HyperRear features 2 beef main bearings (6903-2rs Abec5 quality) to hold the wheel rotation. Additionally it sports a well prooven soft-touch external Or seal to keep the 2rs bearing seals clean.

To hold the freewheel again we employed 2 large bearings (6803-2rs Abec5 quality) instead of the significantly more delicate 6802 employed by most competitors.

The key factors that allowed us to acheive the 168gr weight level are the following:
1) a very sophisticated multiaxial cnc process, each hub-shell takes over 1 hour of continous 3d machining

2) the innovative fully alloy front-engagement frewheel system thatt took over 1 year just to fine tune it.

3) extensive testing – We had 8 generations of  freewheels race tested for months constantly compared with the alternative models. Each freewheel version sported slightly different engagement patterns and teeth angles to find out what works better in the real conditions. It took some good energy and time to get through all that. We really hope our customers will appreciate