It's a funny thing once you start talking about R/C cars amongst mountain bikers, you realize far more of us are into it than we'd ever have thought. After a few events this summer where the post-ride activities involved racing short course trucks around manicured dirt tracks, jumps and turns, we decided to look into this a bit. What we found was, among tons of killer trucks, one perfectly sized little 4×4 that offered big features for a seemingly too-low price: The Traxxas 1/16 Slash 4WD Pro Short Course Truck.
Here's why this one stood out:
At a retail price of $215.99 it's well below most other "pro-sumer" level 4×4 models from any brand.
Electronics are sealed and waterproof.
It's almost completely rebuildable, and (most) spare parts are cheap.
It can take dual batteries, and runs on both NiMH and LiPo.
It's the perfect size for stashing in your car for a little post-ride racing action with friends.
It's highly rated in online reviews around the Interwebz.
TRAXXAS 1/16 SLASH 4X4 UNBOXING & ACTION
The Traxxas 1/16 Slash 4×4 comes out of the box "ready to race", which is what the RTR moniker stands for if you're shopping around. You do need to charge the battery first, which means bringing it out to your car as it only comes with a 12v DC charger in the box…which is perhaps the only complaint we could come up with. I recommend ponying up for the DC-to-AC converter so you can plug it in indoors, or upgrading a bit further with their smart charger, because if you're like us, you'll eventually want to add more batteries.
Video above shows the unboxing and first drives, with plenty of sick slo mo. Included in the box is the remote, which had 4 AA batteries preinstalled, the truck, their iD-equipped 6-cell NiMH battery, instructions, spare stickers and the tools used for repairs. The only assembly needed was adjusting a set screw to hold the antenna in place and installing the pins to attach the shell to the body. You can choose from four stock color/graphics combos, and clear shells are available separately if you want to paint your own.
TECHNICAL DETAILS
The 1/16 scale truck comes in at about 14″ bumper to bumper, which they say is about half the size of their 1/10 trucks. Which makes it the perfect size to stuff in a backpack or gear duffel. The included remote works on 2.4GHz and self selects a non-competing channel on that wavelength, so you could have 20 buddies racing them with zero interference.
Controls are super simple, just a throttle/brake/reverse lever, steering wheel, and steering adjust. And an on/off switch. It weighs virtually nothing, and is sized to fit both kid and adult hands well.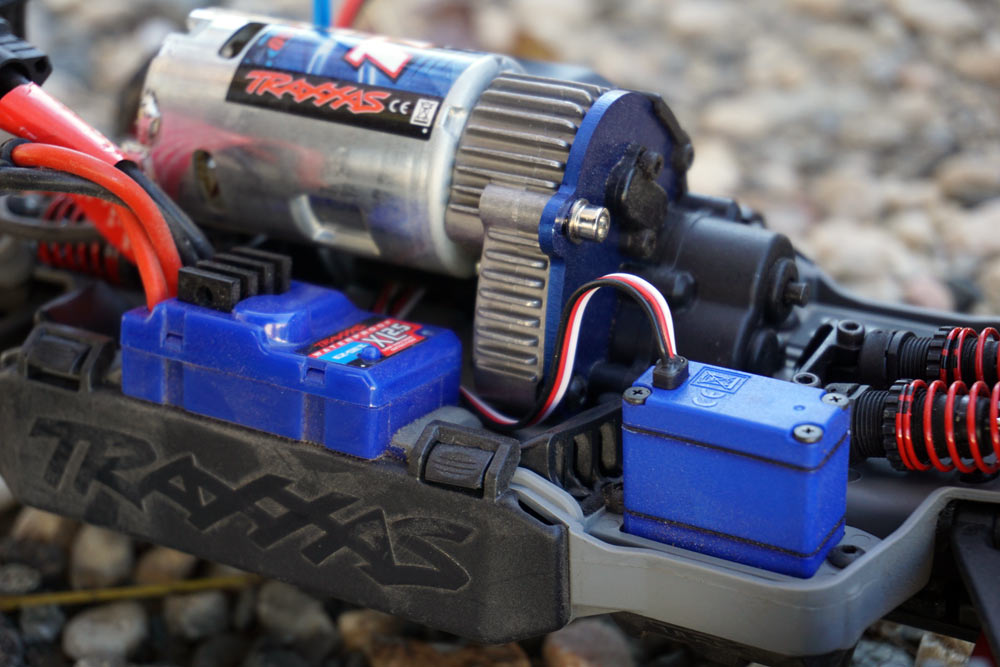 The electronics are where the real value for this model comes in. All iesvos and controllers are sealed and waterproof and come with a lifetime warranty. The 12T 550 motor is the same one used in their larger 1/10 trucks, all wires are heavy gauge for maximum power transfer, and the speed control has three modes: Standard, race and training. Race mode simply disables the "reverse" for events that don't allow it, and training cuts the speed in half for younger drivers to learn how to control the truck more easily.
A single on/off button on the ESC unit also handles battery type selection, which is important if you're upgrading to a more powerful LiPo battery. If you do, you'll need to hold it down to switch the battery mode and enable the built-in low power warning so you don't ruin your LiPo battery.
The four wheel independent suspension is supported by oil-filled coil shocks that allow for independent adjustment. I gave all of them a few twists to stiffen the suspension a little as it seems a bit soft, especially once the battery is installed. This brought the front end up a bit, which I think helped it get over the fallen leaves and mid-height grass. Which brings up a point worth noting: At this size, the truck isn't really made for driving through thick grass. But on dirt and crappy, sporadic grass like we have in our neighborhood common area (it's tree covered, so whatever), it managed. I did have to clean a few leaf stems and bits out of it between runs.
Notice all the bolts? Every single one of the drivetrain, suspension and body parts can easily be replaced.
Another feature uncommon at this price point is the ability to run dual batteries in a series parallel for longer run times. The vented gray compartments house their 6-cell NiMH or LiPo batteries and allow heat to escape so you don't ruin the power source. You'll need to buy a cable splitter adapter to use two batteries simultaneously. Personally, I think this would add too much weight to the truck and handling would suffer.
OFFICIAL SPECS LIST
Officially Licensed Race Replica body styles: Mike Jenkins Edition (Traxxas #47), Mark Jenkins Edition (Traxxas #25), Scott Douglas Edition (AMSOIL®), or Greg Adler Edition (4 Wheel Parts)
Full-time 4WD for superior handling and control
XL-2.5 Electronic Speed Control
High-torque Titan® 12T 550 brushed motor
Waterproof electronics
Ready-To-Race® with included 6-cell NiMH Power Cell battery with iD
2amp peak detecting DC fast charger
TQ 2.4GHz radio system
Revo suspension technology
Torque-control™ slipper clutch
Sealed differentials
Patented Traxxas High-Current Connector
Metric hex hardware
Rubber-sealed ball bearings
Length: 14″ (356mm)
Front Track: 7.3″ (185mm)
Rear Track: 7.3″ (185mm)
Weight: 35oz (1000g)
Height (overall): 4.92″ (125mm)
Wheelbase: 8.1″ (206mm)
COMMONLY BROKEN PARTS
I asked their sales rep which parts are most frequently replaced, and here's the list:
Part #7051 – driveshaft
Part #2081 – steering servo
Part #2082 – steering servo gears
Part #3785 – motor
Part #7078 – differential gears assembly
Part #7032 – rear suspension arms
Part #7029X – bulkhead for rear
Part #7031 – front suspension arms
Part #7030X – bulkhead for front
Part #7046R – spur gear (this one just wears out over time)
Part #7043 – connector arms for steering assembly
Not everyone will break these things, and a lot of it depends on your driving habits. Some of his recommendations included letting off the throttle when airborne (so you don't strip the differential) gears on landing at full gas; letting go of the steering wheel if you know you're going to hit something or land hard (so you don't break the steering servo); and don't run the motor all-out for more than 5 minutes at a time. Most of the parts above are under $10, all are under $30.
DRIVE REVIEW
Here's why the Traxxas 1/16 Slash 4WD is the perfect starter truck: It's small, fast, nimble, and easily repaired. Basically a scaled down version of their 1/10 Slash, and half the price. There are upgrade parts, but my hunch is we'll keep it stock and just enjoy it in a recreational manner. Like our mountain bikes, you can go nuts with suspension parts and tuning, electronics (you can actually get a telemetry unit that'll send real-time performance data to your smart phone), and drivetrain mods. And like our bikes, it's easy for things to get real expensive, real fast. But, again, like our bikes, this one is perfectly capable and super fun right out of the box.
I like the size, too. I could hide it under the seat of our mini van, then bust it out for 15 minutes of fun at the trail head. Or bring along on family trips for those times when everyone else is zonked in front of the television or I need help procrastinating.
That said, it's definitely called a Short Course truck for a reason: It's going to excel on non-grassy terrain where obstacles are limited to an inch or so. Fallen tree limbs easily send the truck off course, and any grass deeper or thicker than what's shown in my video up top would potentially overwork the motor and transmission. And, with just ~1″ of ground clearance, basically it would struggle to plow through it. If you have a lush green lawn, you're gonna need the 1/10 scale (which starts at $205 for 2WD, but jumps to $425 for 4WD).
It's also easy to flip if you come from a high speed straightaway directly into a corner. So far, though, no damage. Go down the rabbit hole of YouTube and you'll see just how tough these cars are, though. And, rebuildable.
Driving is straightforward, just pull the trigger and off it goes. It's fast, with a top speed of ~25mph. Pushing the throttle forward acts as a brake. Once completely stopped, the trigger resets to allow reverse, but you've got to come to a stop, release the trigger, then push forward again to make it go backward. Not so if you're already moving backward and wanna gun it forward, but you might strip some gears if you abuse this. The steering bias adjustment knob makes it easy to fine tune the truck's tracking, which can get jostled off center over time.
Bang for the buck, the 1/16 Slash 4WD is impressive. Give it a look if you're into RC trucks and want something small, manageable and affordable. Heck, give it a look even if you just think you might wanna be into it.
---
Editor's Note: Before you comment that this is a cycling website and we should stick to that, yes, we do occasionally review and write about things that aren't bikes. Because variety is the spice of life. Or maybe we're just teeing up the launch of RCTruckRumor.com.
SaveSave