Trigon's carbon fiber saddles, of which there are three models to choose from, are the kind of item that's usually glanced at and immediately relegated to the "that can't possibly be comfortable" category. After almost seven months of testing, I'm happy to report that such dismissive thinking would rob you of a very comfortable and very light saddle.
Not only is it one of the most comfortable saddles I've ridden, it's by far the lightest. Other than padding, it gives up nothing in performance, either, thanks to flexible rails, center relief channel and a pleasantly curvaceous shell.
Flip through to see how it measures up…
Claimed weight is 85g, but this one came in at just 77g. Dimensions are 126mm x 273mm by my measurements. Rails are oblong 7x9mm with flattened end sections leading to the shell. There's about 60mm of space on the rail to fit the clamps.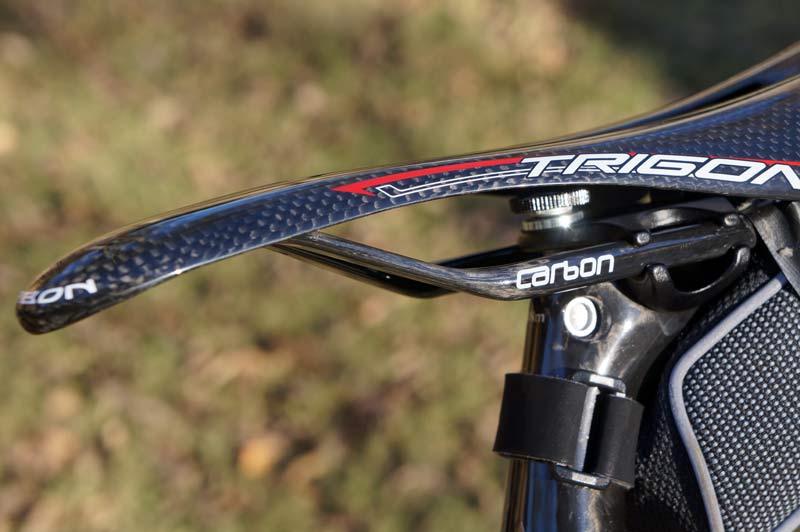 The shell's shape is rounded across the back with a slight dip in the center, reminiscent of the Selle San Marco Aspide. It's made of woven hi-mod/high-strength fibers.
The secret to the comfort, beyond the agreeable shell shaping, is the built in flex. I could firmly squeeze the shell and get a fair amount of movement out of it, meaning it moves with you just enough when pedaling. The flattened rails do the rest, soaking up bumps fairly well. I usually run road tubeless wheels/tires, and I usually plow through whatever chatter the road has to offer, and the combo of a tubeless set up and this saddle meant smooth sailing.
Trigon says it offers around 25-30mm of flex, which actually scares me a bit, but it's going strong with no visual signs of fatigue. The rails are made using their HIPACT construction, which means solid carbon pressed under high pressure. They say it yields higher compaction/density, minimal voids and better strength. I've kept all 188lbs-plus-kit weight firmly planted on it while riding over plenty of bumps and ruts and, well, I'm still riding it.
Rails are bonded directly into the monocoque shell.
The central relief channel has open ports, which saves weight and provides easy access to seatposts adjustments like this. I've also mounted it on a straight ENVE post, which clamps it more in the middle of the rails.
Aesthetically, the shape is good. I'd prefer more muted graphics, or even a matte finish, but once on the bike, all that red stripy stuff disappears anyway.
The only real concern worth mentioning is that it can be slippery with some shorts. Actually, it's a bit slippery any shorts, but some exacerbate the feeling. Once I had the angle of the saddle dialed, it was a non issue, but for those that ride with the nose aimed significantly up or down from level, there are probably better options. Or there's grip tape.
Overall, I like this saddle a lot. I experienced virtually no numbness or discomfort regardless of ride length. Between testing other saddles, it's certain to find its way back on my bike. Street price is anywhere from £99 to $205 (we're waiting to hear back on official MSRP and where to buy it in the States).