Commuter e-bikes tend to come in two varieties, the laid-back casual cruisers, and those ready to whip through the city streets with speed. The Trek Allant+ falls into the latter group, with handling that's sharp to a fault, with options to suit any type of commuter cyclist.
We spent a few weeks rolling around town, hitting the market, and exploring neighborhoods to see how the Allant+ 8S handled everything from bike paths to city streets…
Trek Allant+ 8S tech details
The Allant+ e-bike line debuted in September 2019 and now has four models, the 7, 7S, 8S and 9S, with standard and step-thru frame options. The 7-series ($3,750) uses a 20mph max-assist Bosch Performance Line motor and has a lower step-thru design.
The 7S/8S/9S ($4,049 to $6,349) use the faster 28mph Bosch Performance Speed motors (for North America, anyway) and have a "Stagger" step-thru frame design that's not quite as low, but should still work for most any rider.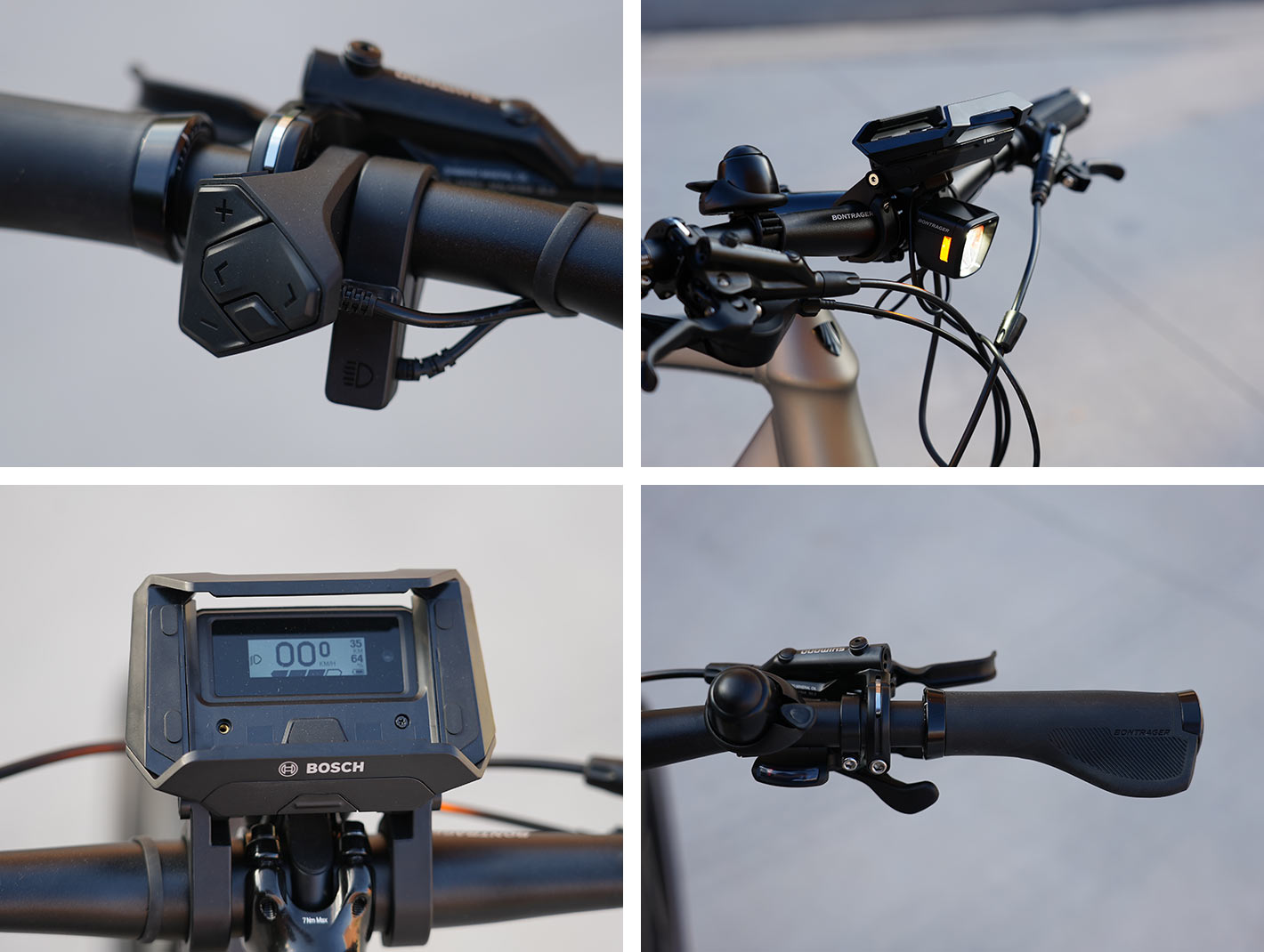 The Trek Allant+ 8S uses a Bosch head unit housed inside a custom COBI mount. This gives you the option of using their small LCD screen for essential metrics like battery life, speed, distance, etc. Or, mount your phone and run the COBI app to get more data and run mapping, calls, music controls, and more through that app.
The computer/mount sits above a 500 Lumen headlight, which is bright enough for general riding. A small bell on the right sits in stark analog contrast to the multi-function, multi-button remote for the drive system. It cycles data on both the built-in screen and on the app, when connected.
The tangle of wires is somehow not so obnoxious despite having five different lines running from the cockpit to the headtube, where everything gets funneled into the frame for an overall very clean look. I like that the shaping extends from the top tube in to the headtube and mimics Trek's high end carbon road bikes.
The hydroformed alloy frames are beautiful, and the satiny gray paint on our test bike was a perfectly understated yet premium color for an urban commuter. The only part of the bike that seemed slightly off was the gap at the front of the battery cover.
The bike comes with Bontrager's wire-bead HardCase Lite 27.5×2.4″ tires, which are not tubeless ready. But the rims are should you want to make the switch down the road.
Trek's Allant+ models are compatible with an external Bosch 500Wh battery, which complements the 625Wh integrated battery on the "S" models. This nearly doubles the range, and Trek claims you could get up to 100 miles per charge when adding the booster battery (sold separately). And this explains why the Stagger models use a slightly taller "top tube"…so that the extra battery still fits underneath it.
The auxiliary battery mounts to the three bolts on the downtube. But, fortunately, hiding under my Abus Bordo folding lock are two standard water bottle cage mounts, and a third set of bolts sits under the top tube. So, you can still run two bottles even if you're using the extra power pack.
The 8S comes with a Shimano Deore 10speed group and hydraulic disc brakes. Alloy cranks and full-size chainguard around the chainrings kept my shoelaces and pant legs from getting eaten.
All models come with full coverage fenders, but the 8S/9S upgrade to better, all-alloy version with low-slung rear rack that's perfect for side-mounted pannier bags. If you're looking to run a standard rack bag "trunk" on the top, the 7/7S models have a more traditional looking rack that sits above the fender.
All models have an integrated taillight, and this one has a constant-on with an intermittent flash to catch attention, and it turns on when you turn on the bike. I'll add that the fenders on this bike were rock solid.
The hydroformed tubes not only looked good, they also make for a very stiff, strong frame. Fork included…which is one of the odd spec choices here.
The 7S comes with a suspension fork, the 8S and 9S do not…but, the 9S is full carbon fiber, frame and fork. Personally, I'd put a suspension fork on all of them, and you're about to find out why…
Trek Allant+ 8S ride review
For a rider like me who enjoys the ride but also just wants to get where I'm going (because A. fast is fun, and B. I got stuff to do), the Trek Allant+ S models are perfectly quick.
I've said before and probably will say it for every e-bike I review: If you're a "cyclist" then you absolutely want to spend the extra to get a Class 3 (28mph max assist) model, especially for road/gravel/city. Anything less will leave you disappointed no matter how great the bike is otherwise.
The Allant+ has no problem getting up to speed or keeping up with downtown traffic, and that's exactly the way it should be if you're riding in the city. Bosch's Performance Speed systems are great and have been for years, nothing new here.
Despite my XL test bike's tall looks, it feels like the center of gravity is low. Which makes sense considering the motor and battery are down at the bottom of the bike.
Unlike most eMTBs, this one sticks with regular length cranks – 170mm on the Medium, and 175mm on the Large and XL. There are no Small frame sizes for these, but the Stagger step-thru models come in S/M/L.
Even if you don't use the COBI app, which I chose not to, the holster is a great spot for your smartphone. It's a universal design that easily held an iPhone Plus with case.
The Trek Allant+ is the snappiest handling e-bike I've ridden. The geometry and fork rake/offset combine to give the bike very quick handling.
When diving into a corner, the bike wants to dive harder and harder the more your turn the handlebar. At low speeds, like when navigating tight spaces or turning a sharp corner, this means the bike will change directions quickly. But it can also feel like the wheel wants to flop into the turn a bit and, occasionally, corner a little harder than you may have planned.
This is definitely a LOW speed phenomenon as you're unlikely to turn that hard at speed, but something I wanted to mention. Because, that precise, snappy low speed handling comes at the expense of high speed stability if you're the type of person that likes to ride with their hands off the bars.
I emphasize that because under normal riding, it's fine, and feels great at speed. But if you like to sit up and cruise hands free, or just loosely keep one hand on while chatting with friends, the Allant+ won't hold a line as well as some other bikes. All of which underlines my impression that this bike is built for speed.
So, about that fork and frame. The Allant+ frame is very stiff. To compensate, I lowered the tire pressure a bit more than normal to cushion the ride.
Which only amplified the low-speed steering as the meaty 2.4″ tires planted a firm patch of rubber on the ground and grabbed hard.
Overall, I really like this bike. For the price it's extremely well equipped. But, dollar for dollar, I'd rather see them put a suspension fork on it than the COBI system as I think it would add more overall enjoyment for most riders.
Properly inflated tires will give this bike a harsh ride, which isn't just a comfort thing – hit a pothole when you're not paying attention and it can jar your hands and arms enough to throw them off a bit, which could cause you to wreck. A suspension fork, even a reasonably affordable one, solves this and would likely make this bike one of the best, and best looking, "fast commuters" I've tested.